Georgia Senator: Anti-Abortion Bill 'National Stunt' in Race to Be Conservative State to Get Roe v. Wade Overturned
An anti-abortion rights bill in Georgia passed another hurdle Monday and was headed to the state Senate for a vote. While supporters championed it as a victory for the unborn, one senator described the bill as another contestant in the race to overturn Roe v. Wade.
Georgia state Senator Jen Jordan, who serves on the Georgia Senate's Science and Technology Committee, voted against House Bill 481, which the panel passed in a 3-2 vote along party lines. If signed into law, the bill would largely ban abortion in the state, incorporate unborn children in the state population and allow residents to claim their unborn child as a dependent on their state tax returns.
"It's clear that's the intent of it. It's a race to the U.S. Supreme Court, with all of these conservative states to be the one that gets Roe overturned," Jordan told Newsweek. "I think they're trying to be as outrageous as they possibly can, and they've definitely done it here."
Jordan added that the Supreme Court had repeatedly upheld Roe v. Wade and said she was "flummoxed" as to why the legislators thought a ban on abortion would legally stand, unless a conservative Supreme Court overturned its 1973 landmark decision.
"This whole thing is a national stunt to try to put pressure on the Supreme Court to take these cases to overturn Roe, and it's really disappointing because we've got much bigger issues that we need to be dealing with in this state," Jordan said.
What's in Georgia House Bill 481?
While many abortion rights bills and laws define the viability of a fetus as the moment when it could survive outside the womb, Georgia's bill defines a fetus as viable when a fetal heartbeat can be detected. This heartbeat may be detected as early as five and a half weeks, at which point a woman could not have an abortion except in the following circumstances:
The pregnancy is diagnosed as medically futile
To avert the death or serious risk of substantial and irreversible harm to the pregnant woman, excluding mental or emotional conditions
In a case of rape or incest, if an official police report was filed
Jordan called the bill "inconsistent," even with the idea that life begins at conception. She said the inclusion of the exception for cases of rape and incest established "two classes of unborn children." One class shouldn't be subject to termination, while those fetuses that are conceived because of rape or incest should be allowed to be aborted.
"It just shows that this was done quickly and sloppily with an eye toward making the biggest splash," she said.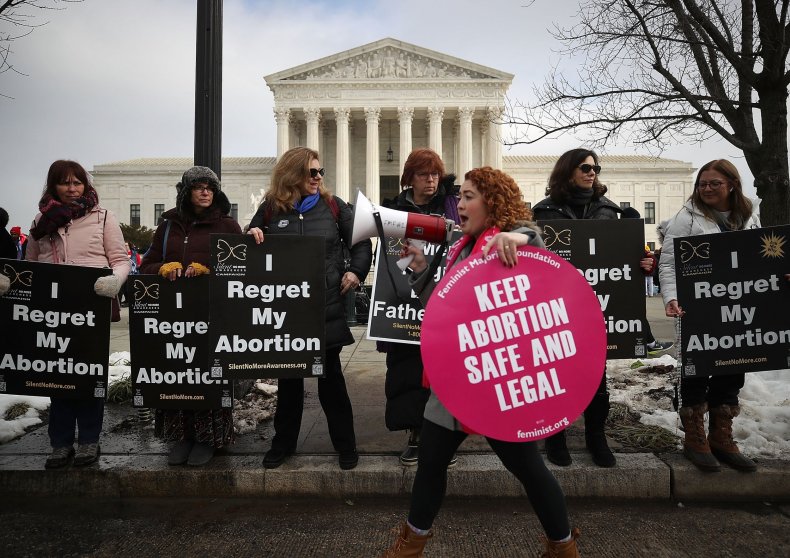 Along with further restricting abortion access, the bill would allow any unborn child with a fetal heartbeat to be claimed as a dependent minor on state income tax returns. And as long as the unborn child had a fetal heartbeat, it would be included in the state's population.
"The reality of it is, women have miscarriages all the time, and for every miscarriage you have, you get to count it as a child for purposes of a tax deduction for that year," Jordan told Newsweek. "It feels like it was written by men and being pushed by men that don't know the realities of what women go through."
She added that the bill didn't establish how pregnancies would be proved and said women couldn't be forced to have a vaginal ultrasound for the purpose of a tax deduction.
"I'm a lawyer, so I think of proof problems. So can I say I was pregnant and had a miscarriage? If I'm willing to sign an affidavit, is that enough?" Jordan asked. "It just doesn't make any sense, and it shows a real lack of thought put into a very, very big piece of legislation."
While the Legislature is still waiting on final numbers, Representative Ed Setzler, the bill's sponsor, said enabling people to claim unborn children on their tax returns could cost Georgia between $10 million and $20 million each year in lost revenue.
What Are Other States Doing About Abortion Rights?
Over the past year, several states have introduced, and in some cases passed, laws that further restrict abortion access. On Thursday, the Kentucky Legislature passed a bill that would ban most abortions in the state once a fetal heartbeat was detected. Months before the Kentucky's bill, Iowa lawmakers passed similar legislation, which banned abortions once a fetal heartbeat was detected in most cases.
Arkansas, Louisiana, Mississippi, North Dakota and South Dakota have also passed bills that would largely ban abortion if Roe v. Wade was overturned.
"When you have a gentleman up there saying, 'Well, this is just common knowledge or this is just common sense,' I'm like, 'Well, common for whom? Common for a bunch of men?' Because what you're saying is not the common experience for women," Jordan said. "It's like they got into a room and just decided basically what the rules should be in terms of having children, and it's offensive on a lot of levels."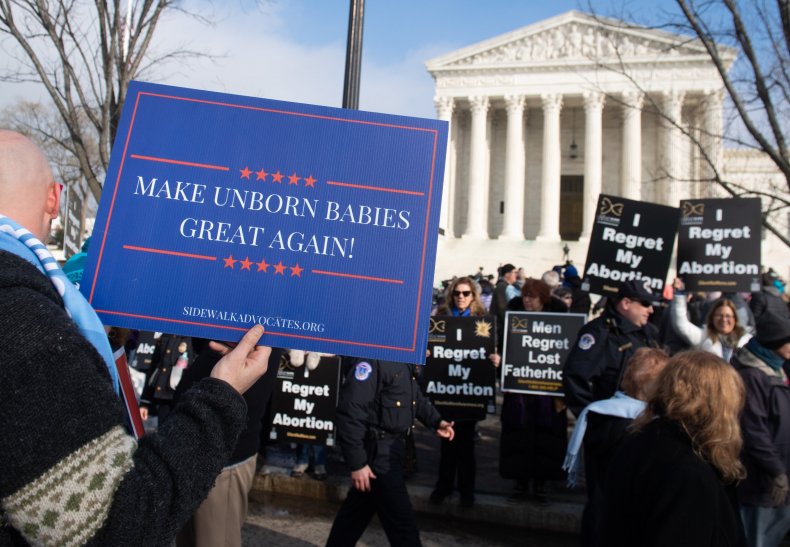 Jordan: We Need to Focus on the Living
Georgia already has strict abortion laws, Jordan said, and largely bans abortions after 20 weeks. Instead of focusing on further restricting abortion laws, which will be tied up in legal proceedings for years, she said the focus should be on the living.
"Women are dying in childbirth. We have a higher infant mortality rate than nationwide," Jordan said. "It's that kind of stuff where, if we really care about life and the culture of life, we really need to be focused on the living and those that are seeking health care and are seeking a better life."
Because of the closure of hospitals, some residents in areas of rural Georgia don't have access to obstetricians and gynecologists, and there already are thousands of children in the Georgia foster care system, according to Jordan. If abortions were banned, the obligation of caring for children born into situations in which they're not wanted would only grow, she said.
"These are all pressing issues in this state, and instead we're taking up all the oxygen on something that we know will be immediately enjoined by federal court. And then it's going to go through the process for a year or two or even more, if the Supreme Court even takes it," Jordan said.
The senator acknowledged that when it came to abortion, people understandably had strong beliefs, as they should be allowed to, but she said HB 481 "flies in the face of reality."