Georgia SOS Refuses to Resign After Calls From Senators, Tells Them to Focus on Their Runoff Elections Instead
In response to calls for resignation from both of Georgia's sitting senators, Georgia's Secretary of State Brad Raffensperger has said he simply won't step down.
"Let me start by saying that is not going to happen," Raffensberger said in a statement on Monday. "The voters of Georgia hired me, and the voters will be the one to fire me."
Earlier in the day, Senator David Perdue and Senator Kelly Loeffler called on Raffensperger to resign over the state's handling of the 2020 presidential election.
"The management of Georgia elections has become an embarrassment for our state," Perdue and Loeffler wrote in a joint statement.
"While blame certainly lies, elsewhere as well, the buck ultimately stops with the Secretary of State. The mismanagement and lack of transparency from the Secretary of State is unacceptable," they continued.
"The Secretary of State has failed to deliver honest and transparent elections. He has failed the people of Georgia, and he should step down immediately," the statement read.
Raffensberger called the senators' claims of lack of transparency "laughable" when considering the hourly updates his office has released during tabulation.
Neither senator was able to secure their seat in the November 3 election. Due to Georgia's runoff law, candidates must receive a majority of the vote to win.
Because Perdue and Loeffler both did not break 50 percent, they will face off again in the January runoff elections against their Democratic opponents, Jon Ossoff and Raphael Warnock.
The chance to elect two more Democratic senators could also give Democrats control of the Senate—a flip the Democratic Party had worked towards and hoped to achieve in this election.
With their names on the ballot yet again, and control of the Senate to likely come down to the runoff, pressure is mounting for the two Republican senators to speak out against their party's election officials.
But Raffensberger, a Republican, said he will continue to fulfill his position despite political tension and told Perdue and Loeffler to direct their attention elsewhere.
"If I was Senator Perdue, I'd be irritated I was in a runoff. And both Sentors and I are all unhappy with the potential outcome for our President," Raffensberger wrote. "But I am the duty elected Secretary of State. One of my duties involves helping to run elections for all Georgia voters. I have taken that oath, and I will execute that duty and follow Georgia law."
"As a Republican, I am concerned about Republicans keeping the U.S. Senate. I recommend that Senators Loeffler and Perdue start focusing on that," the secretary of state added.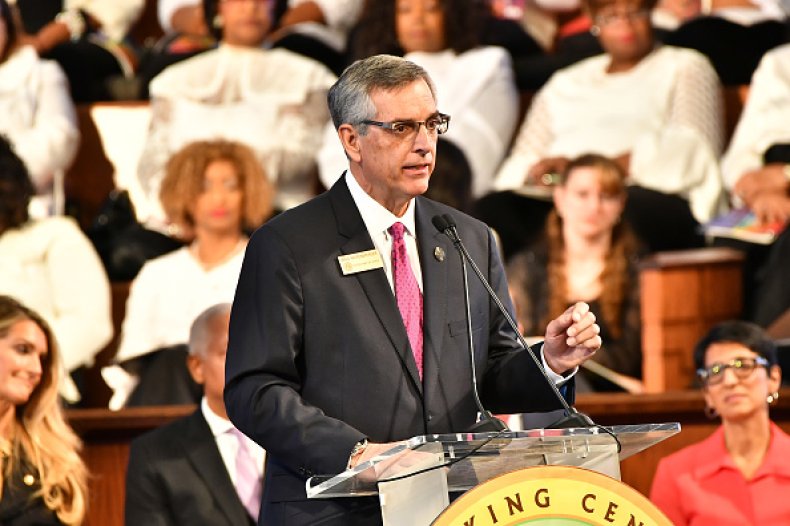 Reffernsperger, who Trump endorsed for secretary of state when he ran in 2018, also took the opportunity to amplify the Trump administration's successes as well as their suspicions over the Democrats' efforts to "steal" the election.
The secretary of state noted that the president received more votes than any other Republican presidential candidate in the state's history before calling Fulton County, the state's largest and home to Atlanta, "one of our longtime problem Democrat-run counties."
While Raffesnberger previously predicted Georgia would conduct a recount given the closeness of the race, he took a different stance on Monday.
"Was their illegal voting? I am sure there was. And my office is investigating all of it," he said. "Does it rise to the numbers or margin necessary to change the outcome to where President Trump is given Georgia's electoral votes? That is unlikely."
Georgia became the center of the political universe last week after the historically-Republican state was projected to swing in favor of Joe Biden as he took on a lead of more than 10,000 votes.
Newsweek reached out to Raffensberger for further comment but did not hear back before publication.