Small Dog Defends Owner During Home Invasion, Gets Shot by 'Coward' Burglars
A Georgia police department is seeking information from the public about two burglary suspects who allegedly shot a dog after breaking into a home last week.
Footage of the incident, which took place last Tuesday at about 3 p.m., was published by the City of South Fulton Police Department. Captured by a Ring device, it showed the moments leading up to the break-in, as two hooded men approach and aggressively kick the front door.
A relative of the homeowner, Dion Ewing, praised the pet dog for helping to fend off the thieves—even after suffering gunshot wounds to its legs, CBS46 reported.
Ewing said her niece was home alone with the 2-year-old Yorkie, named Starla, when the men forced their way into the residence, on the 6300 block of Polar Fox Court.
The niece received a cell phone alert via the CCTV doorbell camera that someone was approaching the home, and was able to flee from the scene via the garage.
Despite being shot, the dog survived the encounter and has been bandaged up by medical experts. "She got shot in her front leg and back leg," Ewing said. "We are trying to keep her limited on the moving because of where she got injured. [Experts] don't want her to rip her lacerations."
Ewing said the men considered shooting at her niece but were distracted by the dog. "As [the victim] was running out, the one who had the gun asked the other one if they wanted to shoot her. They were chasing her out and the dog was chasing behind them," Ewing said.
The Atlanta Journal-Constitution identified the victim as a 20-year-old woman. A spokesperson for the police department told the outlet the men fled the scene empty-handed. The footage was uploaded to the Ring Neighbors application, captioned: "Had a bold break-in. Shot my Yorkie."
In a brief statement that was posted on social media, the local police department confirmed that an investigation had been launched. It said: "[Officers] responded to a suspected burglary where the suspects fired shots into a residence located in the 6300 block of Polar Fox Ct.
"A small dog was injured inside the home. The occupants inside the house were not physically injured. The two suspects fled the scene in a dark-colored sedan. Anyone with information regarding this incident, or able to identify the suspects are urged to contact Det. Guin at 470-809-7355."
The 20-year-old victim was not named by the local police department. "They're cowards," Ewing said of the two home intruders. "I think that, if you know anything, please turn them in."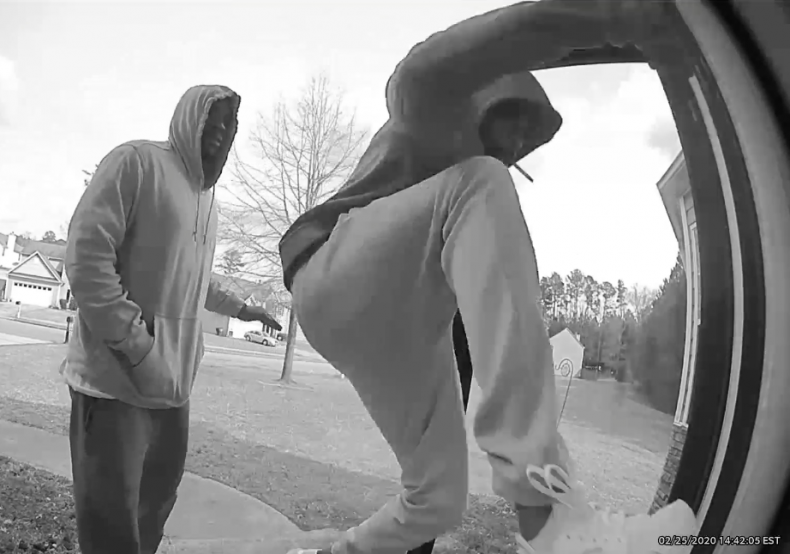 Small Dog Defends Owner During Home Invasion, Gets Shot by 'Coward' Burglars | News