After Georgia Southern Book Burning, Professors Explain Why They Teach Author Jennine Capó Crucet's Work
After Georgia Southern University students burned Jennine Capó Crucet's book, professors voiced their support for the author, pointing out that they teach her literary work in their own classrooms.
Professors who spoke to Newsweek said they teach different works written by Crucet, but credited her voice as being one to which students can relate. Their students saw themselves in the characters in her books, which largely deal with challenges minorities face and living in America as a non-white person, they said.
"The book burning that happened at Georgia Southern was an act of racism and white privilege–to see it otherwise only further illustrates a point Crucet's book makes: the U.S. has placed white at its center and, in this case, anything else gets burned," Jody Keisner, a professor at the University of Nebraska at Omaha, told Newsweek.
Georgia Southern University (GSU), a public school in Statesboro, Georgia, invited Crucet to speak on campus because her book, Make Your Home Among Strangers, was selected for freshman students to read. During the question and answer portion of her appearance on Wednesday, a student criticized Crucet for making generalizations about white people being privileged and questioned the purpose of her talk.
The comment prompted students to shout at each other while inside the auditorium and Crucet said in a statement that she asked faculty to find the student who posed the question and others who were upset. This way, they could have a follow-up conversation because the author said the question couldn't be answered in a single night's discussion.
Shortly after her lecture, videos circulated on social media that showed students burning copies of her book on campus.
"I have no idea what would motivate young people, especially, to decide that [this was] the thing to do," Ricardo Ortiz, a professor at Georgetown University, told Newsweek. "It's disappointing and in some ways deeply, deeply saddening."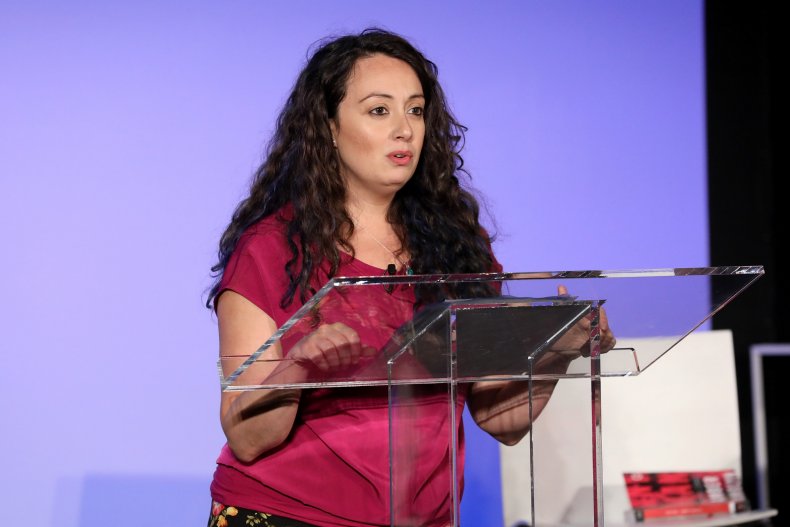 Keisner told Newsweek her first reaction to hearing about the book burning was shock. Outrage followed closely behind and she credited book burning with being a "particularly archaic, ugly form of censorship."
Keisner is currently teaching Crucet's newest work, My Time Among the Whites, which was published in September, in her Autobiographical Reading and Writing course. The book, Keisner said, gives her students, half of whom are minorities and most of whom are the first in their family to attend college, the opportunity to read a piece of work by someone they can relate to.
Crucet's book aims to address the privileges people have —or don't have — because of skin color, names, accents, class and educational experiences. For one of her students, Keisner said it put into words her experience being a "cultural outsider."
Ortiz also found Crucet's ability to write prose that students could see themselves in as a reason to bring Make Your Home Among Strangers into the classroom.
"Students really saw in the main character, a student they would recognize and the school had a lot of similarities to the culture of Georgetown, so the book worked amazingly well," Ortiz said. "Students really, really loved it."
Crucet said in a statement that she began writing Make Your Home Among Strangers as an act of love and an attempt at deeper understanding. After Wednesday's incident, she explained that she hoped Georgia Southern could act from the same place and "affirm the humanity" of students who may feel unsafe. Moving forward, she said the campus should continue to have the "difficult and necessary conversation that began in that auditorium." Newsweek reached out to Crucet, who declined to comment past her statement.
On Thursday, Russel Willerton, the chair of Georgia Southern's Writing and Linguistics Department, said in a statement the department was "dismayed and disappointed" by the actions against Crucet. Willerton said the "destructive and threatening acts" didn't reflect the university's values and called on students to remain civil in disagreement.