Georgia Special Election Between Handel and Ossoff Too Close to Call, Poll Suggests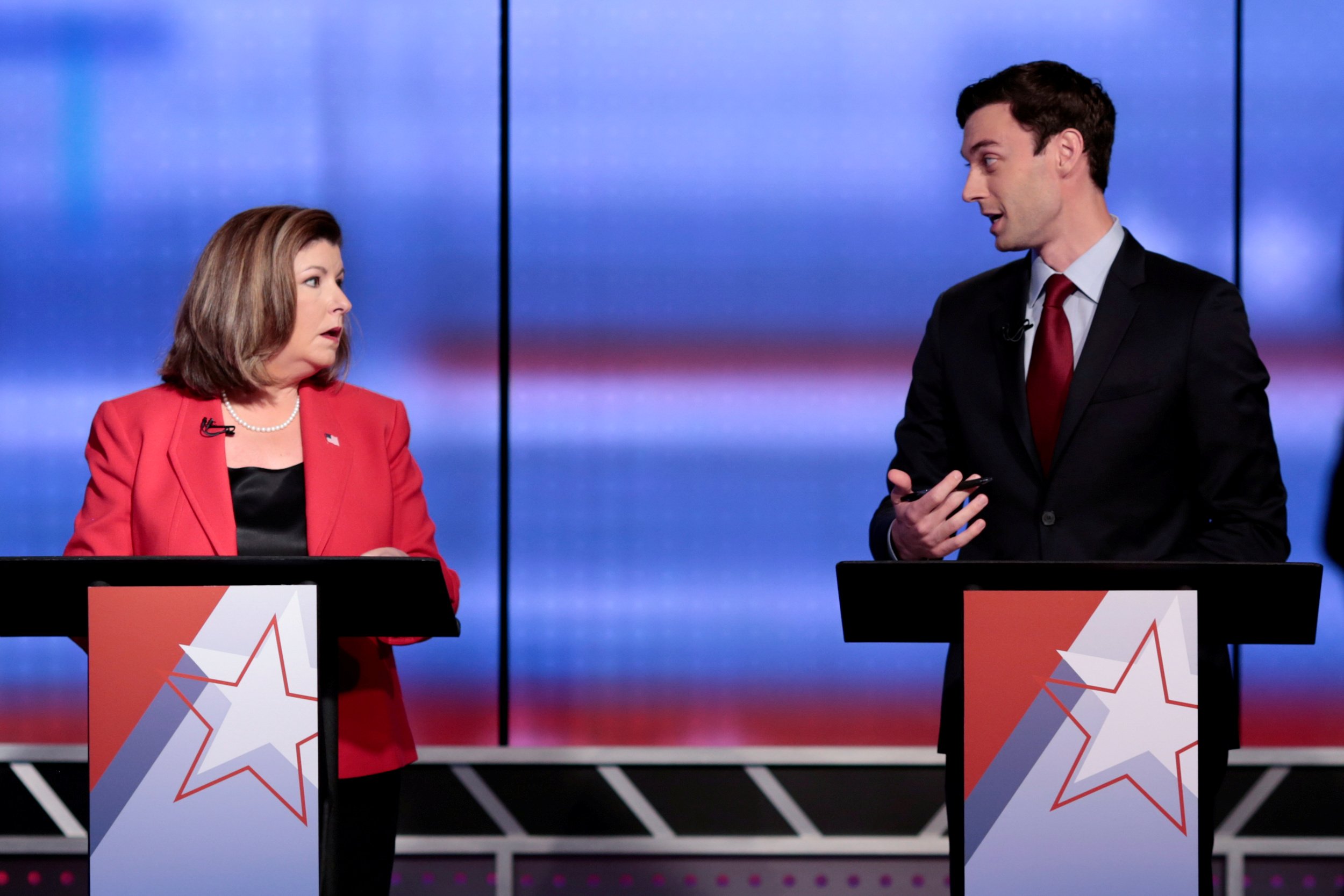 Democrat Jon Ossoff holds a very slight lead over Republican Karen Handel in Georgia's 6th Congressional District as Tuesday's much-anticipated special election runoff approaches.
The most recent poll, from Atlanta local television station WSB and Landmark Communications, has Ossoff up by just under two points. Ossoff is supported by 49.7 percent of likely voters, while 48 percent support Handel.
The runoff election in the traditionally solidly Republican district has attracted immense national attention as Democrats look for their first major electoral victory during President Donald Trump's presidency. It is the most expensive congressional race in history, with over $50 million spent, mostly from out-of-state donors.
"Ossoff has the lead.… Handel is very close behind him," pollster Mark Rountree told WSB. "So either candidate could win."
Ossoff and Handel are running to fill the seat left vacant by Tom Price, appointed by Trump as secretary of health and human services. Ossoff, a former congressional staffer, nearly won the election outright with 48.1 percent in the primary. Handel, the former Georgia secretary of state, topped nearly a dozen other Republicans with just under 20 percent of the total vote.
Both sides have poured money into the campaign, which many are calling a referendum on Trump. The poll, which surveyed 800 likely voters, found that 91 percent of Ossoff voters had an unfavorable opinion of Trump, while 78 percent of Handel voters have a favorable opinion of the president. While Price won the suburban Atlanta seat by 23 points in 2016, Trump only edged Clinton by 1.5 points.
In response to the poll, Handel and Ossoff both said the race was too close to call.
"It's about where we would've expected," Handel said. "It's a dead heat, neck and neck, and is all about turnout."
Ossoff has maintained a lead over Handel since the primary, with a late May poll putting him seven points ahead. More recent polls have shown a tighter race.
Last week's shooting at a GOP congressional baseball practice and subsequent threats against Handel may be last-minute game changers. Police blocked streets in Handel's neighborhood after packages "with threatening letters and a suspicious substance" were delivered to her and her neighbors, according to her campaign.
The suspicious packages have increasingly become a campaign narrative. Some believe the shooting and threats may be able to push Handel to victory.
"I think the shooting is going to win this election for us," Brad Carver, chairman of the Republican party in the neighboring 11th congressional district, told The Washington Post. "Because moderates and independents in this district are tired of left-wing extremism."
Ossoff, who said he has also received threats, condemned the shooting and called for unity.