Who Will Win Georgia? Jon Ossoff Says Trump Is 'Deeply Misinformed' About Him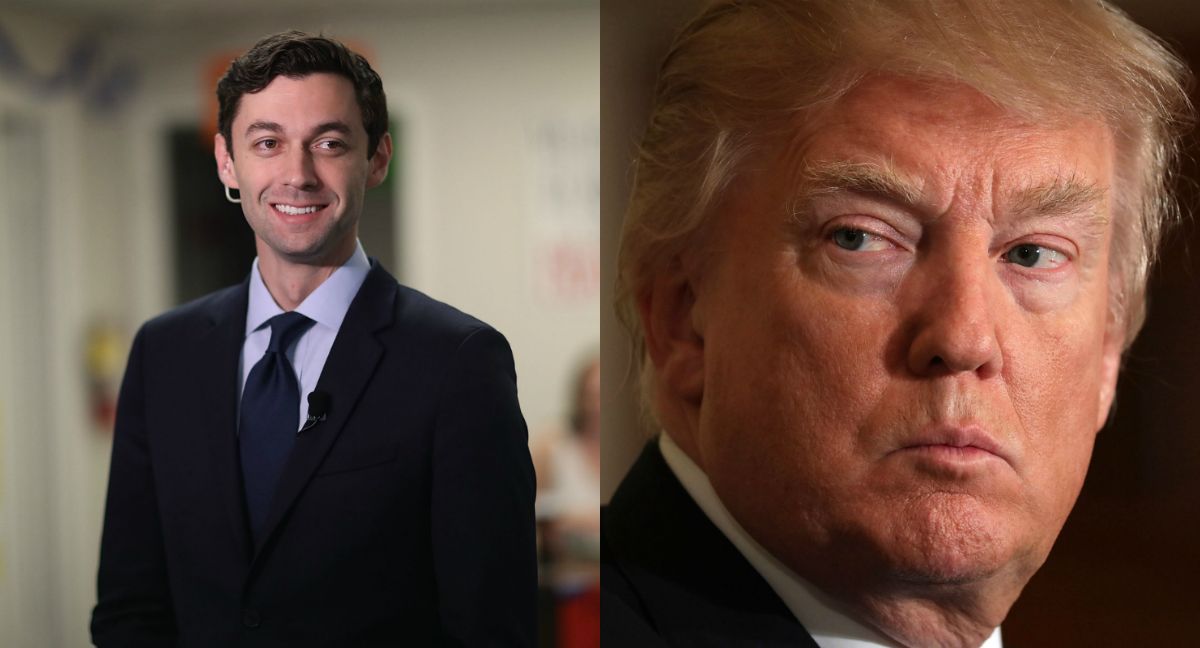 President Donald Trump has come out swinging for Republicans in the final hours of a Georgia special election that could ultimately provide the starkest response to his time in the Oval Office thus far.
Democrat Jon Ossoff and Republican Karen Handel are essentially tied in the polls as of Tuesday, at 48.2 percent, the day Georgians in the 6th district head out to elect a replacement for conservative Tom Price, who Trump plucked to oversee the Department of Health and Human Services. In pure Trump fashion, the president tweeted attacks against Ossoff, claiming the Democratic candidate wants to raise taxes and is "weak on crime and security."
Ossoff isn't taking Trump's attacks lying down.
"I'm honored that the president is so interested in the race, but he's deeply misinformed about my priorities," Ossoff said Monday night on MSNBC's The Last Word with Lawrence O'Donnell.
"I don't support any tax increases. What I support is an economic policy that will help metro-Atlanta become an economic powerhouse that's the envy of the rest of the country; that will help us grow our high-tech, bio-tech and medical-research centers and become the Silicon Valley of the South."
New forecasts released over the final 10 days of the closely watched election show Ossoff having a 55 percent likelihood of flipping the 6th district of Georgia for the Democrats, compared to Handel's 45 percent chance. The possibility of victory for either candidate is essentially a coin toss, as The Washington Post noted Tuesday.
It's clear the president is using the weight of his office to attempt to inflict as much damage as possible to Ossoff's shot at defeating his Republican opponent. "KAREN HANDEL FOR CONGRESS," Trump tweeted in all caps early Tuesday morning. "She will fight for lower taxes, great healthcare strong security—a hard worker who will never give up!"
Analysts have said the 6th district's slowly declining support of Republicans, who have held this congressional seat for decades, is a direct response to the Trump administration and its aggressive conservative agenda, including a controversial GOP health care overhaul effort that has far less support than Obamacare.
"A loss for Handel would probably be interpreted by the GOP as a sign that the status quo wasn't working," FiveThirtyEight's Nate Silver wrote about the Georgia election and its impact on national politics. "If even a few members of Congress began taking the exit ramp on Trump and the American Health Care Act, a number of others might follow. A win, conversely, would have a morale-boosting effect; Republicans would probably tell themselves that they could preserve their congressional majorities by turning out their base, even if some swing voters had abandoned them."