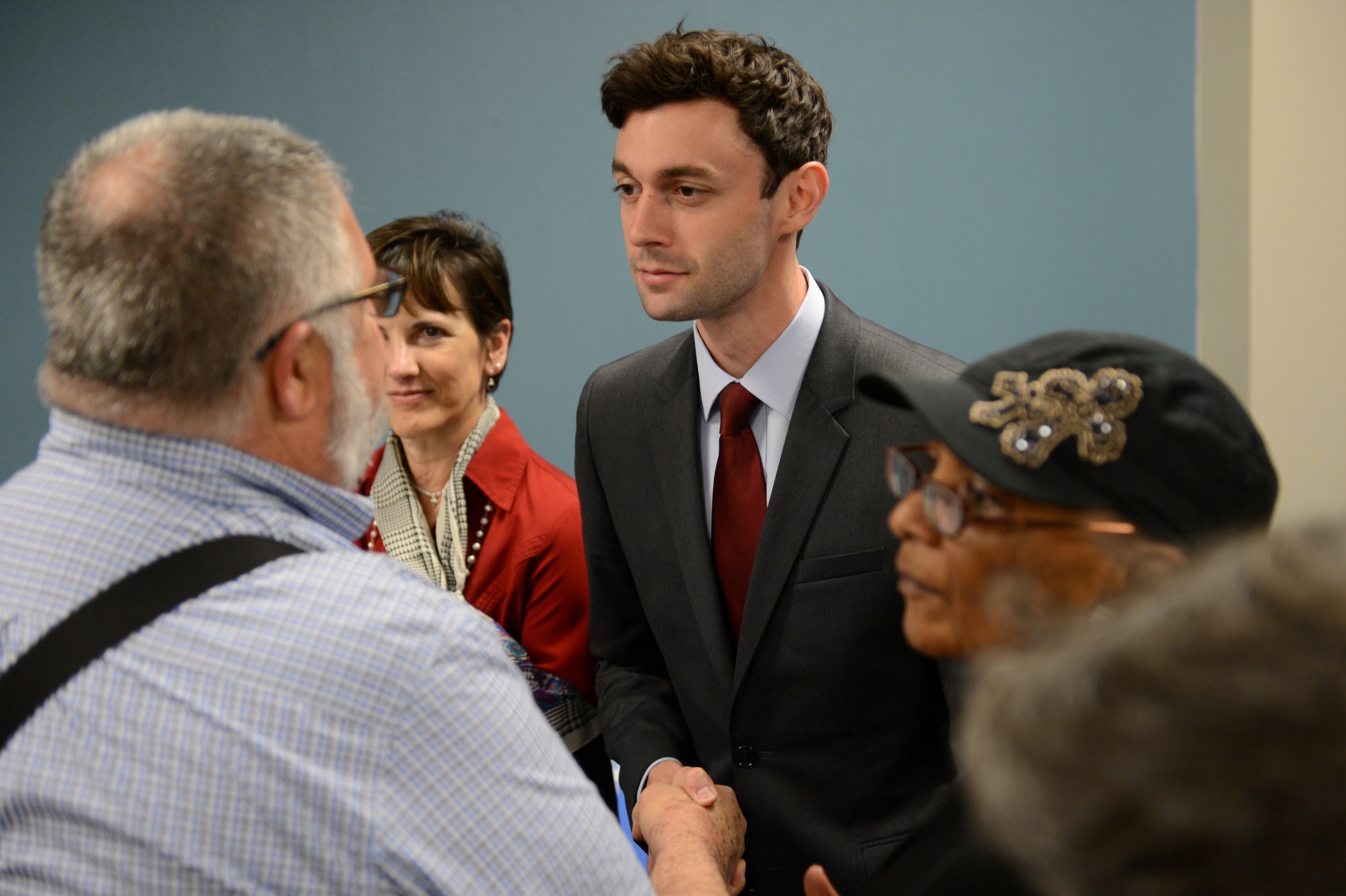 Democrat Jon Ossoff introduced himself to voters by asking them to help him "Make Trump furious," a pitch that's drawn grassroots support from all over the country for his upstart bid to replace former Congressman Tom Price. But if Ossoff succeeds in winning a majority of votes in the first round of the special election on April 18, it won't be because of the liberal anti-Trump vote. It will because he was able to appeal to the right-of-center, educated white voters in this suburban Atlanta House district. That's also a voting bloc Democrats, as a whole, are hoping to win over as they seek to claw back seats after a disastrous string of state and congressional losses. To that end, they may want to listen to Ossoff's message.
RELATED: How the #Resistance Is Tapping the Tea Party's Playbook
He actually sounds a little bit like Donald Trump, though without the divisiveness or bluster. Ossoff's two top priorities, he tells Newsweek, are "local economic development," i.e. jobs, and "accountability in Washington." He may not use the words "drain the swamp," as Trump did on the 2016 campaign trail, but Ossoff talks plenty about corruption, pointing back to his work over the last three years as CEO of the London-based investigative film production company, Insight TWI. Much of the company's recent work has focused on documentaries and series on corruption and conflict in Africa. Ossoff says he can apply those same skills in Washington. "There is plenty of corruption, waste and fraud in the federal government and in federal contracting," he says, adding that he'd set up a dedicated investigative unit in his office.
At the same time, Ossoff talks a lot about shared values and uniting people, a rebuff to the current president, even if he doesn't regularly call out Trump by name. He turned up at the Atlanta airport with his former boss, Democratic Rep. Hank Johnson and Congressman John Lewis, the civil rights legend, to protest Trump's travel ban in early February. "Folks here recognize that extremism is bad for business," Ossoff says. "Extremism anywhere in politics and gridlock in our nation's capital."
It's hardly the "impeach Trump" talk that many on the progressive left are craving from Democrats right now. But Ossoff's anti-Washington rhetoric, as well as his focus on bread-and-butter economic issues, offers a way to walk the tightrope between the angry corps of #Resistance activists and moderate Republicans who may have voted for Trump in November, but now feel uneasy about his extreme stances and flailing administration. It's something plenty of other Democrats in swing districts and purple states will be trying to pull off a year-and-a-half from now.
The activists class, meanwhile, doesn't seem bothered by Ossoff's lack of fire-breathing rhetoric. He's become a cause celebre in liberal circles in recent months, less for what he stands for than what kind of a message his victory in this traditionally Republican House seat would send. Price represented the 6th District for more than a decade before Trump tapped him to lead the Department of Health and Human Services. But despite Price's easy, 24-point-margin re-election in November—part of a Republican winning streak in the district that dates back to the '70s —Ossoff has a legitimate shot. Trump barely beat Democratic presidential nominee Hillary Clinton in the district, part of a gradual narrowing of the gap between Republican and Democrat presidential contenders here since 2000, as the Atlanta Journal-Constitution recently highlighted.
Ossoff also benefits mightily from a fragmented Republican field—11 are running in the open primary, including at least four top-tier candidates. Four other Democrats are also running, although Ossoff is far and away the party's top choice. If any candidate, regardless of party, wins more than 50 percent of the vote in the first round, he or she wins the election. If not, the top two finishers advance to a runoff on June 20. The GOP's cannibalization gives Ossoff a chance of winning the seat outright next week (going up one-on-one against a sole Republican in the second round is a taller order). Coming on the heels of a near-miss in a special election in Kansas last week, where an underfunded Democrat lost by single digits in a heavily Republican district, progressives are eager to frame Ossoff's success as another warning shot against Republicans in Washington.
That's drawn a host of support from the left's netroots community. Websites like Daily Kos and groups like MoveOn.org have been cheering on the Ossoff campaign and helping channel donations since early in 2017. Thanks largely to those efforts, Ossoff, who started out with virtually no name recognition or any experience in elected office, has raised a staggering $8-plus million for the race, most of it online from small dollar, out-of-state donors.
Republicans are now pouring money into the race, as well, not behind any one particular candidate but to attack Ossoff and keep him from crossing the 50 percent vote tally. Since March, the Republican party and outside groups aligned with it have spent more than $5 million attacking Ossoff. Their top critiques: he's too inexperienced and he's a stooge of liberal donors, not someone who represents the district. A recent email from the Republican National Committee, signed by "Team Trump," labeled Ossoff "an out-of-state, Nancy Pelosi-backed candidate," a reference to House Democrats' liberal leader from San Francisco.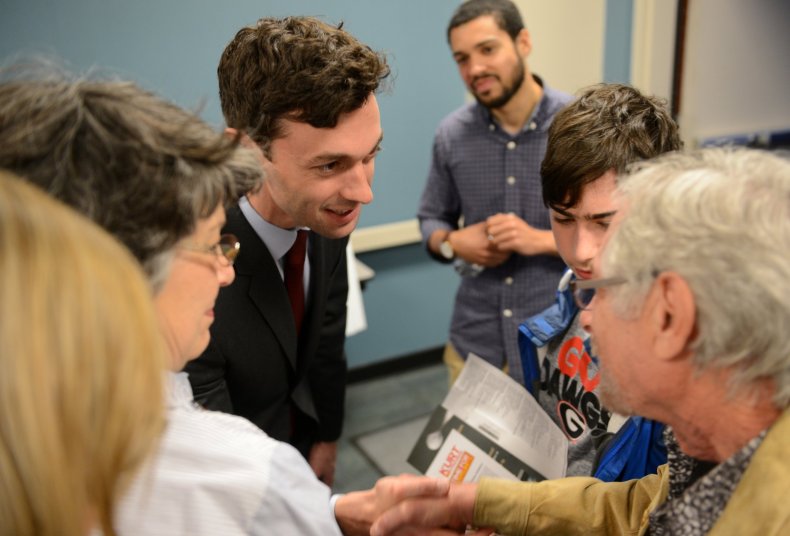 Should Ossoff win on Tuesday—or down the road in June—the victory would be largely psychological for national Democrats. Flipping the seat from Republican hands would only make a tiny dent in the 40-plus seat deficit with the GOP in the House. And the unique dynamics of a special election, where turnout is typically low and organization is lacking, mean it's unlikely to be a good bellwether for other races down the line, something The New Republic underscored this week.
The affluent suburbs north of Atlanta, meanwhile, present a whole different political environment than Rust Belt states where Democrats also need to win back white voters. With its rapidly growing tech sector, cities like Roswell and Alpharetta quickly bounced back after the last decade's recession. More than half of residents in the district have a college degree. That's a far cry from economically depressed regions of Pennsylvania, Michigan and Ohio, where a significant number of voters swung from Democrat Barack Obama to Trump in the 2016 presidential election.
Democrats are, however, gunning for plenty of Republican House seats that do have profiles relatively similar to Georgia 6—relatively affluent suburban districts outside of major metropolises in states like New York, New Jersey, California and Virginia. Democrats vying for those seats will need to pull off the same sort of balancing act Ossoff is attempting, firing up the base while not alienating middle-of-the-road suburban voters. This special election offers a test of one such approach.