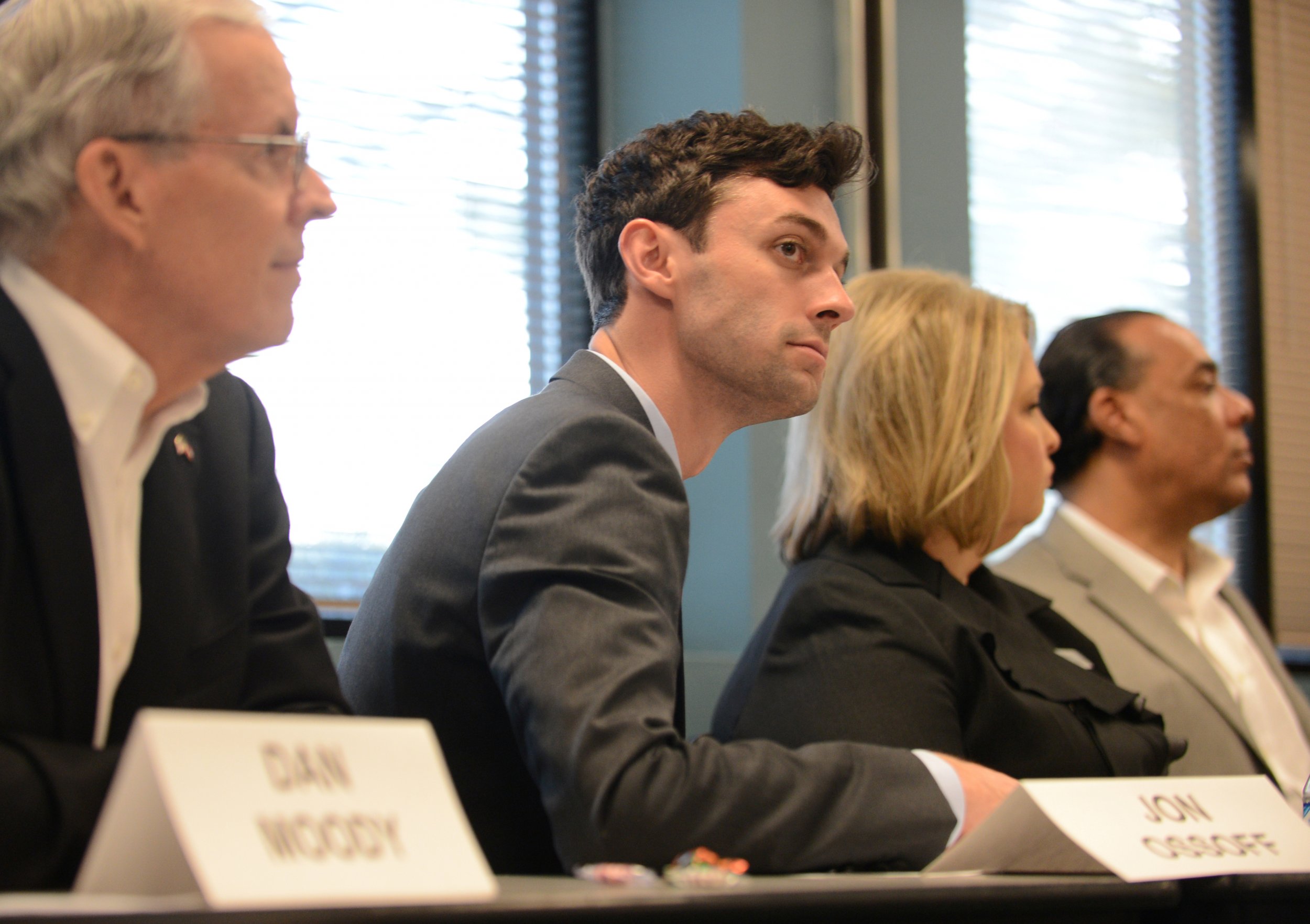 One of the most closely watched political stories in the country—a special House election in Georgia—was thrust further into the spotlight Monday with a tweet from President Donald Trump.
Candidates are vying to become the representative for Georgia's 6th Congressional District and take over a seat vacated by Republican Tom Price, who's now serving as the secretary of Health and Human Services in Trump's administration. The president in an early morning tweet slammed the top Democratic candidate, Jon Ossoff, who liberals hope can flip the seat blue on Tuesday in a district that hasn't voted for a Democrat in almost 40 years.
Related: In Georgia special election, Jon Ossoff offers message to the middle
"The super Liberal Democrat in the Georgia Congressioal (sic) race tomorrow wants to protect criminals, allow illegal immigration and raise taxes!" Trump posted.
The president's involvement is an indicator of the importance of the Georgia election. Flipping a seat in the GOP-majority House would be a nice accomplishment for the Democrats in the early days of the Trump presidency.
Facing a slew of GOP candidates, Ossoff is registering the most support of any of the 18 candidates in the polls but is unlikely to receive the majority support needed to avoid a runoff. Data-driven website FiveThirty Eight pointed out that polls show Ossoff garnering about 46 percent support, but—in a traditionally GOP-leaning area in Atlanta's suburbs—all Republicans combined registered 51 percent support.
Ossoff, a 30-year-old former congressional aide, does have the benefit of being able to run a campaign focused on countering Trump, a largely unpopular president thus far.
"While I'm glad the President is interested in the race, he is misinformed," Ossoff said in a statement Monday. "I'm focused on bringing fresh leadership, accountability and bipartisan problem solving to Washington to cut wasteful spending and grow metro Atlanta's economy into the Silicon Valley of the South."
And as Newsweek previously noted, the Democrat began his campaign by asking for help in making Trump "furious," while promising local economic development and accountability in Washington.
Trump won the 6th District in the presidential election by fewer than 2 percentage points. Ossoff has raised $8.3 million in a race that has drawn increasing levels of national focus from both parties. That fundraising has been a point of contention for the GOP candidates, who see it as non-locals funding the race. (A Republican PAC backed by GOP leadership also has spent some $2 million on ads slamming Ossoff.)
"Jon is being bankrolled by the most extreme liberals," Republican candidate Karen Handel said, according to PBS. "No one is naive enough to think that he will not be beholden to those who are bankrolling him."
Former Georgia Secretary of State Handle, businessman Bob Gray and former state Sens. Dan Moody and Judson Hill are the Republican candidates currently garnering the most support. Should no candidate register a majority of votes, the top two would face one another in a runoff vote in June. Polls currently indicate that a runoff is the most likely outcome, but pollsters were also quick to point out special elections are notoriously difficult to model because it's hard to predict voter turnout.