In Georgia, a State Divided Into Red and Blue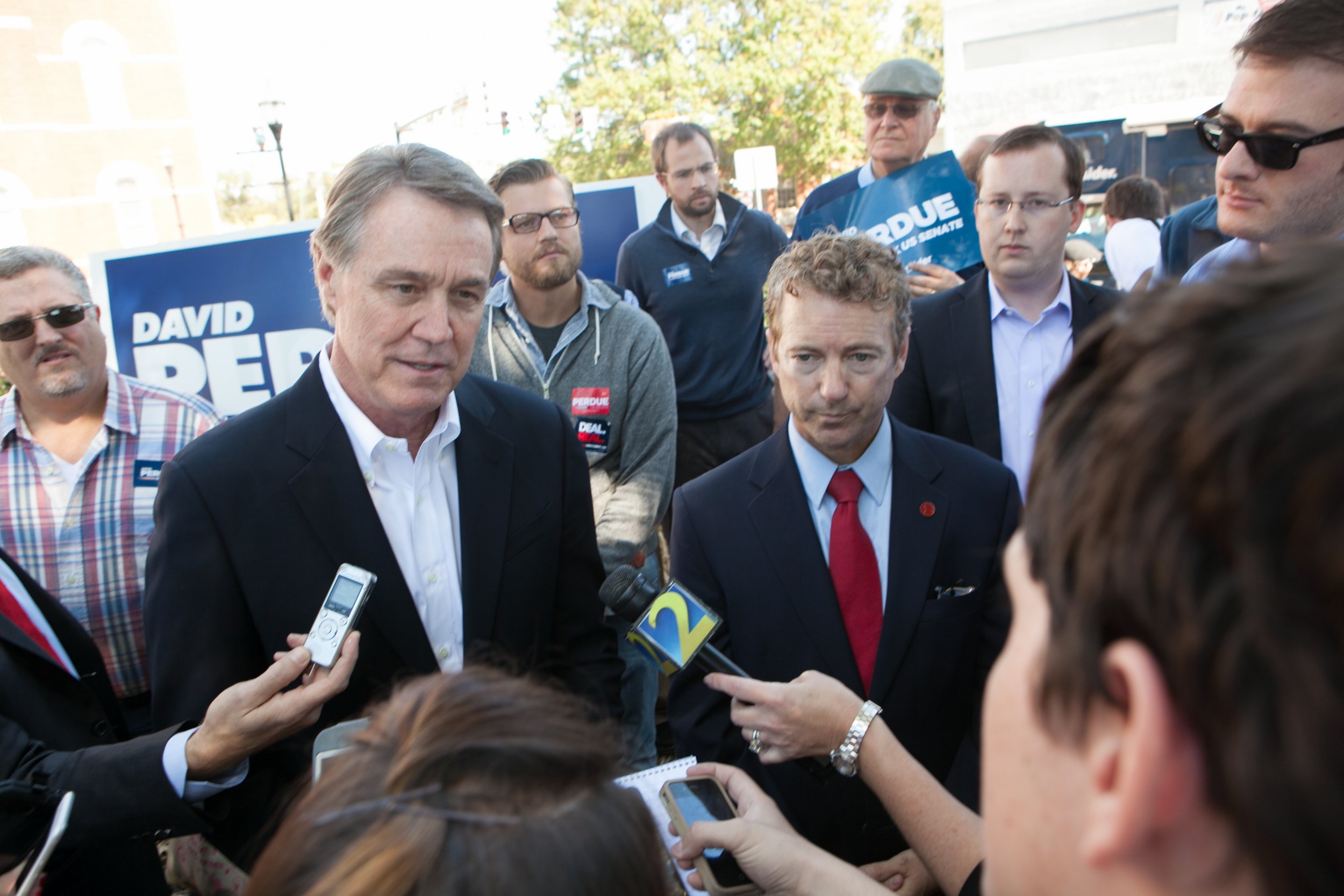 ATLANTA—In the red state of Georgia, a razor-tight Senate race between Democrat Michelle Nunn and Republican David Perdue is catching some conservative voters by surprise.
"Why is it so close?" asked Margaret Eidson, 77, of Monroe. "I can't imagine why it's so close."
It was a sentiment I heard many times as I followed Perdue's campaign RV Tuesday as it wound its way through the rolling hills of north Georgia, stopping in small communities north of Atlanta to greet supporters and urge them to vote. It's not more than an hour from the city to the hyper-Republican counties to the north—but it feels like an entirely different world. One that views the city, with its large minority populations, with suspicion and distrust.
And the feeling is mutual.
Counties like Dawson and Forsyth, where Perdue, his wife and two local congressmen made stops on Tuesday, voted for Republican presidential nominee Mitt Romney in 2012 by more than 80 percent. The crowds that came to see Perdue overwhelmingly consisted of older people who were almost exclusively white. A few miles south and closer to Atlanta, Democratic strongholds with large African-American populations like Clayton and DeKalb counties went to President Barack Obama by similar margins.
In the final weeks of the election, the Georgia Senate race has become one of the closest races in the country. After trailing her Republican opponent for months, Nunn has picked up steam and turned a Senate race in this red state into a dead heat. Nunn has led in some recent polls, Perdue in others. If neither candidate reaches 50 percent on election night, the race will be decided in a January runoff.
The closeness of the race is a sign of just how fast the demographics of Georgia are changing—as The New York Times recently reported, Nunn's surge in the polls is largely a product of pollsters including more minority voters in their surveys to reflect their growing share of the electorate. Between 2000 and 2010, 80 percent of new residents who arrived in the state were nonwhite. This year, Democrats have registered over 100,000 new voters, most of them nonwhite, as part of their effort to turn Georgia purple, then blue.
But those changes aren't apparent at Perdue's campaign stops in the white, Republican counties where he is working hard to drive up turnout. A number of his supporters believe the race is close because Democrats are somehow cheating.
Many Republicans were afraid that Nunn's attack ads were swaying voters. In recent weeks, the Nunn campaign has hammered Perdue over the revelation of a 2005 deposition in which Perdue, then the CEO of a bankrupt company called Pillowtex, said he "spent most of my career" outsourcing. Perdue only made the situation worse when he told a reporter he was "proud" of that record.
"I don't know" who will win, said Betty Pennington, 54, an office administrator who waited for Perdue in the parking lot of a restaurant Tuesday. Voters "believe the commercials on television" that misrepresent the truth, she said. She referenced an ad that features former employees of Pillowtex. "That's one I don't like, but I think it's working."
"In some areas they will [be effective]," Gary Carlisle, 66, said while he waited for Perdue at a gun store in Dawsonville. "People can't see the forest for the trees."
Others pointed to black churches in metro Atlanta that helped bring their congregants to the polls on Sunday, when some Georgia counties allowed early voting on Sunday for the first time this year.
Sandra Curle, 76, of Dawsonville is worried about Democrats who "go into the churches and give out ballots and tell them who to vote for." (Newsweek attended one church's "souls to the polls" event this past Sunday near Atlanta and did not see anyone being handed inappropriate materials or being told whom to vote for.) Curle, who moved to Georgia eight years ago from Tennessee to be near her grandchildren, fears Nunn could get more votes than she should "from people who don't know who they're voting for."
But perhaps the most distrust came over economic issues. Repeatedly, Perdue supporters described Democrats as wanting handouts from the government, echoing Romney's infamous comments, in 2012, in which he said 47 percent of the country will vote for Obama only because they are dependent on government. "We want what belongs to us, and we want people to work for what they have and keep what they have," said Curle. Handouts, she said, are what churches are for.
Democratic voters in Atlanta also name economic issues as a high priority for them, particularly the $7.25 minimum wage. "Even though people are working, they still have to get assistance," said Leila Banks, 58, after voting Sunday after church.
Eight days before the November 4 midterms, Nunn held a rally at the South DeKalb Mall just outside Atlanta. Hundreds of supporters—almost all African-American—gathered to enjoy food and gospel music and hear from Nunn and other prominent Atlanta Democrats. Located next to an early voting site, the rally was part of the Democrats' push to drive up turnout numbers this year. The fairground atmosphere could not have felt more different from the more subdued campaign stops Perdue was making further north.
Singer Patti Austin closed out the night with a soulful rendition of "Lean on Me." But first she urged the crowd to vote. Like Republicans, she characterized the election as a battle over economic resources.
The other side, she said, were a bunch of angry white people "trying to hold on to their pot of gold."