Georgia State Students Want 'Racist' Henry Grady Statue Moved But the Law Bans It
Georgia State University students want a statue of Henry Grady relocated to the Atlanta History Center so context about the Confederate-era editor's racism can be included. But moving the statue would require changing the law.
Grady's contributions to the state landed his name on a hospital, multiple schools and streets, and the statue characterizes him as an "orator," "journalist" and "patriot." Students agree that Grady made an impact on Atlanta, but as an advocate of white supremacy, they say, it's important that people see the whole picture of his life, including the negative parts.
"These monuments pretend that people like Henry Grady only did good things. But in some cases, the people memorialized were just evil. We should not erase their good actions, but we shouldn't celebrate them as people either," Hamza Habibur Rahman, executive vice president of the GSU Student Government Association, told Newsweek.
On Tuesday, Rahman was among the students who advocated for relocating the statue to the Atlanta History Center, where it can be placed "within historical context and absent of civic reverence," in an op-ed in The Signal, GSU's student newspaper.
The problem with doing that relocation is Senate Bill 77, which went into effect on April 26. The law makes it illegal to relocate, remove, conceal or obscure monuments. If a monument must be moved because of construction, it has to be placed in a site of "similar prominence" and can be put in a museum only if it was previously in a museum.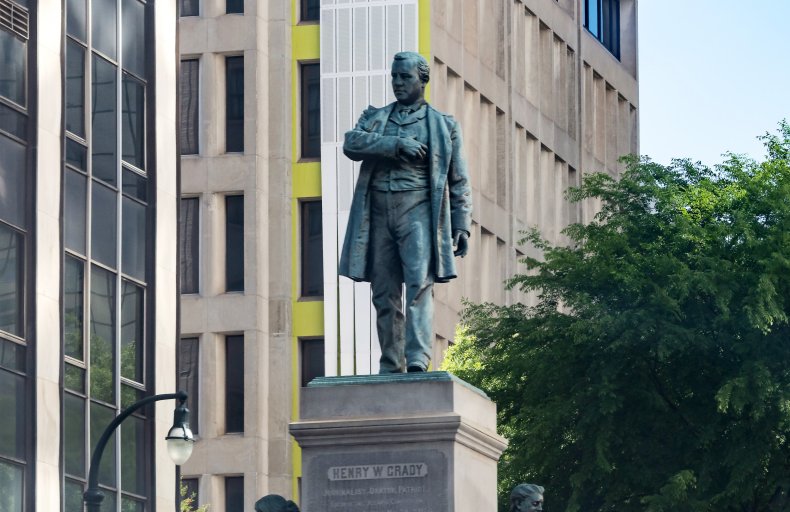 The op-ed urged Atlanta Mayor Keisha Lance Bottoms to advocate changing or overturning the law. Rahman told Newsweek that students were confident Bottoms would support changing the law because she had renamed Confederate Avenue to United Avenue and added plaques to four Confederate monuments.
Newsweek reached out to the mayor for comment but did not receive a response in time for publication.
Georgia's House Democrats all voted against the bill, but it received support from two Democratic legislators during the final Senate vote. Colt Chambers, chairman of the Georgia Young Republicans, told Newsweek that people in Georgia don't want history to be removed or replaced. "The Grady monument is not going anywhere," he said.
In December 2018, South Carolina's Winthrop University conducted a poll of residents in the South and found only 30 percent supported keeping statues dedicated to leaders who supported racial segregation in public spaces. Thirteen percent favored removing them, and half want relocation to a museum or a marker added.
"Statues to avowed segregationists are more controversial than monuments to the Confederate fallen," Winthrop poll director Scott Huffmon told the Associated Press in 2018.
Schools throughout the South have had to decide the best fate for buildings and statues honoring the Confederacy. Some memorials remain standing, some have been renamed, and some have been taken down.
In 2018, activists toppled a Silent Sam statue on the University of North Carolina campus. Then-UNC Chancellor Carol Folt decided to remove the base, saying its presence posed a "continuing threat" to the community.
In November, a judge approved a settlement between the Sons of Confederate Veterans and UNC that granted the group possession of the monument. It also required the university to endow a $2.5 million trust for its preservation, prompting protests from students, faculty and community members.
North Carolina and Georgia both have laws against removing monuments, and Rahman told Newsweek if it's impossible to relocate the statue, a plaque should be erected, a move that Chambers agreed was proper.
"There is no doubt or debate that Grady was a flawed, racist, often small-minded man who was the product of a terrible system that has thankfully been long since rejected by Americans as a people," Chambers said.
He added, "It is imperative that history be seen in full, and the triumphs and disasters should be noted side by side."