Georgia Student Behind Crowded Hallway Photo Gets More Threats as School's COVID Cases Climb
Threats against a student at North Paulding High School in Georgia continued to appear on social media after she posted pictures of crowded hallways and individuals not wearing face masks as the school reopened amid a statewide surge of coronavirus cases. Meanwhile, officials reported Wednesday that 35 people at the school had tested positive for COVID-19.
Photos posted in August by North Paulding High School sophomore Hannah Watters went viral as students were shown jammed together, unable to practice social distancing. Watters was temporarily suspended for using her phone to take the pictures during school hours. After the photos spread on social media, Watters reported receiving threats related to the photos such as "I know where this girl lives" and "We're going to jump every girl named Hannah in the tenth grade."
"I know I'm doing the right thing," Watters told CNN on Sunday, "and it's not going to stop me from continuing doing it. But is concerning, especially since it's a lot of the people I go to school with, people I've known for years now, that are threatening me."
More posts have appeared on social media allegedly from parents of other students at the school in the aftermath of Watters' photos gaining notoriety. In one case, threats of physical violence were made against Waters.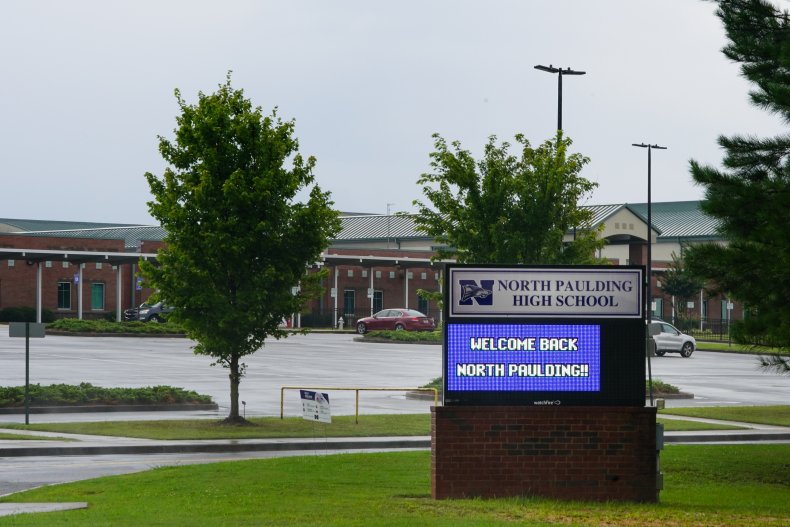 One social media user responded to a thread about Watters leaving the school by suggesting she needed "an ass whoopin" instead.
Another user, apparently referencing Watters, wrote "there has to be a way to remove her, this is becoming harassment and a distraction to our students and families."
North Paulding High School was one of the first schools in Georgia to reopen. Wearing face masks and maintaining social distance was not required. In a letter sent to parents in August by Paulding County Schools Superintendent Dr. Brian Otott, he acknowledged that the photo taken by Watters "does not look good."
In an August statement obtained by Newsweek, Georgia State School Superintendent Richard Woods said that "local school districts do have the authority to require face coverings as part of their dress code policy."
"We have also heard concerns about students disciplined for sharing photos taken at school," Woods continued. "To be very clear, discipline decisions are constitutionally the purview of local boards of education. With that said, I want to encourage our districts and schools to operate with transparency, and to ensure that students and staff are not penalized for expressing their concerns."
After positive cases were confirmed at the school, officials announced the building would be closed for two days to institute cleaning and disinfection. On Wednesday, that time frame was increased and the school is now expected to open on Monday.
"Obviously, the rate of COVID-19 spread is a concern that will require us to adapt our plan for in-person instruction to protect the health and safety of our students and staff," read a Wednesday letter for North Paulding High School officials to parents.
Upon reopening, the school is expected to transition to a hybrid schedule in which groups of students will spend two days per week attending in-person classes while the other three days of the week will consist of remote learning.
Recent data indicated 3,565 new cases of coronavirus in Georgia on Wednesday resulting in 226,153 cumulative positive cases of COVID-19 in the state.