Hannah Watters said she felt like she was doing the right thing by taking a photo of her crowded high school hallway and then posting it online. Posting the photo got the sophomore suspended from North Paulding High School in the city of Dallas, Georgia. The school then dropped her suspension, and she's expected to be back in school this week.
Since then, however, Watters said she has received threats because she released the photo. She says the threats come from long-time acquaintances and other students.
"I feel like a lot of teachers have my back because they know how dangerous it is going to school. But I know that a lot of the kids that I go to school with, I've already gotten backlash for it, threats and things like that," Watters told CNN. "I know I'm doing the right thing and it's not going to stop me from continuing doing it. But it is concerning, especially since it's a lot of the people I go to school with, people I've known for years now, that are threatening me."
Watters said the threatening messages included:
"We're going to jump every girl named Hannah in the 10th grade"
"I know where this girl lives"
"Hannah is going to have a rough day at school on Monday"
The school has delayed its opening until Wednesday of this week so workers can clean and sanitize the entire school after there were nine positive COVID-19 cases reported, with six of those being students and three members of the school staff.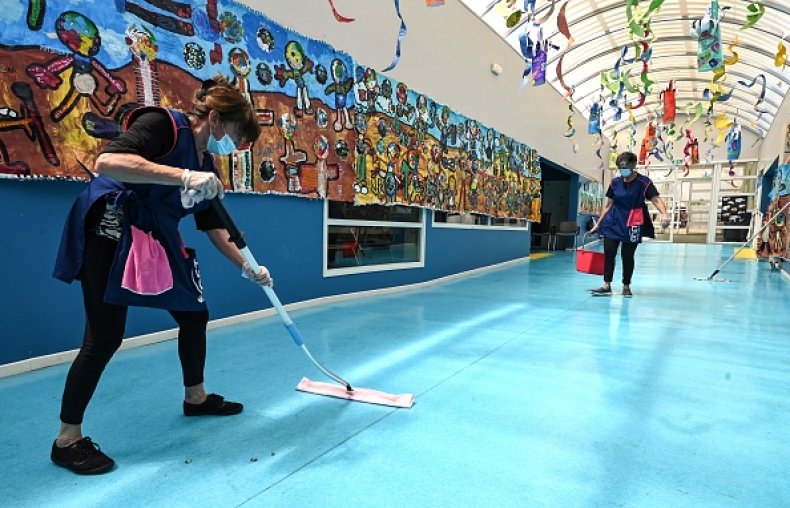 Watters said she was originally suspended for violating student privacy by posting photos of other students without permission. The suspension was lifted Friday after her mother, Lynne Watters, had a talk with the school's principal. The suspension was also removed from her school records.
The photo of wall-to-wall students in a hallway showed no signs of social distancing, and Watters said she just wanted people outside the school to get a glimpse of what she sees.
She also said she has no intention of trying to shut down the school.
"I just hope that sooner or later everyone can understand that I'm not trying to shut it down and when I did expose the school district, it wasn't to cancel the senior year, not to go after anyone. It was just to keep us all safe." Watters said. "Because you wouldn't have your senior year because sooner or later the school was going to shut down and if we shut down or just go online for a week earlier, we can contain it quicker and we can use the rest of your senior year, the rest of the school year normally."
Here is the Watters interview from CNN on Sunday.
Since then, a student at Sammy McClure Sr. Middle School in Paulding County, Georgia has also tested positive for coronavirus.
The United States on Sunday passed the 5 million mark for positive coronavirus cases. Since the Pandemic first hit the states in February and March, schools and universities around the country went to online learning, people began working from home, there were massive furloughs in the country, the stock market crashed, people were told to practice social distancing, to continue washing hands, using sanitizers and disinfectants and to wear protective masks when possible.
Many school districts around the country have already announced delayed starts and in-person classes, and that they will continue with remote learning that was first introduced this year.