Georgia Teacher Placed on Leave for Sharing a 'White Trash' Confederate Flag Message in Class
A teacher in Richmond County, Georgia, has been placed on administrative leave after showing students a picture of the Confederate flag with words that many deemed to be incendiary.
The teacher from Hephzibah High School, who has not been identified, shared the picture of the controversial flag with words that read: "A sticker you put on the back of your pickup truck to announce that you intend to marry your sister. Think of it like a white trash 'Save the Date' card."
It was not immediately clear under what context or circumstances the words or picture were used, but the matter roused local debate after one pupil took a picture of the classroom slide and sent it to her mother for her opinion.
Melissa Fuller, the student's mother, then shared the picture to Facebook—triggering over 150 comments from fellow parents, teachers and other community members.
"She [Fuller's daughter] found it offensive so she sent it to me and asked me what I thought," Fuller told WRDW12 News. "A lot of [the comments said that] it's not morally correct. Its unethical. It's just something you don't want to discuss today in today's world."
Fuller added it was not the picture of the flag that caused offense, but the words that were used alongside.
"Why was that used?" she said. "And with it being such a rough area, why would you put that out there to start a class discussion that could have turned very ugly?"
Fuller also added that her daughter once wore a Confederate flag belt buckle to school, but was promptly told to remove it and received an in-house suspension for the offence.
"If she can't wear that belt, then why is it appropriate to use the flag to make a school assignment out of it?"
Although early usage of the flag was to represent the secessionist states within the American Civil War, more modern usage started in response to the Civil Rights movement and has continued to this day. While some argue that use of the flag is an embrace of Southern history, many argue it is representative of racism, slavery, segregation, white supremacy and other means of repressing the country's black population.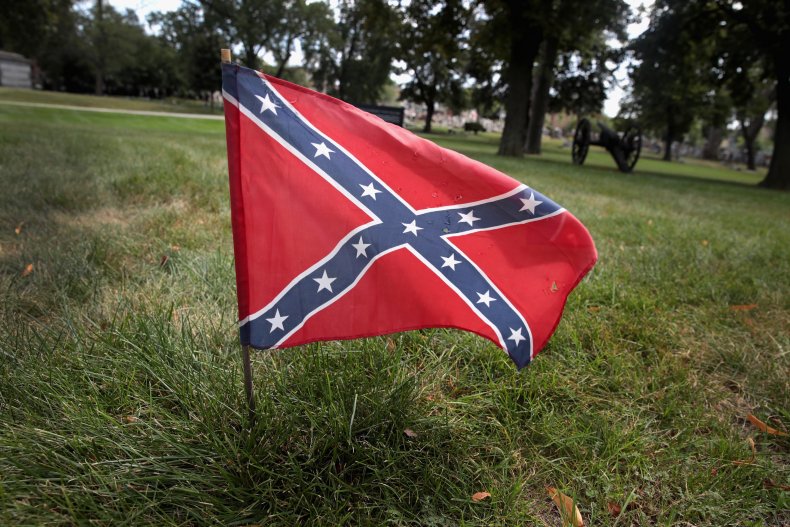 In a statement, The Richmond Country School System made no mention of the flag and only addressed the teacher's words that were used alongside.
"The Richmond County School System is committed to creating a diverse, equitable learning environment for students," the statement reads. "The language used in the example was unacceptable and has no place in our classrooms."