Georgia Teens Storm Elementary School Bus and Attack Children
Four teenagers have been arrested on suspicion of attacking an elementary school bus in Georgia, which left one child needing hospital treatment.
An 18-year-old non-student, along with two middle school students and one high school student, are alleged to have attacked the bus carrying Snapfinger Elementary school students on Hollyhock Terrace in Decatur, DeKalb County, on Monday, November 18.
The attack occurred around one mile away from the school, reports WSBTV.
It is unclear what exactly occurred on the bus.
A voice mail message to parents from Snapfinger Elementary School said in part: "During the morning ride to school, a group of middle and high school student boarded the bus to assault an elementary school student."
It is believed that more than one student was attacked during the incident, but only one was injured seriously enough to be sent to a local hospital for treatment. The extent of the child's injuries is not known at this time.
Parents of the school children have spoken at their anger at the incident. Some say they were only told of the attack while they were waiting to pick them up their children from school later that afternoon.
"This is my kid's second week at school. This is ridiculous," parent Latrice Lewis told WSBTV. "This is why I don't have my kids on the bus; I drive them to school, and I drive them back home."
Fellow parent Alexis Clarke described the attack as "outrageous."
"I think that's really bad, and if they did beat up some elementary school students, they definitely deserve to go to jail," Clarke added.
Cee Cee Evans added: "I have a small daughter, I can't even imagine that happening to her."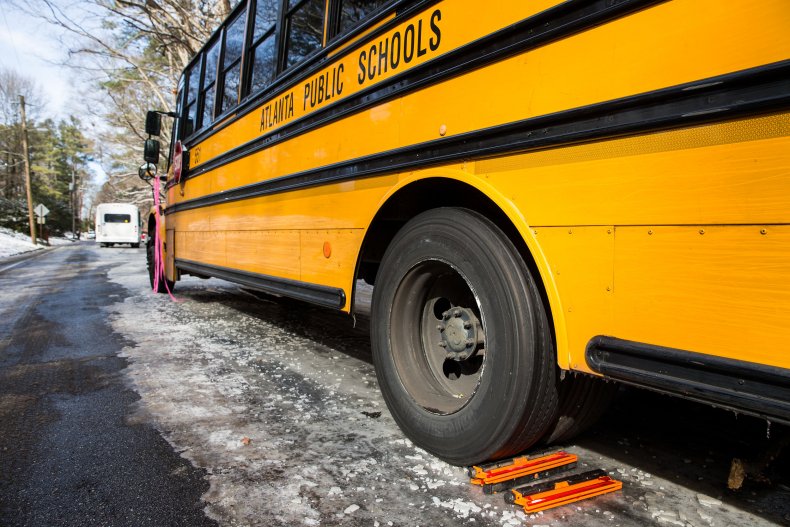 The four suspects are reported to be facing assault charges following their arrest by DeKalb County School District Police. The motive for the attack is not known.
In a statement released to local media, school officials said: "The safety and well-being of our students is our top priority. On November 18, an incident occurred on a school bus on Hollyhock Terrace involving Snapfinger Elementary students.
"Two middle school students, one high school student, and an 18-year-old non-student attacked elementary students, which resulted in one elementary student being transported to Children's Healthcare of Atlanta (CHOA).
"DeKalb County School District Police responded immediately, investigated and obtained warrants for the high school student and the 18-year-old non-student.
"Two middle schools students were arrested and taken to Juvenile Intake."
The DeKalb County School District Police did not immediately return a request for further comment.