President Donald Trump supporters protesting the outcome of the 2020 election have a new and surprising opponent: the Republican Party.
A viral video of protesters, as well as posts on social media platform Parler, indicate that Trump supporters are looking to boycott the upcoming Georgia Senate runoff elections.
A video, shared on Twitter on Saturday, shows a protester speaking into a mic criticizing Georgia Governor Brian Kemp and Utah Senator Mitt Romney, who are both Republicans. The protester calls them "traitors."
Seemingly reacting to certification from Georgia election officials that President-elect Joe Biden had indeed won the Peach State following an election recount, the protesters disavowed the GOP.
"Any Republican who allows this to happen is complicit, and we will finish you," the protester, donning a camo sweatshirt with an elephant on it, shouts into the microphone. "For any Republicans not explicitly helping Trump to 'stop the steal,' we will make sure you are never elected ever again."
Another demonstrator can be heard shouting a long "We're the new GOP."
Reading remarks off his phone, the protester in the camo vows to dismantle the party.
"If the Republican establishment stands back and stands by and allows the steal to go through, we will do whatever it takes to completely destroy the Republican Party," he said. "We will accept nothing less than a Donald Trump victory." He also accused recounts and ballots of being "fake"—yet claims about voter fraud have been widely debunked.
While in-person protests urged officials to call the election for Trump, a number of Republicans on the "free-speech" social media website Parler have demanded a boycott of the Senate runoff elections, citing a conspiracy theory about "rigged" voting machines. Screenshots shared by reporter Marcus Baram showed that people on the app accused Kemp and Georgia Secretary of State Brad Raffensperger of being "RINOs"—an acronym for "Republican in Name Only"—and trying to lead to victories for Democratic candidates Raphael Warnock and Jon Ossoff. Both Warnock and Ossoff are challenging incumbent Republican Senators Kelly Loeffler and David Perdue, respectively.
Many of the posts bore a resemblance to language used by people who believe the QAnon conspiracy theory.
"DO NOT VOTE IN THE GEORGIA RUNOFFS, THE DEEP STATE WILL BE COLLECTING EVERYONE'S INFO. THIS IS A CHARADE, MEANT TO IDENTIFY PEOPLE WHO DON'T VOTE DEMOCRAT," one post read, which also lamented that potential victories for Warnock and Ossoff were a "small price to pay."
The Georgia runoff election is scheduled for January 5, with early voting beginning on December 14. The runoffs will determine which party controls the Senate.
Other than the Republican Party, many supporters have also turned on Fox News, upset that the network has also called the election for President-elect Joe Biden. Another video of protests shows one person saying that Fox "betrayed us" in calling Arizona for Biden.
"After Fox News called Arizona prematurely for Joe Biden, I said, 'I will never watch Fox News again,'" the protester said.
Trump praised the supporters in Georgia for gathering, sharing an article about the protests from conservative outlet Breitbart.
"Big Rallies all over the Country. The proof pouring in is undeniable. Many more votes than needed. This was a LANDSLIDE," he tweeted Saturday afternoon.
Contacts for the Republican Party of Georgia did not respond to Newsweek's emailed requests for comment in time for publication.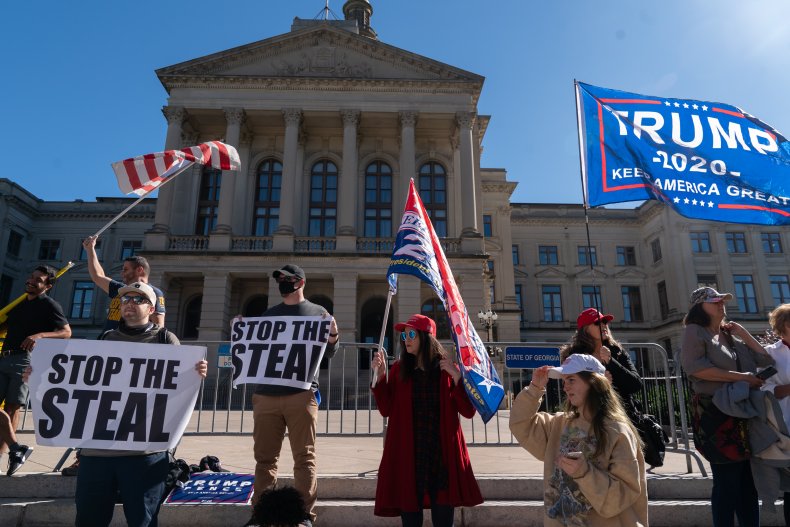 Update 3:44 p.m. EST: This story has been updated to include Trump's tweet about the Georgia rallies.