Supporters of President Donald Trump gathered outside Georgia's Capitol building in Atlanta on Saturday, one day after major news outlets declared Joe Biden winner of the state's presidential election and officials initiated a manual ballot recount. Photos shared to social media on Saturday afternoon showed a large group of people with signs and flags backing Trump's re-election effort.
According to reporters on the scene, hundreds of individuals participated in the demonstration, which was organized to protest the state's election results. Demonstrators chanted "stop the steal," a rallying cry that surfaced at several protests over the past week, as Trump's proponents follow his lead in attempting to question the election's outcome. A group of armed individuals was reportedly present during Saturday's demonstration, while counter-protestors stood nearby supporting Biden's win and Black Lives Matter.
Trump wrote on Twitter early Sunday morning: "Doing a great job in Georgia. Their recount is a scam, means nothing. Must see fraudulent signatures which is prohibited by stupidly signed & unconstitutional consent decree."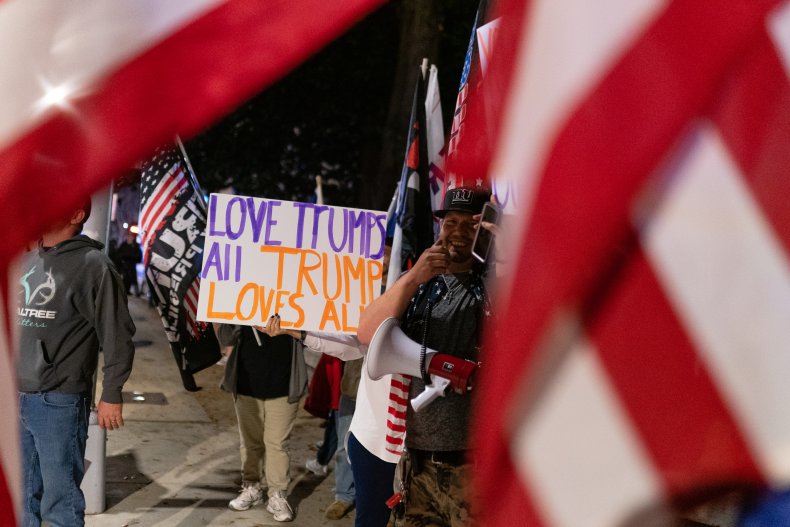 Echoing a string of criticisms targeting Georgia's leadership on Saturday, the president tagged Governor Brian Kemp in one of his Sunday tweets, also retweeting a recent message from Atlanta-based attorney Lin Wood. A Trump supporter who is also involved in Kyle Rittenhouse's defense, Wood filed a lawsuit last week against Georgia Secretary of State Brad Raffensperger that seeks to invalidate the state's election results.
The lawsuit alleges that Georgia's March consent decree—an agreement between two parties later approved by the court—that changed procedures related to signature matching on ballots was unlawful, and therefore, discredited the state's election results.
The decree gave voters opportunities to fix their ballots if elections officials identified signature mismatches. Previously, such ballots would have been discarded. Stacey Abrams, a Georgia politician and voting rights advocate who backed the March decree, said policies that forced elections officials to toss ballots with mismatched signatures disproportionately affected Black, Latino, immigrant and young voters.
Twitter flagged Trump's Sunday tweet with a label notifying users that his "claim about election fraud is disputed." The social media platform has flagged dozens of Trump's tweets for similar reasons since Election Day.
Results of Georgia's first round of ballot tallies, released after Election Day, indicated that Joe Biden won by a narrow margin of about 14,000 votes. Trump's re-election campaign requested the state conduct a recount, and Raffensperger later confirmed it would, given the closeness of the race. Georgia law requires that one race this year be audited anyway, to confirm a new electronic tabulation systems function correctly. Numerous officials, including Raffensperger, say Georgia's recount will not change results of the presidential race.
In the wake of his projected loss to Biden, nationally as well as in Georgia, Trump is endeavoring to challenge the election's outcome. He has shared numerous false claims about voter fraud and corruption, while his campaign has filed legal actions that question ballot counting procedures and seek to prevent states where Biden won from certifying election results. Many of the complaints have already been dismissed in court.
Newsweek reached out to Raffensperger's office for comment but did not receive a reply in time for publication.