Georgia Governor Brian Kemp said during a Thursday interview he will end the state's participation in federal coronavirus-related unemployment benefits. The move, he said, is to encourage people to get back to work.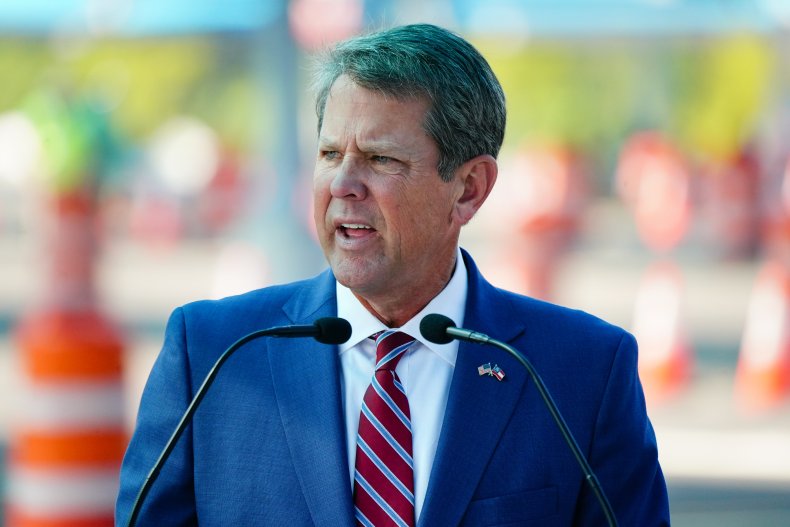 "We've got to get more people in the workforce," Kemp said during a segment on Fox News' America's Newsroom. "We have a record number of jobs in Georgia. Georgia is open for business."
Kemp also said he will work with the Georgia Department of Labor and will announce more details of the plan on Thursday afternoon.
On Thursday afternoon, Kemp press secretary Mallory Blount provided Newsweek with a statement containing an announcement of the move, which was made with Georgia Labor Commissioner Mark Butler. It stated that state labor officials plan to end Georgia's participation in federal pandemic unemployment programs effective June 26. Anyone still receiving unemployment benefits will continue to be eligible for state jobless benefits of up to $365 per week.
"During truly unprecedented times, hardworking Georgians have stayed resilient and businesses of all sizes have quickly adapted to an unpredictable environment," Kemp said in the statement. "Even in the middle of a global pandemic, job growth and economic development in Georgia remained strong—including an unemployment rate below the national average. To build on our momentum, accelerate a full economic recovery, and get more Georgians back to work in good-paying jobs, our state will end its participation in the federal COVID-19 unemployment programs, effective June 26th."
As the state emerges from the pandemic, the governor added, "Georgians deserve to get back to normal—and today's announced economic recovery plan will help more employees and businesses across our state do so."
Kemp deputy press secretary Emily Flower posted Kemp's Fox News appearance—including a screenshot of Kemp appearing on a split screen next to America's Newsroom co-host Dana Perino—on her Twitter account.
There were indications that Georgia might make this step. Earlier this week, Butler said he was considering cutting federal benefits to workers to order to get them back into the workforce.
Kersha Cartwright, a spokesperson for Butler, said he had met with Kemp on Monday and discussed opting out of the $300-a-week federal supplement to unemployed workers. Another option discussed, according to Cartwright, was cutting off special federal benefits to people who would not usually be eligible for state employment.
"I think the governor's office and the commissioner are agreed that a major reduction in some programs, if not all programs, is needed," Cartwright told the Associated Press. "Everything's on the table for discussion."
On Monday, the Georgia Chamber of Commerce also called for suspending the benefits. It joined business groups in a call for opting out.
"Because they cannot find labor, businesses are starting to turn down orders, raise prices, and some are even considering closing permanently," the business groups said in a statement. "Many restaurants are only offering drive-through, pick-up service, not because of COVID, but because they cannot find enough workers to support full-scale operations."
Approximately 25,000 Georgians filed new unemployment claims in the week that ended on May 1, and about 140,000 people in the state are receiving traditional unemployment benefits from the state program, according to the AP. Georgia's workforce is 44,000 below the record of 5.2 million that it hit in March 2020.
Other states that have announced they would withdraw from the weekly $300 federal supplement are Alabama, Arkansas, Mississippi, Montana and South Carolina.