Georgia Wants U.S. Help to Get Back South Ossetia, Where Russia Ally Says 'Never Again'
Georgia is seeking support from the United States and other Western powers in reclaiming the breakaway region of South Ossetia and Abkhazia, whose Russia-backed governments vow to remain independent 12 years after what many consider Europe's first 21st-century war.
It's been three decades since Georgia gained its independence from the crumbling Soviet Union, but the rekindling of a 100-year-old conflict waged with ethnic Ossetian led soon after to new divisions within the Transcaucasus country straddling Europe, Asia and the Black Sea. When Georgia attempted to reclaim the disputed, autonomous South Ossetia amid clashes in 2008, the Russian military intervened, allowing the region and coastal Abkhazia to declare independence on August 26 of that year in developments met with little international recognition but enforced by Moscow's might.
Today, Georgian ambassador to the United States David Bakradze says: "The illegal occupation of 20 percent of our country is painful and intolerable."
"Since 2008, Russia has implemented a 'creeping annexation' strategy, its troops move barbed wire fences overnight, dividing families and properties," he told Newsweek. "The human rights situation in the occupied territories is grim. There have been kidnappings, human rights violations, including murders."
The conflict, he said, is "also far from 'frozen,'" as many observers have deemed it due to a scarcity of armed clashes.
Across one of these disputed borders, manned by both local and Russian forces, South Ossetia Foreign Minister Dmitry Medoev also disagrees with the "frozen conflict" label, but for an opposite reason. "South Ossetia is no longer a country of conflict," he told Newsweek of a state recognized only by Russia, Venezuela, Nicaragua, Nauru and Syria.
"South Ossetia is a recognized sovereign state since August 2008, and it is not important at all how many states have recognized this status—the main thing is the existence of a possibility of peaceful development," he added.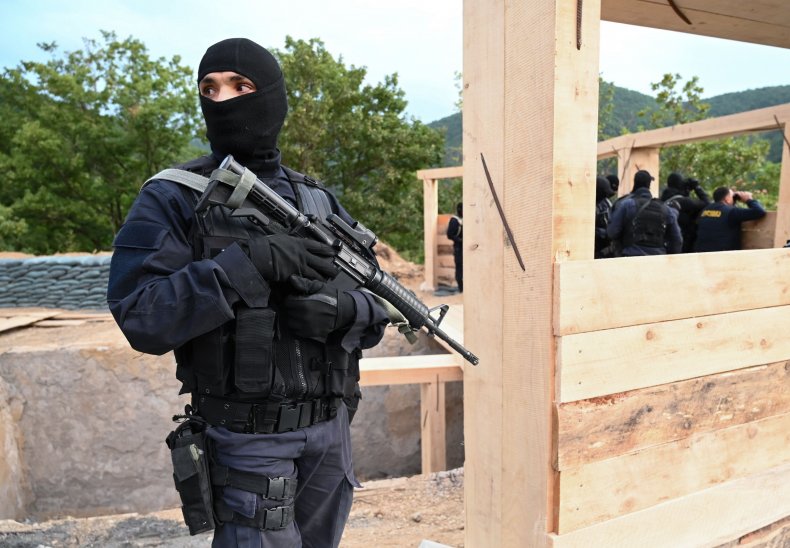 That date is celebrated in Abkhazia and South Ossetia but mourned in Georgia, which is calling for international backing. On Saturday, the 12th anniversary of the war between Georgia and Russia, German ambassador to the United Nations Günter Sautter delivered a statement on behalf of his and seven other countries in support of Georgia and criticizing Russia to the United Nations Security Council.
"The continuing Russian military presence in the Georgian regions of Abkhazia and South Ossetia as well as Russia's recognition of the so-called independence of these regions violates the territorial integrity of Georgia and undermines Georgia's sovereignty, as well as the Rules Based International Order," Sautter said, representing Belgium, Estonia, France, Germany, Ireland, Norway, the United Kingdom and the U.S.
"It further divides communities and puts at risk the health and lives of the conflict-affected population," he added. "We are extremely concerned about the intensification of the so-called 'borderisation process' over the past year, including during the global COVID-19 pandemic."
Georgia voted months before its 2008 war with Russia to join the U.S.-led NATO Western military alliance, which in the years since has supported the country's membership. While Tbilisi remains a close partner of the defense pact and even participates in multilateral exercises and operations, it still has yet to become a full-fledged member.
One NATO official referred to Georgia as "one of the Alliance's closest partners."
"The country actively contributes to NATO-led operations and cooperates with the Allies and other partner countries in many other areas," the official told Newsweek. "Over time, a broad range of practical cooperation, from strengthening defense capacity including the democratic management and oversight of the defense and security sector to scientific cooperation, has developed between NATO and Georgia, which supports Georgia's reform efforts and its goal of Euro-Atlantic integration."
Bakradze remains hopeful for total membership. "Georgia is moving closer to the U.S., NATO, and EU despite Russian aggression," he said. "That is why we have moved decisively forward on our democracy, grown our economy, and applied to join NATO and the EU. This is where we belong and no amount of Russian belligerence will stop that."
"Getting the Russians out of our territories is going to take a united push. Russia needs to be incentivized to do this, or its costs need to be raised for not doing it," he added. "We appreciate the strong support Georgia has received for its sovereignty and territorial integrity. The United States and Europe are sincere in their efforts to want to find a solution to this problem."
He also cited Georgian Prime Minister Giorgi Gakharia, who said during the war anniversary days ago that his country "will never tolerate the occupation," and would instead "stand on the peaceful path of solving this challenge" alongside international partners.
But Medoiti takes exception to the term "occupation." He said: "Following the logic of the so-called 'West' it would be more logical to ask ourselves: are we occupied?"
"I would like to assure you that any citizen of South Ossetia will smile if someone asks him this. Moreover, he will think badly of you," Medoev added. "I will answer you absolutely, definitely: the people of South Ossetia are deeply grateful to the Russian government for the timely decision firstly to send troops, and later to recognize the independence of our state in August 2008."
He added: "It is time for everyone and primarily for 'friends of Georgia' to understand that never again will South Ossetia be a part of Georgia, this is excluded!"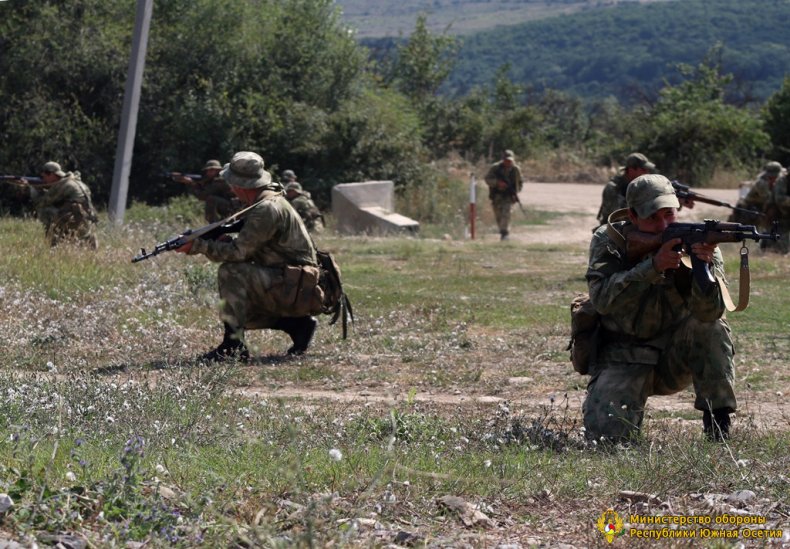 Medoev argues that Russia's intervention "saved our people from genocide, which we were menaced with if the attack of the Georgian army succeeded." Bakradze says that, "If not for the Western support during the war, Georgia could have lost its independence."
In its own statement shared for the war anniversary, the Russian Foreign Ministry said: "Georgia's actions were a flagrant violation of international agreements on the peaceful settlement of the Georgian-South Ossetian conflict that resulted in numerous casualties, including among Russian military servicemen and Russian citizens, and destruction, and, ultimately, preconditioned Russia's response operation to enforce peace and Russia's subsequent decision to recognize the independence of South Ossetia and Abkhazia."
The conflict signaled one of the first stopping blocks for a cautious 21st-century U.S.-Russia detente that had emerged during the administration of former President George W. Bush. A second falling out occurred with the 2014 Ukraine crisis, where Russia was once again accused by the West of backing separatists in a former Soviet republic, this time in the eastern region of Donbas, where two more states have been declared, and of seizing the Black Sea peninsula of Crimea in the wake of an internationally-disputed referendum.
Bakradze highlighted Russia's support for these entities as another "blatant attempt to change the borders of Europe by force," while Medoev stood "in full solidarity with its people, who, like the people of South Ossetia, have suffered military aggression, which resulted in numerous deaths of civilians."
The Black Sea remains a flashpoint for NATO-Russia tensions as both sides hold rival military exercises there. The two have called for peace and stability. But as a Cold War-like security environment returns to Eastern Europe, so do fears of that the so-called "frozen conflicts" in the region may again be reignited.