Georgia Voters Face Long Wait Times to Cast Ballots—How to Check Gwinnett, Cobb County Lines From Home
Georgia's first days of early voting have been plagued by long wait times, causing voters to wait hours to cast their ballot. But, at least three counties have set up a system to let voters see what they're facing before they arrive at their polling place.
In-person early voting in Georgia started on Monday and Secretary of State Brad Raffensperger said the state saw a record turnout that was more than 40 percent higher than 2016. That trend continued over the next two days with more than 540,013 people casting ballots as of Thursday evening, a 62 percent increase from 2016, and, combined with a glitch in the system, it made for a perfect storm of voters having to wait longer than usual.
However, in Fulton, Gwinnett and Cobb Counties, the three most populated in the state, officials set up websites to help voters gauge how long they'll wait at each polling place. Fulton and Cobb counties' websites each use color-coded maps to indicate the length of time a person will have to wait, with green being under 30 minutes, orange being up to one hour and red being the longest at longer than two hours.
Fulton's system also allows voters to see the polling places in a list form and Gwinnett's is solely in a list format. Gwinnett's page automatically refreshes every five minutes but voters have the option to refresh it at their will, as well.
"We're encouraging voters to really check all the voting locations, because there are some areas that people are going to because that's where they have gone to in the past. But there are other locations where there's no wait times," Raffensperger told WSB-TV on Thursday.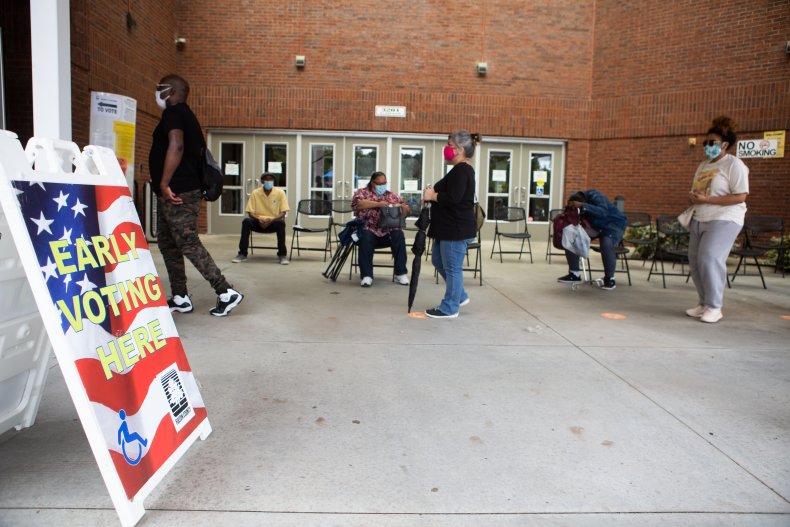 He noted that lines may appear longer than normal because voters are spaced six feet apart to maintain social distancing, but cleaning measures in between voters are also adding time to the process. The "glitch" in the software that contributed to long lines, he said, was fixed after lunch on Wednesday, meaning people are being processed more quickly.
Workers at polling places could only check-in 10 voters per hour at each computer because of the system's speed, the Atlanta Journal-Constitution reported. Fulton County Elections Director Richard Barron told the AJC that check-in times should be down to one minute and empty ballot-marking devices can cause frustrations among voters waiting to be processed.
Despite the increased number of voters and absentee ballot requests, Raffensperger told WSB-TV that he expects Georgia to know the outcome of the election "very quickly" compared with other states. As chair of the election board, he said results for races that aren't close will be available on election night and for those that are, it could be Thursday "at the latest."
"What I'd like to say, and I understand these are contentious times, that half the people will be happy. Half the people will be sad with the result," Raffensperger said. "But you can accept the results that it was accurately counted. I think that restores confidence in voters."