Georgia Voting Law Forbidding Ballot Counters From Taking Breaks Doesn't Violate Labor Statutes
Georgia Governor Brian Kemp signed a bill Thursday that enacts sweeping voting restrictions in response to the record voter turnout in the 2020 general election.
But the new legislation, championed by state Republicans, doesn't just target Georgia voters. It also applies to local county election workers. It will forbid those workers from taking breaks while counting ballots and strip the secretary of state of some of his authority.
Secretary of State Brad Raffensperger became a main target in voting restriction efforts in Georgia after he refused to help former President Donald Trump overturn the results of the 2020 election.
While the changes are expected to be challenged in court, preventing election workers from taking breaks does not violate any labor laws that exist in the state.
"Neither the Fair Labor Standards Act (FLSA) nor Georgia law require breaks or meal periods be given to workers," the state's Labor Department says on its website.
The department notes that, at their own discretion, many employers do provide breaks and meal periods, often between five and 20 minutes. The FLSA requires Georgia workers to be paid for these shorter breaks, but employers are not required to compensate them for any period over 30 minutes in which employees do not have to perform work.
"It is hard to view this as constructive at a time when the Legislature is engaged in voter suppression and laying the foundation for a takeover of county election boards," Andrea Young, executive director of the American Civil Liberties Union (ACLU) of Georgia, told The Atlanta Journal-Constitution.
In response to the legislation, the ACLU has said it would consider every legal option to fight the new changes in Georgia's election processes.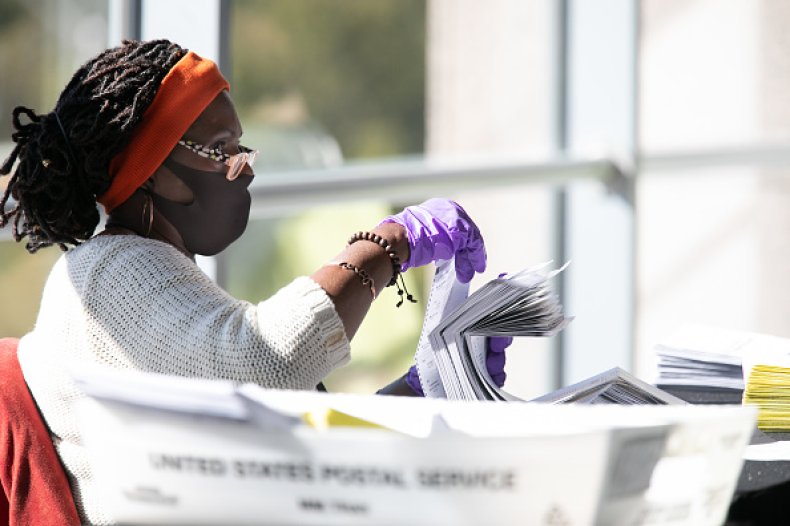 The bill that Kemp signed is less rigid than its initial versions, but it still introduced a number of restrictions that include limiting drop-off boxes, imposing new oversight of county election boards, tightening regulations on who can vote with provisional ballots and shortening the runoff election cycle by more than half, from nine weeks to four. It will also make it a misdemeanor to offer food or water to voters waiting in line.
Signing the new law, Kemp said he did not regret "taking another step to making our elections fair and secure."
"There's no doubt there were many alarming issues with how the election was handled, and those problems led to a crisis of confidence in the ballot box here in Georgia," the governor said.
The bill is one of more than 250 that Republicans across the nation have filed after Trump lost the election to President Joe Biden. Biden criticized the effort on Thursday, calling the measures "un-American."
"This makes Jim Crow look like Jim Eagle," the president said.
Early iterations of the bill sought to limit Sunday voting, which was seen as an attempt to target the "Souls to the Polls" initiatives run by Black churches.
The law passed in both the state House of Representatives and Senate on Thursday afternoon by party-line votes. No Democrats voted for the measure.