Georgia Woman Accused of Stabbing Police Officers With a Pen as They Rescued Her From Burning Church
A Georgia woman was arrested after she tried to stab police officers with a pen as they rescued her from a burning church, the local sheriff's office said.
Dana Lawton, 33, faces a number of charges after she allegedly broke into the Gainesville Seventh Day Adventist Church in Gainesville, roughly 60 miles north-east of Atlanta, before setting the religious building alight.
Police officers from Hall County Sheriff's Office were called to the church following allegations of other offences, but had to react quickly once they saw the building on Old Cornelia Highway up in flames.
A spokesperson for the Hall County Sheriff's Office said officers first asked Lawton to leave the billowing church voluntarily, but were forced to take action when she refused. It was then that she attacked, authorities said.
"(She) refused commands from deputies, who were forced to carry her out of the church because of fire and smoke in the room," the spokesperson said in a statement, reported the Gainesville Times.
She then allegedly attempted to stab officers several times with an ink pen as they took her into custody outside the church, the statement added. Lawton is also accused of spitting at officers while they questioned her in a police car
"Fortunately, none of our folks were hurt," said Derreck Booth, an officer with the Hall County Sheriff's Office, reported the Springfield News-Sun.
Officers were initially called to the church on Sunday at about 9:50 p.m. following reports of a nearby burglary on Pierce Road.
Lawton and another man reportedly broke into a storage shed to steal from it, but a nearby resident is said to have spotted the two.
The man, who has not been formally identified, is said to have taken off into the woods, while Lawton headed for the church.
She allegedly broke a glass door to gain entry and when inside, she is accused of starting the fire in a back room.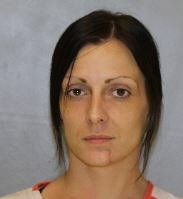 Dana Lawton, 33, faces charges of burglary, obstruction and arson following a church fire in Gainesville, Georgia.
Hall County Sheriff's Office
It was not immediately clear how much damage the church suffered in the blaze.
"We're still trying to figure out," Pastor Juanfer Monsalve of the Gainesville Seventh Day Adventist Church told local news outlets. "There's a lot of smoke so we're cleaning."
For now, he said his thoughts are with Lawton.
"It doesn't sound like something normal," he said. "We're just praying for her. Hopefully she gets the help that she needs."
Lawton, who was not hurt in the fire, now faces two charges of burglary, two charges of obstruction and one charge of first-degree arson, in addition to two probation violations for previous drug offences. The other man is still at large.