A Georgia bride-to-be who planned a bachelorette excursion in the Bahamas decided to transform her girls-only getaway into a relief effort for victims of Hurricane Dorian.
Rikki Kahley of Macon, Georgia, booked a September 12 trip to the Bahamas with her closest girlfriends six months ago, long before Dorian devastated the island. But rather than cancel, Kahley and her friends landed on Thursday with 40 suitcases of clothes, personal hygiene products, baby food and other goods to hand out to impacted residents.
"As the hurricane was coming through, we were getting a little nervous, trying to figure out a backup plan in case they did have severe damage," Kahley, who is getting married in October, told WGXA. But they were told Nassau's Grand Hyatt Baha Mar, where they were staying, was full operational.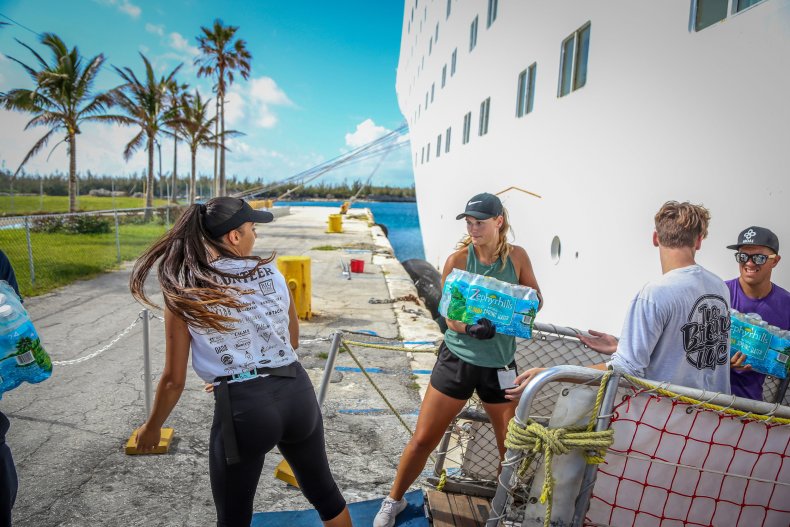 In the weeks since Dorian hit, Kahley asked family and friends on Facebook to donate items for those in need, a suggestion from her sister, Chloe. "She has a servant's heart, she's always looking to help people," Kahley added. "She came up with the idea and we saw it as a good opportunity."
Whatever supplies the women couldn't take with them are being donated to U.S.-based organizations helping recovery efforts in North and South Carolina.
Kahley's mom, Sandy Gibbs Kahley, also posted photos on on Facebook of the suitcases and supplies they were carrying. (Delta Airlines waived the baggage fees for their flight.)
Financial donations were used to offset transportation costs, with any leftover money going toward an Amazon order to get an air mattress sent to the Bahamas.
Since Dorian, a category 5 hurricane, made landfall on September 1 the death toll in the Bahamas has reached at least 50, with an additional 1,300 people reported as missing and 5,000 people were evacuated from their homes. The U.S. Coast Guard says its crews have rescued more than 200 people in the Bahamas since the hurricane began. Some 15,000 are still in need of food, water and shelter.
On Saturday, the Bahamas was also hit by Tropical Storm Humberto, bringing strong winds and heavy rain and temporarily affecting relief efforts on the ground.
The U.S. Agency for International Development announced the U.S. is providing nearly $4 million in humanitarian assistance.
Those interested in helping can contribute through a number of reputable organizations, including the Community Emergency Operations Center of Miami, which is supported by Florida Representative Shevrin Jones.
The International Medical Corps is requesting donations to help send medical teams to the Bahamas, while All Hands and Hearts Smart Response is looking for both donations and volunteers to help provide first-hand relief to affected areas of the Bahamas.
Launched by Miami Commissioner Ken Russell, BahamasStrong is requesting goods including water, canned goods, can openers, mosquito spray, sunscreen, diapers, baby formula, first-aid items, flashlights and batteries.