Georgia's Brian Kemp Joins Chorus of Governors Against Vaccine Passports
Georgia's Brian Kemp is the latest governor to voice opposition to COVID-19 vaccine passports.
The Peach State's top Republican wrote in a Twitter post on Tuesday that he is against any program where people who have received a shot are required to carry proof.
"I do not and will not support any kind of state-mandated vaccine passport," Kemp wrote. "While the development of multiple safe, highly effective COVID-19 vaccines has been a scientific miracle, the decision to receive the vaccine should be left up to each individual."
In a follow-up post, Kemp said he was "proud" to get the Johnson & Johnson vaccine and would "continue to encourage all Georgians to book their appointments now."
According to the latest data from the U.S. Centers for Disease Control and Prevention, Georgia is second to last in the U.S in COVID-19 vaccine doses administered per 100,000 residents. As of Wednesday, the state had administered slightly more than 4.2 million doses.
Kemp's statement echoes Republican governors who have voiced concern over privacy issues and personal freedom over the past few weeks. So far, governors in two states—Florida and Texas—have issued executive orders banning vaccine passports.
In a Twitter post early Tuesday morning, Texas Governor Greg Abbott wrote: "Texans shouldn't be required to show proof of vaccination & reveal private health information just to go about their daily lives.... Don't tread on our personal freedoms."
GOP leaders in Missouri, Nebraska and Tennessee have also been vocal in their opposition to a vaccine passport system. Governor Mike Parson told Fox & Friends Wednesday, "We're never gonna do that in the state of Missouri."
Vaccine passports have become the latest divisive issue during the coronavirus pandemic. While several states have expressed opposition, others say the passports are one tool to help fast-track the reopening of venues and businesses.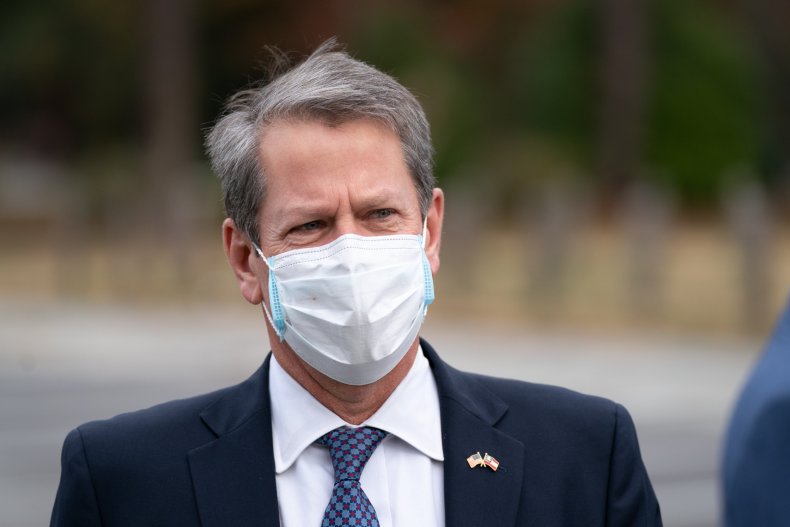 In March, New York became the first state to roll out an online program for a type of passport. The so-called Excelsior Pass will allow vaccinated residents to print out a certificate or store verification of their vaccine on their phones, using an app.
But there are no current plans for a federal vaccine passport system. Dr. Anthony Fauci, President Joe Biden's chief medical adviser and director of the National Institute of Allergy and Infectious Diseases, previously told Politico Dispatch that he doubted the federal government will be the "main mover of a vaccine passport concept."
A new poll released Wednesday by Morning Consult found that 53 percent of U.S. adults supported the idea of requiring inoculated people to carry proof of their vaccination. Sixty-three percent of those surveyed said they backed the creation of a digital COVID-19 vaccination passport, but only when it was not mandatory.
Newsweek reached out to Kemp's office for additional comment on his opposition to vaccine passports but did not hear back before publication.
Newsweek, in partnership with NewsGuard, is dedicated to providing accurate and verifiable vaccine and health information. With NewsGuard's HealthGuard browser extension, users can verify if a website is a trustworthy source of health information. Visit the Newsweek VaxFacts website to learn more and to download the HealthGuard browser extension.