Although Georgia Governor Brian Kemp became a prominent target of Donald Trump's public hostility in the months following last November's general election, the Republican politician would "absolutely" support the former president should he decide to run for office again in 2024.
Kemp discussed the possibility of another Trump campaign during the next election season on Wednesday, telling Fox News' Neil Cavuto that President Joe Biden's predecessor "deserves a lot of credit" in interview comments that touched on COVID-19, the Republican Party and this year's Conservative Political Action Conference (CPAC), which he did not attend.
After praising Trump for his administration's response to the pandemic and noting that Georgia is "still benefiting" economically from policies implemented during his White House term, Kemp did not hesitate to share support for a potential 2024 presidential bid when Cavuto asked explicitly. The host specifically inquired about whether Kemp would back the former president if he earned the Republican Party's nomination.
"Absolutely, I'm going to support the nominee. As I said, again, I worked very hard for the president. I think his ideas... will be part of our party for a long time in the future," the governor replied.
"I mean, there's a lot of great ideas out there. We're not always going to get along, but I think the president deserves a lot of credit," he continued. "And he's not going away."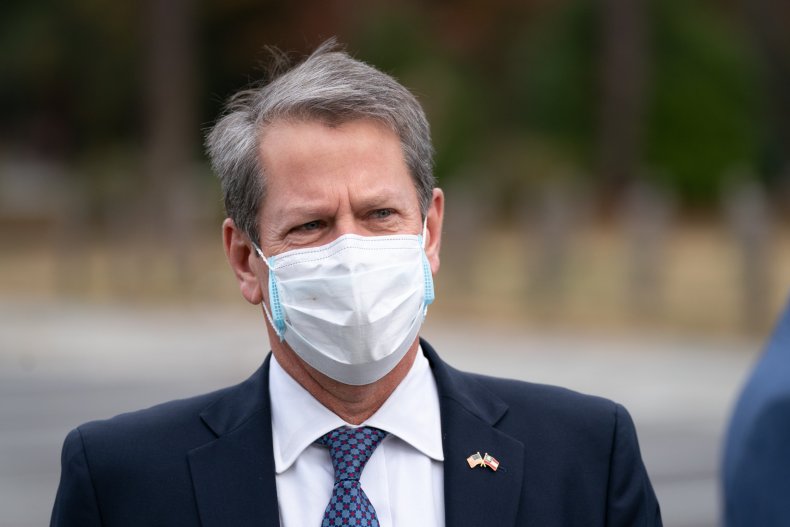 Kemp's Fox News appearance came three days after Trump delivered remarks at CPAC, concluding the annual conference, and strongly intimated that he plans to resume his reelection pursuit ahead of the 2024 presidential contest. Although some federal lawmakers sought to bar Trump from forthcoming races after convicting him of inciting the January 6 Capitol insurrection, he was ultimately acquitted during February's Senate impeachment trial. Congress was unable to move forward with a measure that might have prevented him from launching another presidential campaign as a result.
Kemp and Georgia Secretary of State Brad Raffensperger were each subject to Trump's attacks in the aftermath of the general election, as the former president pressured both leaders to embrace his false voter fraud claims and challenge outcomes accordingly. Trump repeatedly pressured both officials to overturn election results in Georgia, where Biden won, and criticized them as leaders when neither complied with his requests.
At the end of December, Trump openly called for Kemp's resignation in a post shared to Twitter, describing the governor as an "obstructionist" for his failure to uphold unsubstantiated suggestions that Biden's Georgia victory was somehow invalid. Around the same time, Trump indicated that he would support Kemp's primary challenger during his state's gubernatorial election in 2022.
Newsweek reached out to Kemp's office for further comment but did not receive a reply in time for publication.