Georgia's David Perdue Quarantining After Being Near COVID-Positive Person 6 Days Before Election
Republican David Perdue has entered quarantine less than a week before Georgia's crucial Senate runoff election.
In a statement on Thursday afternoon, Perdue's campaign said the senator was "notified that he came into close contact with someone on the campaign who tested positive for COVID-19."
"Both Senator Perdue and his wife tested negative today, but following his doctor's recommendations and in accordance with CDC guidelines, they will quarantine. The Senator and his wife have been tested regularly throughout the campaign, and the team will continue to follow CDC guidelines. Further information will be provided when available," the statement read.
Perdue is facing a tight reelection race against Democrat Jon Ossoff. Both candidates failed to cross the 50 percent vote threshold in the November 3 general election and will compete in the January 5 runoff.
A FiveThirtyEight analysis averaging the polls that have been conducted since the November election shows Ossoff ahead of Perdue by 0.9 points. The Democrat had 48.5 percent support, compared with Perdue's 47.6 percent.
Their race, along with another runoff between Republican Senator Kelly Loeffler and Democrat Raphael Warnock, will determine which party has majority control of the next Senate. Loeffler and Perdue need to hold on to their seats in order for Republicans to maintain control of the upper chamber.
Republicans are now set to control at least 50 seats in the next Senate, while Democrats will have 46 seats. Two independent senators caucus with the Democrats, bringing their total vote power to 48. If Ossoff and Warnock both win, party control of the Senate would be split 50-50, and Vice President-elect Kamala Harris would cast any tiebreaking votes.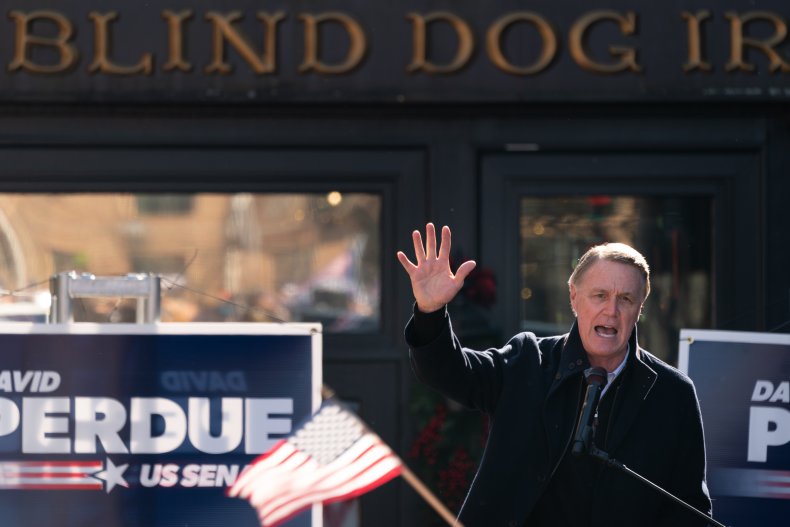 Perdue was expected to appear alongside Loeffler at a New Year's Eve campaign rally and concert in Gainesville, Georgia, on Thursday afternoon. It was the first of several events scheduled for the final stretch of the campaign. Next Monday, on the eve of the election, President Donald Trump is scheduled to headline a victory rally where Perdue was expected to be in attendance.
The Perdue team did not elaborate on how the senator's quarantine will affect the final days of the campaign.
Republicans have framed the Senate runoffs as the GOP's last line of defense against the incoming Joe Biden-Kamala Harris administration. During a rally in DeKalb County earlier this month, Perdue told the crowd, "The eyes of America are on us. They're on you. They're on me."
Thursday marked the last day of early in-person voting in many Georgia counties. The unprecedented double Senate runoffs have drawn record-breaking early-voting turnout. According to Georgia Votes, a website that tracks early-voting data, 2,812,994 people have already cast their ballot for the January 5 contests.