Georgia's Fulton County Counting Ballots for the 3rd Time as Deadline Nears
Following the 2020 presidential contest, election workers in Fulton County, Georgia, tabulated ballots throughout the weekend as jurisdictions across the state work to audit results ahead of Wednesday's upcoming deadline.
The workers were seen resuming recount proceedings early Sunday morning, appearing in a video livestream shared to YouTube and promoted prominently on Fulton County's official government website.
This is the third time Georgia's elections departments are counting ballots. Following the original tally that took place in the days following November 3, Secretary of State Brad Raffensperger authorized a manual recount of ballots cast for president. In order to verify that new electronic tabulation machines yielded accurate results, Georgia was required to initiate a hand recount of one election race this year. Election authorities chose the presidential contest due to its markedly narrow results margin, with President-elect Joe Biden securing roughly 12,000 more votes than Donald Trump.
Georgia certified its statewide election results for Biden on November 20, and Trump's re-election campaign formally requested an additional recount shortly after. Georgia election law permits a losing candidate to do this in close races, where the results margin remains lower than 0.5 percent. The state launched its second recount, which will be carried out with electronic scanning devices initially used to tabulate votes, two days before Thanksgiving.
In Fulton, the state's largest county, officials are tasked with conducting a machine recount that includes all votes originally cast there on, or prior to, Election Day. According to figures released after Georgia certified its results on November 20, upwards of 500,000 Fulton County voters participated in the general election more than three weeks ago. Statistics additionally show Biden earned close to 75 percent of their votes, while Trump received 26 percent.
Backed by his re-election campaign and a rotating team of attorneys, Trump has endeavored to challenge ballot tallies in Georgia, as well as other states where Biden received the majority of popular votes, in the aftermath of his loss. Amid a wave of unsubstantiated accusations targeting Georgia's tabulation procedures, the campaign took aim at its signature-matching process as it applied to absentee ballots.
In a statement issued alongside its request for a ballot recount, Trump's campaign again insisted Georgia's recount "would be a sham" without including signature matching in the machine audit.
"If there is no signature matching, this would be as phony as the initial vote count and recount," the campaign claimed.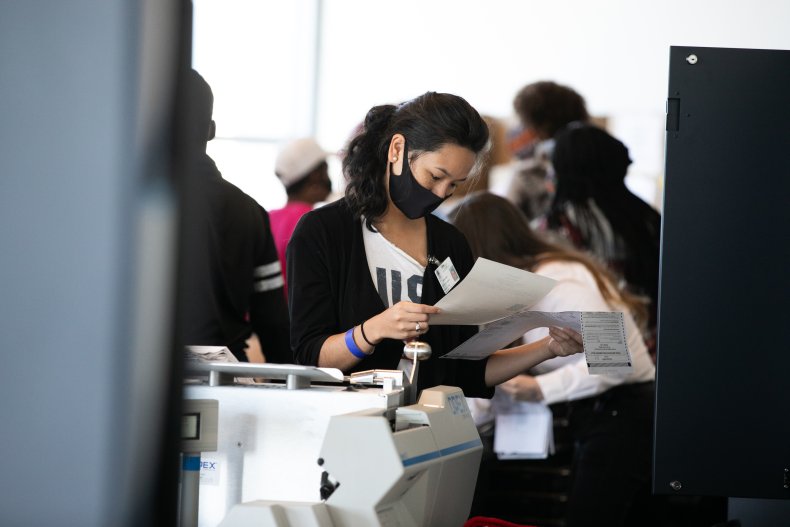 The current recount in Georgia does not include repeat signature-matching procedures. Raffensperger, a Republican, has pushed back against Trump's allegations related to his state's election proceedings. In a statement issued November 15, he defended the state's criteria to verify signatures during initial ballot tallies, noting that all election workers receive formal training to do this properly and matches must be twice confirmed before they are officially deemed verified.
"The State of Georgia strengthened signature match this year," Raffensperger said. "In this state, voters cast their ballots in secret so that no political party or candidate can ever intimidate nor threaten a voter into changing his or her vote. We will continue to protect the integrity of the vote."
Newsweek reached out to Raffensperger's office and Fulton County's elections director for comments, but did not receive replies in time for publication.