Georgia's GOP Lieutenant Gov Says Rudy Giuliani's Election Lies Led to New Voting Laws
Georgia's GOP Lieutenant Governor Geoff Duncan said Rudy Giuliani's lies about the 2020 election led to the controversial new voting rules that became state law two weeks ago.
"This is really the fallout from the 10 weeks of misinformation that flew in from former President Donald Trump," Duncan told CNN's New Day. "I went back over the weekend to really look at where this really started to gain momentum in the legislature, and it was when Rudy Giuliani showed up in a couple of committee rooms and spent hours spreading misinformation and sowing doubt across, you know, hours of testimony."
Governor Brian Kemp recently signed a voting bill spearheaded by state Republicans at the end of March.
The new law introduced sweeping voting restrictions that include limiting drop-off boxes, imposing new oversight of county election boards, tightening regulations on who can vote with provisional ballots and shortening the runoff election cycle by more than half. It also makes it a criminal offense to offer food or water to voters waiting in line.
Giuliani represented Trump in a series of lawsuits filed in an attempt to overturn the results of the election. The attorney also made a series of appearances in the aftermath of the election in which he made false claims about voting fraud, voting machines and international communist conspiracy theories.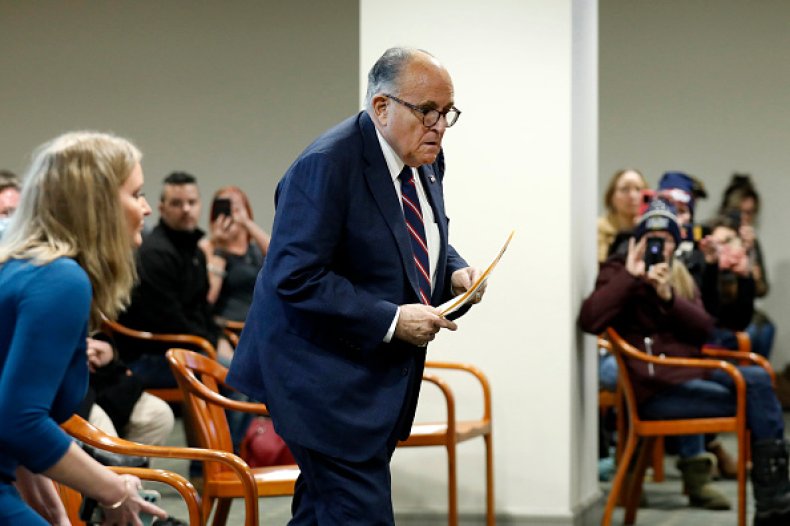 On December 30, the former New York City mayor told Georgia state lawmakers in a special session that thousands of dead people voted in the Georgia election, that voting machines changed votes on their own and that thousands of others voted illegally. There is no evidence to support his claims.
During his testimony, Giuliani also criticized Georgia Republican Secretary of State Brad Raffensperger, who refused to help Trump overturn the election, saying, "your secretary of state is engaged in what I consider an unlawful cover-up."
Raffensperger has continued to stand behind the state's election process and cited the two recounts performed by the state that reaffirmed President Joe Biden's win in November.
Raffensperger was also targeted by Georgia's new voting law, which removed the secretary of state as chairman and a voting member of the Georgia State Election Board, instead giving state lawmakers more control over elections.
On Thursday, Duncan disagreed with the measures and backed up Raffensperger, saying he thought he did a "great job" of handling Georgia's process in the presidential election.
"The secretary of state did a great job. I think that was one of the parts, too, that concerned me about the final passage of the law, which ultimately was a culmination of Democratic and Republican ideas," Duncan said.
"But some of the punitive, you know, responses to taking Raffensperger off that elections board was just trying to tip their hat to Donald Trump, and I just didn't think that was a necessary step," he added.
Giuliani is expected to face scrutiny in a state investigation led by Fulton County District Attorney Fani Willis. While Willis will be investigating Trump's efforts to influence Georgia's election results, she will also be examining any of the former president's allies who might have assisted him in those efforts.
Newsweek reached out to Giuliani's office for comment but did not hear back before publication.