Georgia's GOP Voting Manager Calls on Trump to 'Stop Inspiring' Violence: 'Someone's Gonna Get Shot'
As the Trump campaign continues to dispute the result of the presidential election in Georgia, a voting official issued a stark warning for President Donald Trump.
"Mr. President, it looks like you likely lost the state of Georgia. We're investigating. There's always a possibility. I get it. And you have the rights to go through the course. What you don't have the ability to do—and you need to step up and say this—is stop inspiring people to commit potential acts of violence," said Gabriel Sterling, the voting implementation manager with the Georgia secretary of state's office.
"Someone is going to get hurt. Someone is going to get shot. Someone's going to get killed. And it's not right. It's not right," he continued, speaking at a Tuesday press conference.
Sterling, a Republican, called on the president and other elected officials to speak out against recent remarks made by Trump's campaign lawyer Joe diGenova, who called for the execution of former cybersecurity chief Christopher Krebs.
On Monday, diGenova said Krebs "should be drawn and quartered, taken out at dawn and shot" for contradicting the Trump campaign's unsubstantiated claims of widespread voter fraud and calling the election "the most secure in American history."
"DiGenova, who said for Chris Krebs to be shot? He's a former U.S. attorney. He knows better. The people around the president know better," Sterling said.
"Mr. President, you have not condemned these actions or this language. Senators, you have not condemned this language or these actions. This has to stop! We need you to step up, and if you're going to take a position of leadership, show some," he added.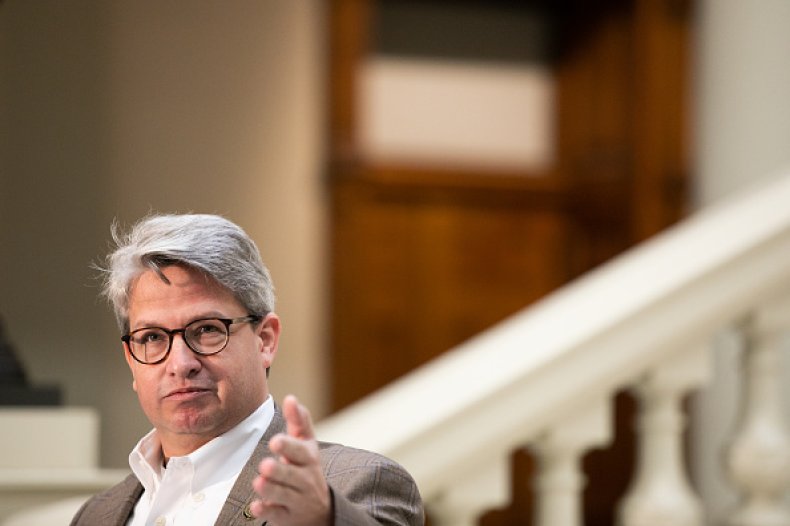 The voting manager sided with Georgia Secretary of State Brad Raffensperger, who said Trump was being badly advised by those around him about what the actual stakes are in challenging the election's results.
During a Monday news conference, Raffensperger said, "There are those who are exploiting the emotions of many Trump supporters with fantastic claims, half-truths, misinformation, and, frankly, they're misleading the president as well, apparently."
Sterling reiterated that sentiment on Tuesday, saying, "Mr. President, as the secretary said yesterday, people aren't giving you the best advice of what's actually going on on the ground. It's time to look forward."
"If you want to run for re-election in four years, fine. Do it. But everything we're seeing right now, there's not a path. Be the bigger man here and step in. Tell your supporters, Don't be violent. Don't intimidate. All that's wrong. It's un-American," he said.
Sterling said Republicans attacking Georgia's election systems are "complicit" in the ongoing harassment against Raffensperger and election workers, including the young technician with Dominion Voting Systems who was told he should be hanged for treason.
"He was just trying to do his job," Sterling said. "It's not right."
Newsweek reached out to the Trump campaign for comment but did not hear back before publication.