Georgia's Largest County Experiences Technical Glitch on First Day of Early Voting
A technical glitch has caused delays for Georgia residents as the state begins early voting, the state's largest county confirmed Monday.
"While early voting is going well overall, we are experiencing technical issues at @StateFarmArena that are causing delays in voting at that location," Georgia's Fulton County wrote in a tweet. "We apologize for the inconvenience. Technicians are onsite to help address the issue. Thank you for your patience."
According to a tweet posted by Nick Sturdivant of WXIA-TV, a number of voters in the area expressed their frustration with the issue, but an election official notified voters that there is a software issue countywide and the county is working to resolve it.
"To clarify there was an issue with the polling pads (which gets voters started before going to the actual voting machine) and NOT a voting machine issue," Sturdivant wrote.
In response to the issue, Fulton County Chairman Robb Pittman spoke to reporters at the State Farm Arena, the largest early voting site in the state, and said that the county "anticipated" voting delays but were "prepared for it."
"We were able to correct the problem in a short period of time," Pittman said, noting he has been in constant communication with Atlanta Hawks CEO Steve Koonin, who has kept him up to date with the issue at hand. State Farm Arena is where the Hawks play their home games.
"We're on top of it and the people that I've talked with are having a very pleasant experience, so again, I can't say enough about Steve Koonin and the Atlanta Hawks for working with us and keeping me abreast of what's going on here this morning," Pittman added.
While speaking to reporters, Koonin confirmed that the arena did have a glitch and stated that the voting system was down for about 35 to 45 minutes.
"We apologize to all the voters," Barron said.
The Georgia residents voting early on Monday join more than 439,000 Georgians who have already turned in their absentee ballots.
A number of other early voting sites also experienced long lines and delays on the first day of early voting in the state. According to the Atlanta Journal-Constitution, at least 130 voters waited in line to cast their ballots at the High Museum of Art in Atlanta.
Walter Jones, a spokesperson for Georgia's Secretary of state previously told Newsweek via text message, that "Long lines are to be expected—voters need to be aware of all of their options including three weeks of early voting, no excuse absentee and in person voting day of the election."
This is not the first time Georgia has faced voting issues, as similar problems arose during the primary elections, where voters faced long lines and delays.
The delays and long lines during the primary elections prompted Georgia's Secretary of State Brad Raffensperger to open an investigation into the voting process in Fulton and DeKalb counties.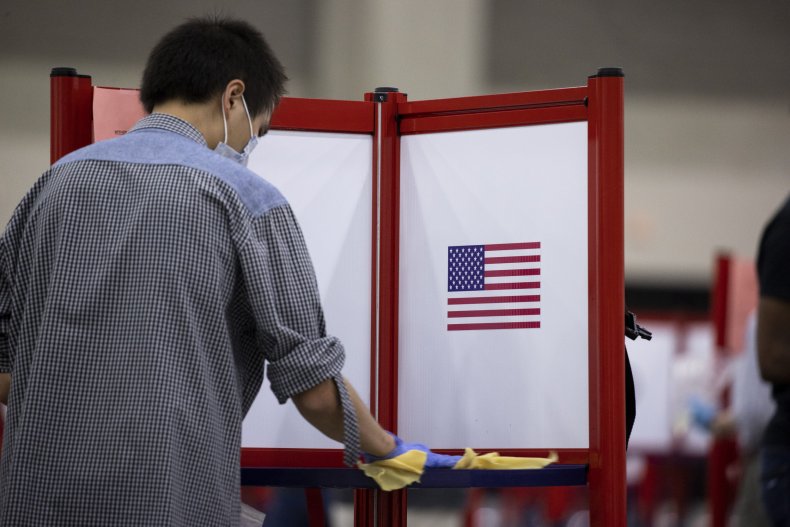 "The voting situation today in certain precincts in Fulton and Dekalb counties is unacceptable," Raffensperger said in a statement from June. "My office has opened an investigation to determine what these counties need to do to resolve these issues before November's election. Obviously, the first time a new voting system is used there is going to be a learning curve, and voting in a pandemic only increased these difficulties. But every other county faced these same issues and were significantly better prepared to respond so that voters had every opportunity to vote."
Newsweek reached out to Fulton County and Raffensperger for comment but did not receive a response in time for publication.