Georgia's New Voting Law Is Racist | Opinion
Let me start off with this fact: Georgia's new voting law is racist. Even worse, it allows elected officials to choose their voters, which really means that democracy will be over entirely in the state if last week's bill is still law by next November.
Republicans act like the new Georgia voting bill isn't racist, just because the bill doesn't explicitly say, "We want fewer people of color to vote." But that's exactly what it is designed to do, and as history shows, they probably know it.
First off, SB 202, Georgia's new voter suppression law, takes power away from local officials and allows the GOP to replace them with partisan hacks of their choosing. Second, the racist bill makes voting inconvenient and uncomfortable, especially in highly populated city centers, which clearly targets African American voters. Lastly, the racist voting law makes it harder to cast the physical ballot.
Let me explain why each of these three elements adds up to a toxic cocktail aimed at shearing off enough votes to swing statewide races, in what has become a very purple state based on the 2020 votes for its new Senators and for the President.
Astonishingly, Georgia's new voting law includes the never-before-seen ability to replace local election authorities at their own discretion, something that has been historically done to disenfranchise black voters. The state's General Assembly can now suspend county or municipal officials and replace them with any person of their choosing.
The new law also removes the Secretary of State as Chairman of the State Elections Board and replaces them with someone appointed by the Republican-controlled Georgia General Assembly, something even their current Republican Secretary of State Brad Raffensperger disagrees with. The result is an opportunity for statewide elected Republicans to consolidate power so they can overturn election results they don't like, county by county.
Making it harder to access their right to vote and discouraging people from conquering long lines to cast said vote is another centerpiece of Georgia's new anti-voting law. One of the most grotesque examples is the law making it illegal for groups to hand out food or water to those waiting in line, something voting rights groups say is essential for ensuring people actually stay in line.
The longest lines in Georgia have historically been in black-majority precincts. Ever since the Supreme Court's misguided Shelby decision, which gutted the Voting Rights Act, the state has slashed polling places in majority-minority areas, leading to longer lines. In turn, that suppression gave birth to charitable relief organizations that rallied around those whose rights were being attacked. This part of the bill is a highly targeted attack against those charities.
While I was working with the non-partisan non-profit National Election Defense Coalition in 2020, we documented voter hesitancy firsthand in Georgia as part of our efforts to film the in-person vote in five battleground states. Unsurprisingly, people are reticent about participating in a system they think isn't working for them, and they already felt that way in Georgia before it passed a radical law against the vote. Whether it's banning people from voting from a different precinct outside of a few hours on Election Day, or putting more hurdles in front of voting like making it harder to get an absentee ballot, each extra step is another off-ramp to a voter who has a job, a family to raise or a business to run that could prevent them from voting.
All they have to do is discourage people because of the thin margin in Georgia's statewide races. President Biden beat the Republican former president by 11,779 votes. Senator Jon Ossoff made it into a run-off election to defeat his Republican predecessor by only 13,740 votes, and his final margin of victory was only 54,944 votes out of nearly 4.5 million ballots cast. So it's no secret to Republicans that suppressing anywhere from ten to fifty thousand votes, just slightly over one percent who cast their ballots in their most recent races, could definitely help Republican Governor Brian Kemp's re-election.
Lastly, the law puts up outright hurdles to hinder the ability to vote. For decades, voting rights activists have fought against officials purging registered voters to gain a partisan advantage. Georgia is making the practice known as "caging" a mandatory one, ordering officials to try and cull the voting rolls as thinly as possible. This law also makes it harder to find out where you're supposed to vote. And if you get sent to the wrong voting place, this law makes it significantly harder to cast a provisional ballot. Of course, after President Biden won a massive share of the mail-in ballot in 2020, this new law also makes it harder to request to vote by mail.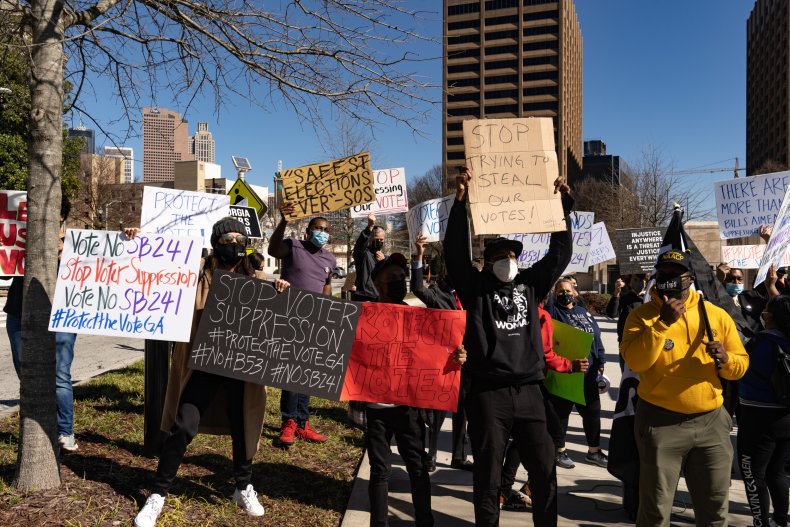 But how can I write that Republicans know their actions will disenfranchise voters, especially voters of color? Because they got caught using the redistricting process in a racist manner by the very person who toured the country educating GOP lawmakers on how to hide discrimination inside the legislation that gerrymandered America: Thomas Hofeller. Hofeller "was a careful man who continually advised his GOP clients to put as little as possible in writing," reported the Atlanta Journal-Constitution two years ago, citing Hofeller's comments to The Atlantic: "Emails, he said, were a tool of the devil." In fact, Hofeller's estranged daughter revealed his deliberate racism after he passed, sharing the contents of his hard drives with the public.
Georgia's law is a continuation of voter suppression efforts from Republicans over the last few decades. Because the truth is, if everyone votes, they will lose; many of their policies—from taking away healthcare to keeping the minimum wage low—are not popular. Just a thought: Maybe instead of suppressing the vote, they should try changing their platform to align with the wishes of voters.
Georgia's voting law demonstrates a high-level racial bias in its impact without much subtlety at all. And that's not just my opinion, it's a fact, whether Republicans choose to admit it or not.
The Department of Justice has a duty to respond, and Congress should act quickly, too, in passing HR1 the For the People Act. But it's also on us the American people to make it clear we will not tolerate this overt racism anymore.
We must all send a clear message to Georgia Republicans that they're not fooling anybody: The new law is illegal, un-American, and racist to its core. And they know it.
So do we. The question is, what are we going to do about it?
Scott Dworkin is an author, and serves as Executive Director of The Democratic Coalition. He was a deputy director for the 2009 Presidential Inaugural Committee and the 2012 Democratic National Convention, and a senior adviser to the Draft Biden and Run Warren Run campaigns. Follow him on Twitter: @funder
The views in this article are the writer's own.