Georgia's Poorest Communities at Risk as Dozens of Hospitals May Close Amid Pandemic Financial Crunch
The president of the Georgia Alliance of Community Hospitals (GACH) said that up to a dozen of the state's hospitals could soon close as the economic impacts of the coronavirus pandemic hit the state's health care system.
In the past month, two of the state's rural hospitals have been forced to shutter due to a financial crunch.
"There are probably a dozen others that are in that type of condition where they are going from week-to-week to make payroll," President Monty Veazey told Newsweek on Friday. "The COVID-19 pandemic has added a lot of added stress and no income."
GACH oversees about 95 nonprofit medical centers across Georgia.
This week, officials from Northridge Medical Center in Commerce, a 90-bed adult care hospital in Commerce, said that the facility would be closing at the end of October.
"The decision to close and cease hospital operations was not one made lightly and only comes after exhausting all options to identify a sustainable path forward,'' Amy Abel, a spokesperson for the hospital, told The Atlanta Journal-Constitution.
Earlier last month, the Southwest Georgia Regional Medical Center in Cuthbert also announced the hospital's closure, which is scheduled for October 22.
The hospital had been struggling financially for years, but the impact of COVID-19 pushed the facility to close for good.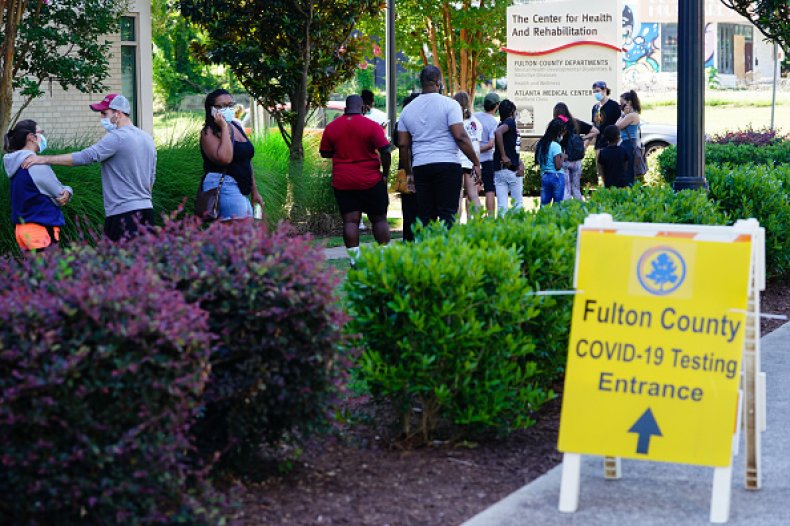 These closures will take a toll on Georgia's poorest communities.
Reports from the Centers for Medicare and Medicaid Services show that a large number of poorer and uninsured Georgians are in Randolph County, where Cuthbert is located. The county is also home to a large population of African Americans and residents over the age of 85—two demographics that have been disproportionately affected by the virus.
"The ones that need [health care] the most might not get it," Veazey said.
In April, Randolph County had the highest infection rate in the state. As of Thursday, August 20, the county has reported 295 confirmed cases of COVID-19 and 26 deaths among the population of less than 7,000, according to Georgia's Department of Public Health.
Data from the Centers for Disease Control and Prevention shows that Georgia has the fourth-highest number of coronavirus cases in the country, following California, Florida and Texas,
Veazey said at one point during the peak of the global health crisis, Georgia health officials had to send a COVID-19 patient out of state to Kentucky in order to find a hospital bed.
These poor communities are further burdened by hospital closures because of where they are geographically located. The nearest hospital for these residents will be more than 30 miles away.
"In the past five years, rural hospitals have been under a lot of stress," Veazey said. "Primarily because of lack of Medicare expansion and a lot of poor people. When a local hospital closes that means a certain percentage of the population, because of generational poverty, do not have transportation to go 30 miles to another facility."
"When a local hospital closes, not only does it close, but we see cases where the pharmacy closes. We've even seen banks close," he added.
The U.S. Department of Health and Human Services announced on Thursday that the agency would provide more than $35 million in additional funding to more than 33 states to "increase access in high quality care in rural communities."
It is unclear if the federal assistance will come too late for hospitals in Georgia, many of which already received loans under the Paycheck Protection Program.
"The federal are not coming in fast enough to save these rural hospitals," Veazey said. "In many cases, it would be putting a Band-Aid on a problem."
Veazey added that unless Medicaid is expanded, he doesn't see a lot of hope for rural hospitals.