Georgia's Republican Lieut. Governor Says Recount 'Following the Letter of the Law' As Trump Calls It 'Meaningless'
Georgia's Lieutenant Governor Geoff Duncan, a Republican, insisted that the recount being carried out in his state is "following the letter of the law" as President Donald Trump continues to baselessly claim that the election was "rigged" against him, calling the recount "meaningless."
President-elect Joe Biden and Vice President-elect Kamala Harris were declared the winners in the election on November 7, after Fox News, the Associated Press and other television networks called Pennsylvania and Nevada in their favor. This pushed the Democratic ticket past the 270–electoral vote threshold to win in the Electoral College. Although Georgia has not yet been officially called for Biden, the initial vote count showed him leading Trump by a margin of about 14,000 votes.
Due to the close margin, Georgia is currently carrying out a recount. Despite the state and the election being managed by an entirely Republican administration—including a GOP governor and secretary of state that were endorsed by Trump in 2018—the president has insisted widespread fraud was behind Biden's victory there. Georgia officials have repeatedly pushed back against these claims.
"I'm proud to report that [we] continue to not see any sort of systemic issues or fraud or improprieties poke their head up," Duncan told CNN on Monday when he was asked about the latest update on Georgia's recount. Pressed regarding Trump's claims, Duncan asserted that he and other Georgia leaders are focusing on following the law.
"We continue to be focused on following the letter of the law here in Georgia," Duncan said, adding that "just because the guy I voted for isn't in the lead…doesn't change my job description."
Just hours after Duncan's interview, Trump again disparaged the Southern state's recount in a Twitter post.
"Georgia won't let us look at the all important signature match. Without that the recount is MEANINGLESS. Open up unconstitutional Consent Decree, NOW!" the president wrote.
On Saturday, Trump tweeted: "The hand recount taking place in Georgia is a waste of time. They are not showing the matching signatures. Call off the recount until they allow the MATCH. Don't let the Radical Left Dems STEAL THE ELECTION!"
Brad Raffensperger, Georgia's secretary of state who was previously endorsed by Trump, pushed back against the president's claims about signature matching in a Sunday Facebook post.
"Let's address this disinformation about signature match. We strengthened signature match. We helped train election officials on GBI signature match—which is confirmed twice before a ballot is ever cast," Raffensperger wrote.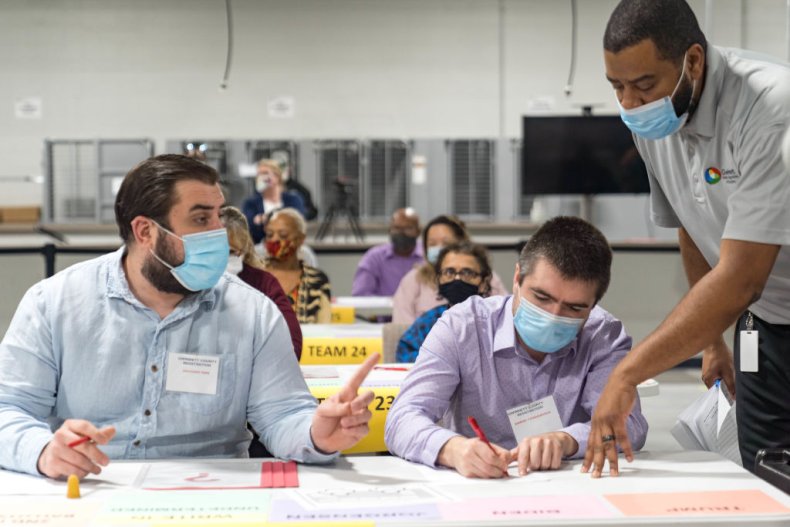 Raffensperger previously said that it is "unlikely" that the recount would uncover fraud at a level that would change the initial results of presidential contest in Georgia. Election analysts have pointed out that recounts generally only change a maximum of a few hundred votes, saying the recount is not expected to substantially change Biden's lead over Trump.
Newsweek reached out to the Trump campaign for further comment, but it did not immediately respond.