Georgia's Runoff Elections History Doesn't Favor Democrats Gaining Senate Control
Georgia's upcoming runoff elections have the potential to shift control of the U.S. Senate from congressional Republicans to Democrats at the beginning of next year. However, the southern state's historical voting patterns indicate the needed double-win by Democrats challenging Georgia's sitting senators, Republicans David Perdue and Kelly Loeffler, is improbable.
Georgia has consistently filled its two Senate seats with Republican representatives since the early 2000s, and has similarly voted for Republican presidential candidates since choosing Democrat Bill Clinton in 1992. This year the state appears to have picked former Vice President Joe Biden over President Donald—albeit by a very narrow margin—suggesting growing Democratic support among Georgia's electorate. The state will conduct a recount, requested by Republicans, but the outcome is unlikely to change.
A Biden presidency would be greatly aided by Democratic control of the Senate, which depends on the results of the state's two runoff elections in January. But an examination of Georgia runoffs over the past several decades suggests that victories by Democratic candidates Jon Ossoff (challenging Perdue) and Raphael Warnock (Loeffler's rival) might not come to fruition.
During the runoff election that followed Clinton's election in 1992, Georgia's then-Senator Wyche Fowler, a Democrat, lost to Republican opponent Paul Coverdell, after initially earning more votes than his competitor. In 2008, the Republican Senator Saxby Chambliss defended his seat during a runoff against Democratic nominee Jim Martin. In 1992 and 2006, Democratic candidates contending for a seat on Georgia's Public Service Commission earned more votes than their Republican counterparts during initial elections, but ultimately lost during subsequent runoffs. In 2018, current Secretary of State Brad Raffensperger, a Republican, assumed his position after winning a runoff against Democrat John Barrrow.
A number of critics have argued Georgia's runoff system manipulates the state's electoral process. Unsuccessful lawsuits filed by the Department of Justice and the American Civil Liberties Union aimed to overturn it, saying runoffs disproportionately favored white candidates.
In Georgia, runoffs occur when neither political candidate receives a plurality of votes during earlier elections, as was the case between Republican incumbent Perdue and his challenger Ossoff. Loeffler will contend against Warnock after her appointment to the Senate earlier this year following Johnny Isakson's resignation.
Polls conducted over the past few weeks show Perdue and Ossoff neck-and-neck among Georgia voters. Speaking to supporters about the January runoff on Friday, Ossoff condemned the Republican incumbent's opposition to the Affordable Care Act, especially given the ongoing public health impacts of the coronavirus pandemic. The Supreme Court is hearing oral arguments challenging the law's constitutionality this week.
"See, what we're demanding, what we deserve from our leaders, what we deserve from our government, it's not that complicated. It's not mysterious," Ossoff said Friday. "We believe that every single Georgia family should have access to affordable housing, affordable health care, education without debt, dignified work that pays a living wage, equal justice under the law regardless of race, and regardless of class."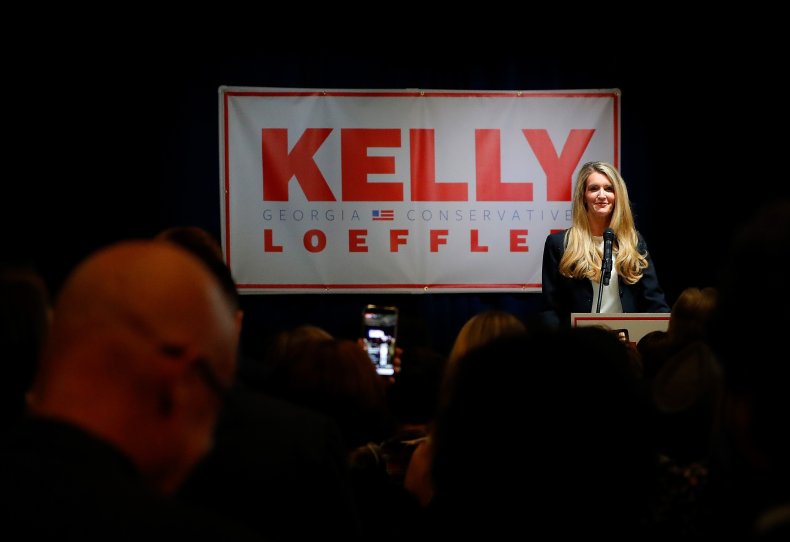 Across the nation, a large number of Republican senators defended their seats this year, double the number of Democrats whose seats were similarly up for election. Democrats hoped to unseat the three or four Republican lawmakers to earn the majority, but fell short of expectations, making the Georgia runoffs crucial.
With Biden and Kamala Harris projected to take office as president and vice president on January 20, Senate Democrats need to secure two more seats in order to control the Senate, with Harris serving as tie-breaker. Democrats currently hold 48 Senate seats, and Republicans are expected to hold 50 once final vote counts in Alaska and North Carolina are complete.
Newsweek reached out to Perdue's office, as well as Loeffler and Warnock's campaigns, for additional comments but did not receive a reply in time for publication.