Georgia's Saakashvili Has a New Friend: Iran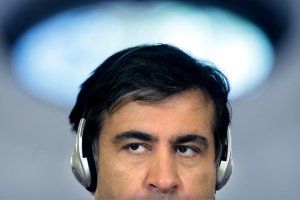 In the summer of 2008, Georgia went to war with its former imperial overlord, Russia, to win back two breakaway republics, Abkhazia and South Ossetia, and Western powers, particularly the United States, showed support. When Russians occupied the two provinces, Vice President Dick Cheney traveled to Tbilisi to condemn Russian "aggression" and back Georgia's Western-educated president, Mikheil Saakashvili. Presidential candidate John McCain immediately declared Georgian sovereignty over the provinces (as did Obama a little later).
Today, things are different: George W. Bush's campaign to promote pro-Western regimes in the former Soviet Union—and to extend NATO membership to Georgia and Ukraine—is gone. President Obama has instead chosen to prioritize what his aide Michael McFaul describes as "a healthy working relationship with Russia." The two nations have found common ground on nuclear cooperation, Iran sanctions, and even missile defense, and last week's friendly summit between Medvedev and Obama marked the highest point in relations for a decade.
To get there, though, Obama had to dial back on American solidarity with Saakashvili. A White House spokesman last month announced that Russia's occupation of Abkhazia and South Ossetia "need no longer be considered an obstacle" to congressional ratification of a U.S.-Russia nuclear-cooperation pact. And a NATO-Georgia Commission still hasn't set any concrete targets for the Georgian accession to the alliance (a possibility that irritates Moscow), a clear signal NATO itself is in no hurry to speed the process. From the Russian side, Foreign Minister Sergey Lavrov recently told his parliament that he believes that the 2009 U.S.-Georgia Strategic Partnership Charter—a blueprint for business, technological, and political cooperation—is "a relic of past U.S. policies." What's more, the French are even close to completing the sale of missile-bearing warships to Moscow, which the Russian navy plans to use in defending Abkhazia.
All in all, that leaves Tbilisi feeling awfully isolated. No surprise, then, that Saakashvili has been reaching out to his neighbors in an effort to shore up support in the region. Last month, he welcomed Turkish Prime Minister Recep Tayyip Erdogan to the capital, and they talked about more than just joint economic projects (like a railway from Tbilisi to Kars in Turkey, which would link Georgia to Europe): Turkey is already Georgia's biggest trade partner, and the two countries plan to have visa-free travel this year.
But maybe more surprising is Georgia's growing relationship with Tehran. A flurry of diplomatic visits will culminate in a trip by Iranian Foreign Minister Manouchehr Mottaki to Tbilisi in July, followed by an official visit by Georgian Prime Minister Nika Gilauri to Tehran to set up a bilateral economic commission. On the table are Iranian investments in Georgian hydro-electric plants, Georgian wind-power projects in Iran, and visa-free travel between the two countries. None violate the U.N. sanctions regime. But the Iranians, buoyed by the idea of making friends in the region, offered a reciprocal visit by President Mahmoud Ahmadinejad to Tbilisi, but so far the Georgians have held off for fear of antagonizing the United States. Iran, in turn, has backed Georgia's right to recover its breakaway republics from Russian occupation.
So far, Washington has made no comment on the Tbilisi-Tehran love-in, calling Georgia's economic relations its own business. "Washington may not be ecstatic about Iran, but, on the pragmatic level, the Americans know that Georgia needs to have good relations with its neighbors," says Alexander Rondeli, president of the Georgian Foundation for Strategic and International Studies in Tbilisi. "Iran is right here and you cannot ignore geography."
Georgian officials are also quick to emphasize that development of Georgia-Iran relations "in no way means a shift in Georgia's foreign policy, nor does it conflict with its priority goals of integration with the European Union and NATO," according to Georgian Deputy Foreign Minister Nino Kalandadze. Indeed, according to Rondeli, a lot of the reason behind its engagement with Iran is to try to defuse the confrontation between Washington and Tehran, because that animosity gives Russia (whose vote in the Security Council Obama badly needs) so much leverage over Washington—something that frightens Georgia. But at the same time, Tbilisi is clearly hedging its bets by making new friends in the region—even if they are no friends of America's.