Geraldo Rivera Defends Rep. Rashida Tlaib During Fox News Appearance: 'She's Being Taken Out Of Context In A Grotesque Way'
Fox News correspondent-at-large Geraldo Rivera jumped in with both feet during an appearance on the network's Hannity Tuesday, defending freshman Rep. Rashida Tlaib regarding remarks she made about the Holocaust that have been called controversial by some.
Show host Sean Hannity began the segment by calling Tlaib's fellow freshmen Rep. Omar Ilhan and Tlaib "a problem" before referencing a pair of social media posts to Twitter and Facebook in 2014 by Omar Suleiman, a Muslim Imam who delivered a prayer on May 9 in front of the House of Representatives. While Omar (D-Minn.) praised Suleiman's remarks on Twitter, Rep. Lee Zeldin (R-N.Y.) criticized the invitation of Speaker of the House Nancy Pelosi to Suleiman, citing an alleged history of anti-Semitic and anti-Israel remarks.
Zeldin is one of two Jewish Republicans currently serving in the House.
Rivera bypassed commenting on Suleiman, saying the decision for inviting him to appear in the House was laid "at the doorstep" of Pelosi. "I'd rather talk about congresswoman Tlaib who I think has really been victimized in a way that is unmistakable," he said.
Tlaib drew dire from some Republican lawmakers after comments she gave on a Yahoo News' Skullduggery podcast where she stated she felt a "calming effect" about Palestinians, Jews and the Holocaust.
"There's always kind of a calming feeling I tell folks when I think of the Holocaust, and the tragedy of the Holocaust, and the fact that it was my ancestors, Palestinians, who lost their land and some lost their lives, their livelihood, their human dignity, their existence in many ways, have been wiped out, and some people's passports.
"I mean, just all of it was in the name of trying to create a safe haven for Jews, post-the Holocaust, post-the tragedy and the horrific persecution of Jews across the world at that time, and I love the fact that it was my ancestors that provided that, right, in many ways. But they did it in a way that took their human dignity away, right, and it was forced on them. And so when I think about a one-state, I think about the fact that, why couldn't we do it in a better way?," Tlaib said on the podcast, prompting some Republicans to say that the Michigan congresswoman, who is Muslim, was celebrating the death of millions of Jews during World War II.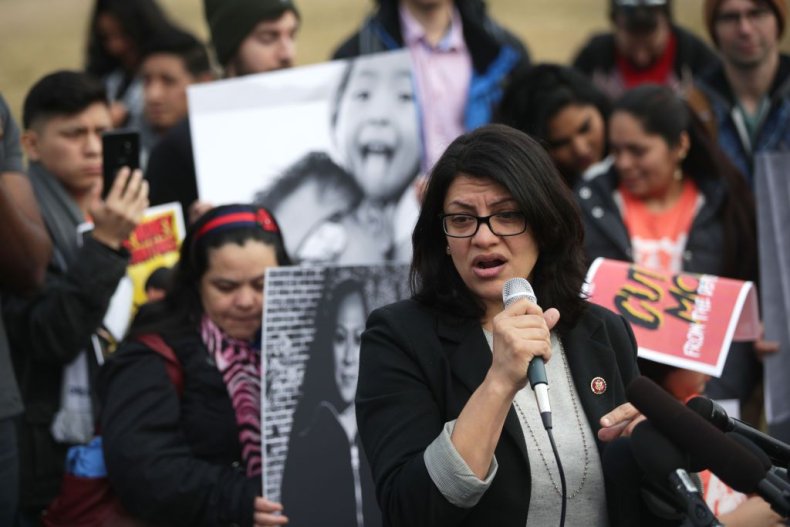 Following tweets by President Donald Trump, House Minority Whip Steve Scalise (R-La), Rep. Liz Cheney (R-Wyo) and others condemned her words with tweets and/or public statements.
On May 12, Tlaib responded to the criticism, saying, "Policing my words, twisting & turning them to ignite vile attacks on me will not work. All of you who are trying to silence me will fail miserably. I will never allow you to take my words out of context to push your racist and hateful agenda. The truth will always win."
In defending Tlaib, Rivera referenced fellow segment panelist and Fox News correspondent Dan Bongino, who had slammed the congresswoman for her words previously. "There's no way you can read her remarks on the calming effect — as my dear colleague Dan Bongino has done — as being related to her feelings about the Holocaust," Rivera said. "It is an obscenity to try to make that argument. She was not suggesting that you know, the killing of the Jews was something that calmed her. She was saying the fact that the Palestinians suffered so much and gave up so much but at least the Jews had a homeland to go to in the wake of the horrible destruction committed by the Nazis."
Rivera added that Tlaib's words were put together in an "unartful way" but added that Israeli newspapers he has read and in Jewish temples across the United States, there are comments that the democratic representative is being taken out of context in a grotesque way that is extremely unfair." The Fox News correspondent also called out Hannity and Bongino for taking their criticism of Tlaib "a step too far."
Bongino immediately responded to tell Rivera that he was "way, way off" with his comments, saying that the Holocaust was an "unparalleled event in human history."
"I don't have to give you a history lesson," Bongino said as Rivera interrupted to agree that he did not. As Bongino explained that millions of people were killed in the Holocaust, Rivera replied that Bongino did not need to be condescending to him as he is a Zionist and has a Star of David tattooed on his hand.
"Geraldo, the words Holocaust and 'having a calming effect,' I'm sorry, but there's no way that's ever appropriate," Bongino replied. "And one more thing, Geraldo, the justification she provides for this is completely, historically made up." Bongino went on to say that any college student knows there was "no safe haven" for Jews and that some Palestinians fought with and supported the Nazis.
"To lay the Holocaust at the door of the Palestinians. To say that the Palestinians have some responsibility for the Holocaust is so historically inaccurate. It is another obscenity," Rivera replied.
Bongino replied that Tlaib's comments were not true while Rivera argued that Palestinians did lose their homeland, as Tlaib said. Bongino disputed the notion, saying that Palestinians "never had a homeland" and later accused Rivera of making it up.
Hannity later interjected to say that the land is Israel's "historical homeland" and that it was "not in dispute."
"Yes, of course it's a historic homeland," Rivera said. "But it's a historic homeland for both these people."
The two panelists began arguing again as Hannity commented on a rise in anti-semitism in the United States before Rivera and Bongino were cut off and the show headed to a commercial break.