German Anti-Islamist Rally Swells After Attacks in France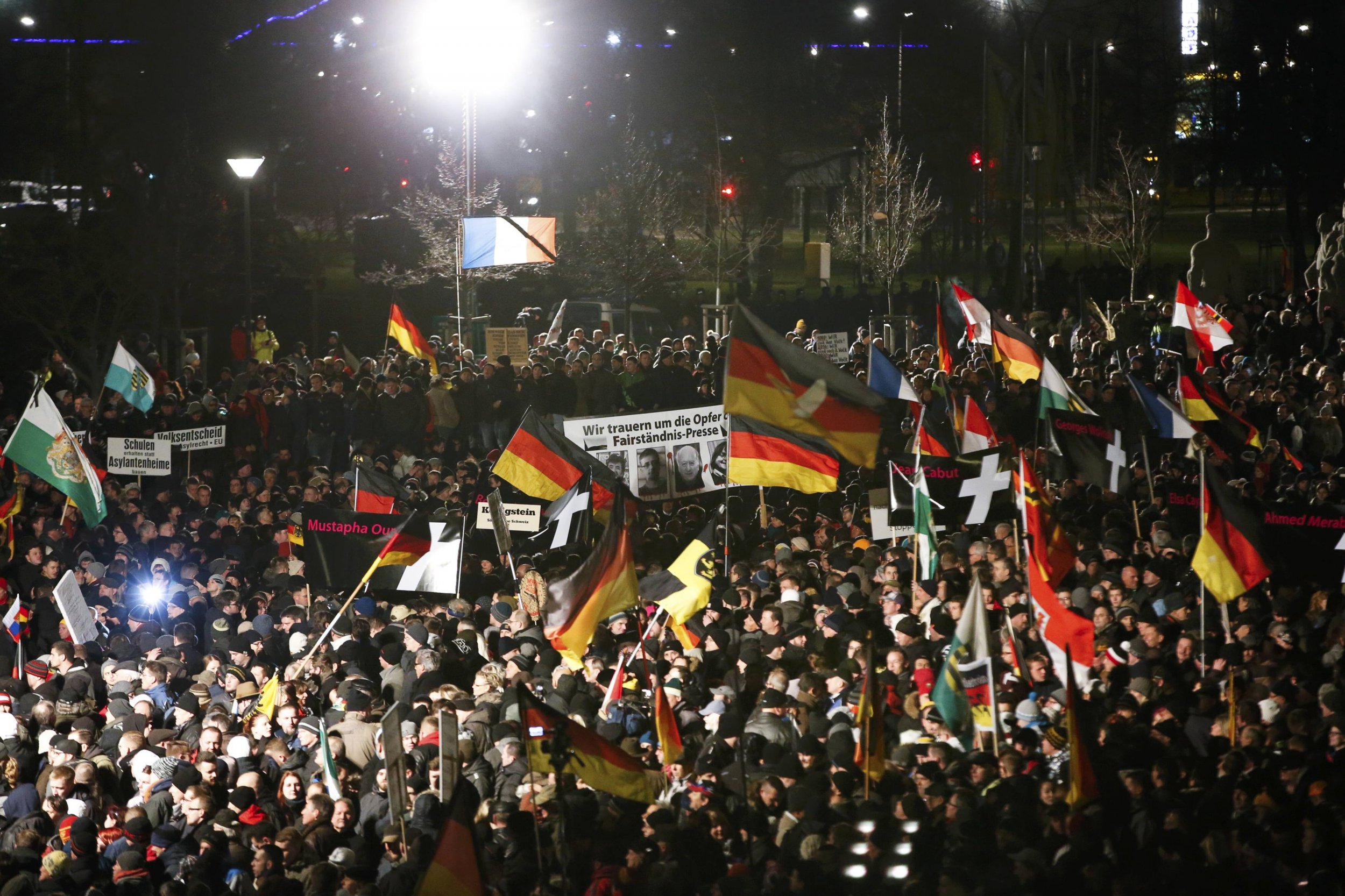 A record 25,000 anti-Islamist protesters marched through the east German city of Dresden on Monday, many holding banners with anti-immigrant slogans, and held a minute's silence for the victims of last week's attacks in France.
Chancellor Angela Merkel and other senior German politicians have called for people to stay away from rallies organised by PEGIDA, or Patriotic Europeans Against the Islamisation of the West - people who Merkel has said have "hatred in their hearts".
On Tuesday she will take part in a vigil in Berlin organised by a Muslim group to remember the 17 people killed in Islamist attacks at the offices of satirical newspaper Charlie Hebdo and a kosher supermarket in Paris.
About 7,000 more protesters than last week turned out for the march, a police spokesman said.
Leader Lutz Bachmann set out PEGIDA's demands for the government including drawing up a new immigration law, forcing immigrants to integrate and making sure that Islamists who leave Germany to fight are not allowed back into the country.
"We are getting more support each week," co-founder Kathrin Oertel told Reuters.
"We are against all violence that is religiously motivated whether Muslim or Christian ... People have been confronted by it now and are thinking about it more."
Protesters, many dressed in black, waved the black, red and gold German flag. One carried a banner saying: "With our deepest sympathies for the families of the Paris terror victims."
Mostly men over 50, many chanting of "Wir sind das Volk" or "We are the people", they said they were more concerned about increasing immigration than the events in France.
Their banners read "Stop multiculturalism", "I'm not a Nazi but everyone who enjoys our hospitality must integrate and respect our culture" and "Stop asylum fraud - every one is too many, go home!"
One carried a Christian cross illuminated with fairylights.
Eugen Peuke, 61, was at his second protest.
"It (multiculturalism) doesn't work. Immigration is a problem. They steal. I just don't want them here. The government isn't listening," he said.
Counter-demonstrators shouted "PEGIDA, you're racist" and "Germany is ashamed of you", and in Berlin and the western city of Duesseldorf the rallies were dwarfed by counter-protesters.
Germany has some of the world's most liberal asylum rules, partly due to its Nazi past, and last year the number of asylum seekers, mainly from the Middle East, doubled to about 200,000 from 2013.