German Doctors Refute Russia, Say Opposition Leader Alexey Navalny Was Poisoned
Doctors in Berlin, Germany confirmed Monday that Russian opposition leader Alexey Navalny was poisoned with a "cholinesterase inhibitor" substance.
In a statement posted to Twitter, the Charité University Hospital in Berlin wrote "Alexei #Navalny is being treated in intensive care at #charitéberlin and remains in medically induced coma."
"Clinical findings indicate poisoning with a substance from the group of cholinesterase inhibitors. The specific substance involved remains unknown, and a further series of comprehensive testing has been initiated," the hospital added in a subsequent tweet.
According to their tweets, the effect of the poison, "was confirmed by multiple tests in independent laboratories."
"As a result of this diagnosis, the patient is now being treated with the antidote atropine," the hospital added.
Cholinesterase inhibitors are a class of drugs commonly used to treat Alzheimer's disease. According to ALZ.org, "cholinesterase inhibitors are prescribed to treat symptoms related to memory, thinking, language, judgment and other thought processes." Some of the side effects related to the class of drugs, include "nausea, vomiting, loss of appetite and increased frequency of bowel movements."
According to a report published by researchers at Cornell University, Michigan State University, Oregon State University and the University of California at Davis, "certain chemical classes of pesticides, such as organophosphates (OPs) and carbamates (CMs) work against undesirable bugs by interfering with, or 'inhibiting' cholinesterase. While the effects of cholinesterase inhibiting products are intended for insect pests, these chemicals can also be poisonous, or toxic, to humans in some situations."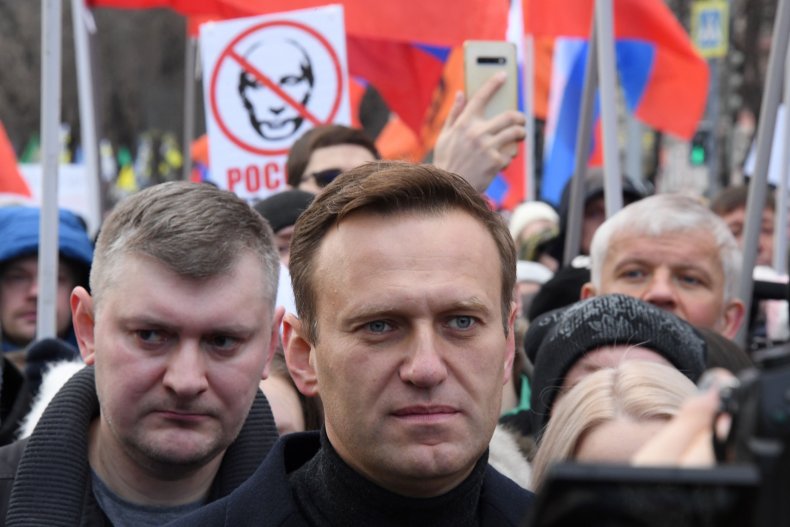 In a press release, the hospital noted that the physicians treating Navalny "remain in constant contact with his wife. "After close consultation with the patient's wife, Charité is reassured that the decision to make details of the patient's condition public would be in accordance with his wishes," the release addedè
Newsweek was directed to a press release issued by the Charitè hospital after reaching out for comment.
The news comes shortly after the German government said that it is "fairly likely" Navalny was poisoned and will need enforced protection.
"We are dealing with a patient who, it is fairly likely, was poisoned," German Chancellor Angela Merkel's spokesman, Steffen Seibert, told journalists on Monday. "Because there is a certain probability of a poison attack, protection is necessary."
Navalny, a well-known critic of Russian President Vladimir Putin, was first reported to be sick on Thursday, August 20, in a series of tweets, published by his press secretary Kira Yarmysh.
"We assume that Alexey was poisoned with something mixed in tea. It was the only thing that he drank since the morning. The doctors say that the toxin was quicker absorbed by hot liquid," Yarmysh wrote on Twitter.
Following the report, Navalny was initially being treated in a Serbia hospital, but he was given permission from Russian doctors to be evacuated to Germany, following demands from his family and friends.
The Siberian hospital treating Navalny disputed claims that he was poisoned and on Friday, Anatoly Kalinichenko, the deputy chief physician at the Russian hospital said that no traces of poison were found in his blood or urine.
"We don't believe that the patient suffered poisoning," Kalinichenko told local journalists, according to CNN.
According to the press release from Charitè, Navalny is in serious condition, but "it is not currently life-threatening."