German Election Latest Polls Paint Pretty Picture for Angela Merkel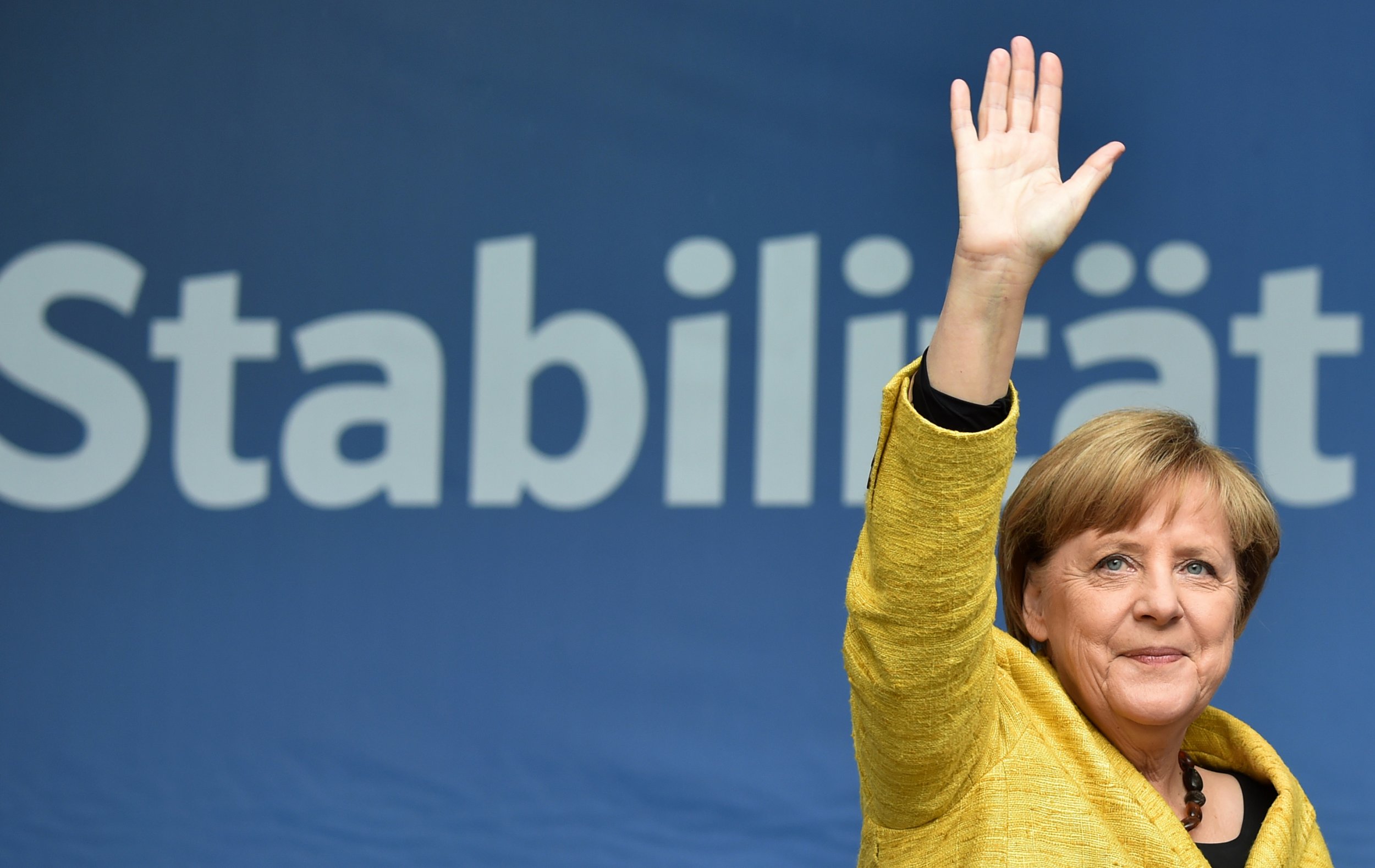 Germans are heading into their national elections feeling good about their country with Chancellor Angela Merkel in charge, according to a survey published Tuesday by the Pew Research Center. Sunday's election could determine whether Merkel stays in charge for a fourth consecutive term.
An overwhelming 86 percent of Germans believe their economy is doing well, up from a still high 75 percent last year, the Pew Research Center study showed. Confidence in Merkel's approach to international affairs is also high in Northern and Western Europe, the study showed. And these views have been consistently positive for the past seven years, putting Merkel in a prime days before the election. Merkel won her last election in 2013 with 56 percent of the vote.
Of course, her favorability differs among demographic groups. Germans over 50 years old have more confidence in Merkel than younger residents, and women are more likely to like her than men. Even so, Merkel's challengers are polling lower than her across the board.
Martin Schulz of the center-left Social Democratic Party has been lagging up to 15 points behind Merkel in the polls for weeks now. Her only other challenger is Erik Holm, from the Alternative for Germany party, who's polling around 10 percent.
Overall, Germans are actually pretty happy with both their mainstream parties: 58 percent have a favorable opinion of Merkel's center-right Christian Democratic Union party and 68 percent have a favorable opinion of the center-left Social Democratic Party.
Not all polling is pointing toward an easy win and happy election night for Merkel in Germany, however. Enter the right-wing populist party Alternative for Germany, widely considered a rogue, racist party, which is polling at 12 percent. More than 80 percent of Germans have an unfavorable opinion of the AfD, and 55 percent have very unfavorable views of the party.
That polling might seem too low to matter, but it isn't.
Even though supporters of AfD are few and far between, they have mounted a robust campaign behind their candidate Erik Holm in an attempt to remove Merkel from power. The party is expected to win enough votes to secure parliamentary representation in Germany. Their supporters include men without a college degree, men on the far right of the political spectrum and those who oppose the EU helping refugees from Iraq and Syria.
Even with AfD's representation, over 80 percent of Germans feel good about Merkel's ability to "do the right thing on the world stage," the Pew Research Study showed. That means that even in the unlikely scenario that Holm does beat her, she will still win a parliamentary seat.