German Girl Who Joined ISIS in Iraq Speaks: 'I Just Want To Go Home'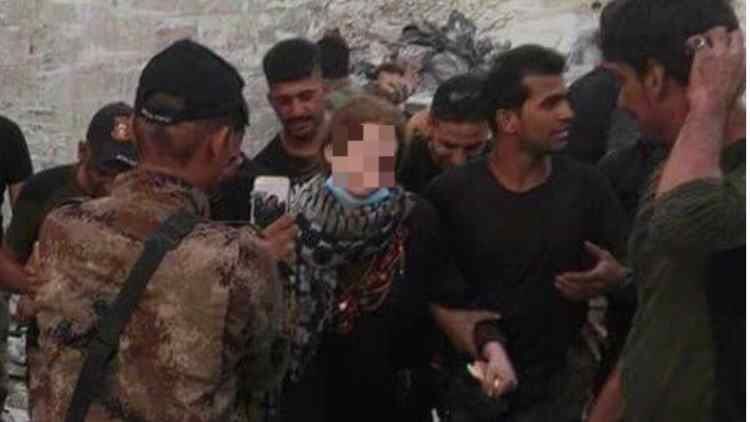 The teenage girl from Germany whom Iraqi security forces discovered in a tunnel in the northern city of Mosul last week has spoken of her regret at joining the ranks of the Islamic State militant group (ISIS), according to German media reports.
Soldiers found Linda W., 16, with four other women in Mosul's Old City, the site of weeks of intense fighting between Baghdad's elite forces and ISIS militants. Images of her capture were widely shared on social media. Newsweek has chosen to conceal her identity because of her age.
German prosecutors have confirmed her identity to be the same as the German teenage girl who fled her hometown near the eastern city of Dresden last summer. She now appears to regret ever joining the jihadi group.
"I just want to get away from here," she was quoted as saying by German newspaper Sueddeutsche Zeitung, which also said that she had married an ISIS fighter in Mosul. "I want to get away from the war, from the many weapons, from the noise."
She added: "I just want to go home to my family."
Yet she may never be able to correct her regret. Iraqi forces are not seeking her extradition, so she may face trial in Baghdad, where she is languishing in an Iraqi prison, according to The Times of London.
German newspaper Die Welt said the teenager was a convert to Islam and had been in contact with ISIS members via the internet, most likely on chat rooms, before she fled. Her parents even bought her a Koran because of her interest in the religion, unaware that she had become radicalized.
Her case once again highlights ISIS's online strategy of reaching out to young and vulnerable people, Muslims or potential converts in its bid to attract them to their ranks.
German security services say more than 900 German nationals have left the country to fight for ISIS in the Middle East, at least one-fifth of them being women.
Iraqi Prime Minister Haider al-Abadi declared victory in the city where ISIS implemented its brutal brand of Sharia law over more than a million residents for three years. It was from the pulpit of the city's famous Al-Nuri Mosque that the group's leader, Abu Bakr al-Baghadi, declared the creation of its de facto semi-state in July 2014.
After nine months of battle in Mosul, ISIS has lost all of the Iraqi cities it once held, including Tikrit, Ramadi and Fallujah. Kurdish officials predict that the group is not finished but will revert to a deadly insurgency, one that will resemble Al-Qaeda "on steroids."