German Girl Who Joined ISIS in Iraq Shown Screaming in Footage of Capture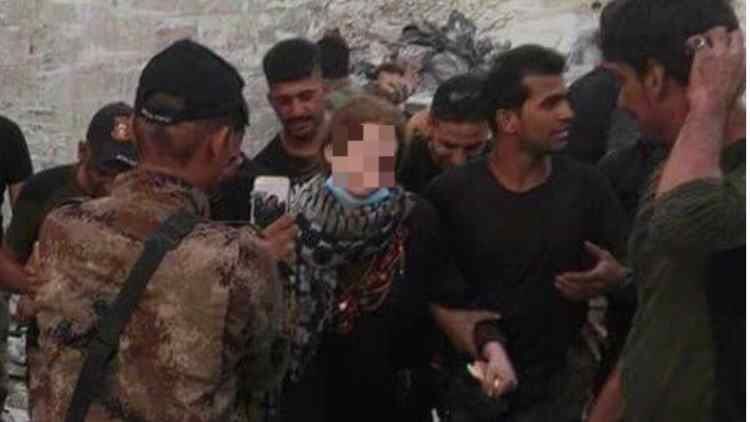 The teenage girl from Germany who joined the Islamic State militant group (ISIS) in Iraq has appeared in a video uploaded to YouTube that shows the moment Iraqi forces captured her in the northern city of Mosul.
The mobile phone footage shows 16-year-old Linda W. surrounded by Iraqi soldiers who have battled to liberate the city from ISIS for nine months. Two of the soldiers are holding her arms, and she screams as they shout at her. Iraqi troops have accused her of being a sniper for ISIS.
Newsweek is withholding the girl's identity on account of her age.
Iraqi troops discovered Linda W. hiding in a tunnel in the Old City alongside other women who had joined ISIS, as well as an array of weapons.
The German press interviewed her after Iraqi forces transferred her to Baghdad for questioning, where she appeared to show regret for joining the group.
"I just want to get away from here," she was quoted as saying by German newspaper Sueddeutsche Zeitung, which also said that she had married an ISIS fighter in Mosul. "I want to get away from the war, from the many weapons, from the noise."
She added: "I just want to go home to my family."
German officials have visited the girl and said they are providing consular assistance to her and another woman who is a German national. If she remains in Iraq, she could face trial on terrorism charges that carry a maximum sentence of the death penalty.
Martin Schafer told The Times that the teenager is "doing well given the circumstances" and that Berlin is trying to "find a good solution that corresponds to their interests."
Linda fled her hometown of Pulsnitz near the eastern city of Dresden last summer, telling her family she was going to visit a friend. Before leaving for the Middle East, she converted to Islam and contacted ISIS fighters via Internet chat rooms in the region.
German security services say more than 900 German nationals have left the country to fight for ISIS in the Middle East, at least a fifth of whom are women.
Last month, Iraqi Prime Minister Haider al-Abadi declared victory in the city where ISIS implemented its brutal brand of Sharia law over more than a million residents for three years. It was from the pulpit of the city's famous Al-Nuri Mosque that the group's leader, Abu Bakr al-Baghadi, declared the creation of its de facto semi-state in July 2014.