German Parliament Speaker Baerbel Bas Says Pandemic an 'Accelerant' for Antisemitism
Baerbal Bas, the speaker of Germany's federal parliament, said Thursday that the pandemic acted "like an accelerant" for antisemitism in her country and across the globe. Bas was one of many politicians worldwide condemning the rise in antisemitism during Thursday's events commemorating International Holocaust Remembrance Day.
Survivors spoke at events across Europe on Thursday, urging the younger generations to not let the atrocities of the Holocaust be lost to history, The Associated Press reported.
"Antisemitism is here — it isn't just on the extreme fringe, not just among the eternally incorrigible and a few antisemitic trolls on the net," Bas said in Bundestag, the German parliament, according to the AP. "It is a problem of our society — all of society."
The day of remembrance is held on the anniversary of the liberation of prisoners by Soviet troops at Auschwitz-Birkenau, the Nazi death camp where over 1 million people were killed during the Holocaust.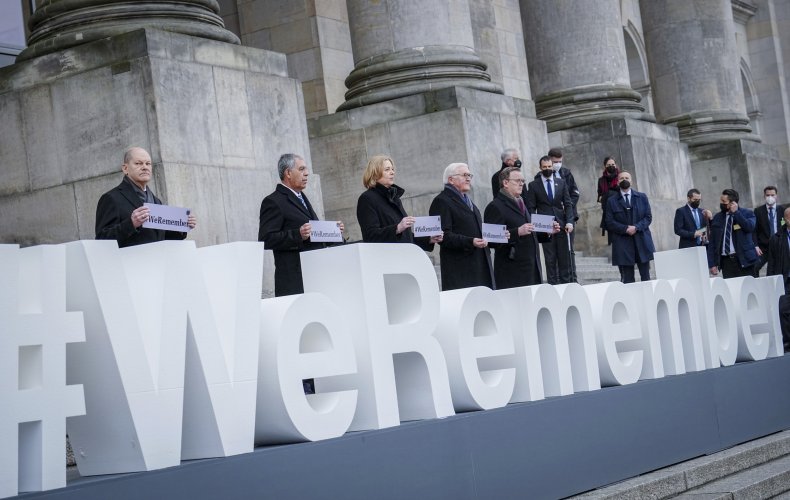 "The countless experiences of infinite suffering on the brink of death are already a distant, unimaginable story for new generations," 92-year-old Polish Holocaust survivor Halina Birenbaum said, according to the AP.
Birenbaum spoke remotely while participating in a small memorial at the site of Auschwitz-Birkenau in Poland, where a group of survivors met and several others spoke remotely because of pandemic safety concerns, the AP reported.
Birenbaum, now a poet, said she was 10 when Poland was invaded by Nazis in 1939, and 13 when she survived a trip to the gas chamber at the Majdanek camp because it malfunctioned, and she was later sent to Auschwitz-Birkenau, the AP reported.
The European Commission reported that recent studies have shown a spike in antisemitic content posted online in multiple languages, and thousands of Jewish people surveyed said it was a growing problem in their country.
Comparing the first two months of 2021 to 2020, the Commission reported antisemitic content saw a "seven-fold increase" in French on Twitter, Facebook and the messaging service Telegram, while the same sites saw a thirteen-fold increase in the content posted in German.
A survey of over 16,000 Jewish people across 12 European Union member nations also revealed that 89 percent of those surveyed said that antisemitism has increased in their country, and 85 percent consider it to be "a serious problem" facing their country.
The trend has been just as prevalent in the U.S. The New York Times reported last May that a two-week span with several conflicts in Israel and Gaza, also resulted in 222 incidents of antisemitic harassment, vandalism, or violence being reported to the Anti-Defamation League; 127 similar incidents were reported in the two weeks prior.