German Rappers Whose Auschwitz Lyric Drew Anti-Semitism Accusations Claim Top Music Prize
A German rap duo accused of anti-Semitism for lyrics in which they compare themselves to Holocaust victims have faced renewed criticism after claiming a top music prize.
In the song "0815," Kollegah and Farid Bang talk about their bodies being "more defined than Auschwitz prisoners," while another line says, "I'm doing another Holocaust, coming with a Molotov."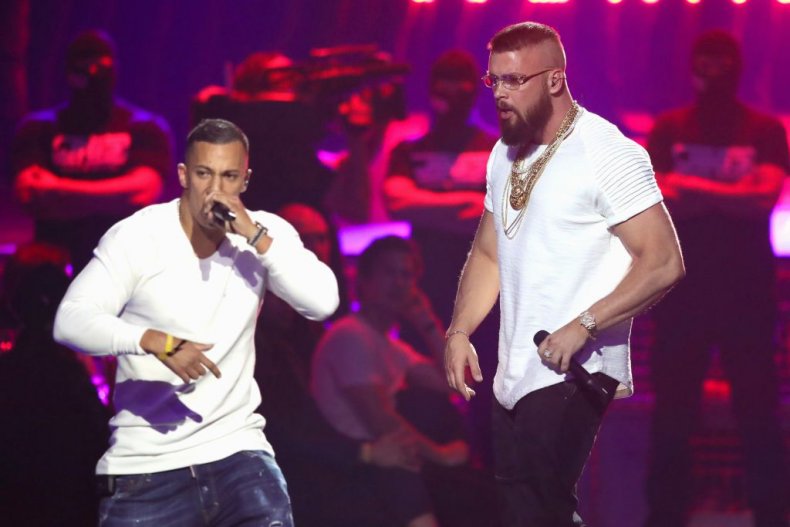 Airbus CEO Tom Enders told the Bild am Sonntag newspaper he was shocked by what he considered widespread ambivalence about the Echo award given to rappers Kollegah and Farid Bang on Thursday, which coincided with Holocaust Remembrance Day.
"That hurts Germany's international reputation. Is anti-Semitism becoming acceptable in Germany?" Enders told the newspaper, adding that it was his belief that an anti-Muslim text would have generated far more outrage.
The BVMI German music industry association had drawn increasing criticism in recent days for honouring the rappers' album, which sold more than 200,000 copies despite lyrics considered offensive by many Jewish groups and others.
World Jewish Congress president Ronald Lauder told the German Bild daily: "In Germany, we now get rewards... when we exalt violence and mock the victims of Auschwitz."
The controversy comes against a backdrop of growing concern about rising anti-Semitism in Germany and several high-profile cases in which young children have been subjected to anti-Semitic harassment.
Germany recently appointed Felix Klein to serve as the government's first commissioner to oversee the issue.
The BVMI group initially defended its decision, saying the award recognizes sales, not quality. However, its chief Florian Druecke told the RND newspaper chain on Sunday that the Echo prize would be revamped in light of the protests and that the association rejected all forms of anti-Semitism, xenophobia, sexism, homophobia and the glorification of violence.
Druecke said that organizers would reconsider both the nomination and award selection process, but gave no further details.
German Justice Minister Heiko Maas told Der Spiegel magazine on Saturday that "anti-Semitic provocations do not deserve a prize; they are repugnant." Christian and Jewish leaders have also been critical of the award.
Jewish comedian Oliver Polak also criticized the award in an essay published by the German newspaper Die Welt, saying such texts "are the reason that young Jewish people are chased around and beaten up in schoolyards."
Both rappers have said they reject anti-Semitism. Kollegah is a 33-year-old rapper whose real name is Felix Blume. Farid Bang is 31.