German Shepherd Gets Retirement Party After Six Years on Police Force
Bear, a black German Shepherd, was thrown a retirement party after working for six years as a police dog in the Taylor County Sheriff's Office of central Texas.
At the retirement party, Bear took photographs with his human co-workers as they wished him a happy farewell. An officer also read a proclamation hailing the dog's accomplishments during its over-half-a-decade career.
Bear initially joined the force in April 2015. At the time, a now-closed local restaurant, Moe's Southwest Grill, donated $8,000 to help the sheriff's office acquire a dog, the Abilene Reporter News wrote. Though the dog was initially named Moe, after the donating restaurant, the canine eventually took on the name of Bear.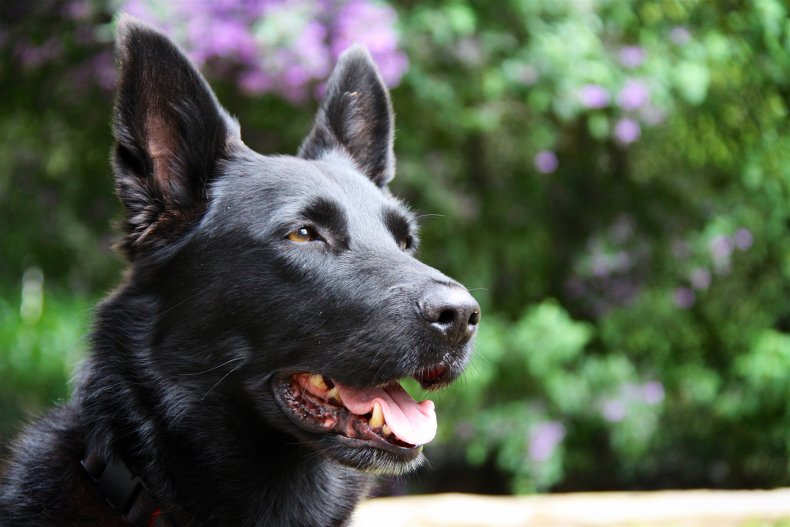 In the proclamation hailing Bear's work, officers said that he had been trained to track down and locate missing children and elderly people. He also assisted in recovering people experiencing mental health issues, including suicidal people.
Bear learned how to track four different drugs: cocaine, heroin, marijuana and methamphetamine. He also showed off his training and other abilities at demonstrations in local schools and youth organizations.
The dog helped investigations conducted by the Abilene Police Department, the Texas Department of Public Safety, the U.S. Drug Enforcement Agency, the FBI and the Department of Homeland Security, as well as other law enforcement agencies.
For his first three years, Bear worked with Deputy Weylond Cooley. Afterward, he began working with Deputy Brandon Abbott, his current handler. Now that Bear has retired, he'll live with Abbott for the rest of his days.
"He was a good tool that we utilized," Abbott told the aforementioned publication. "It's going to be different working without a dog, but it'll open different doors. And at the end of the day, I get to keep him. So it's not like I'm losing him."
Legal authorities often use German Shepherds as K-9 units because of their high level of intelligence, ability to follow commands and ability to work long hours without tiring. The breed is also quick, athletic, has a protective nature and exhibits calmness under pressure, according to The German Shepherder, an online dog website.
In addition to the costs of the dog itself, it can cost anywhere from $12,000 to $15,000 to train a dog for the duties of a law enforcement agency. Often the dogs are trained elsewhere and then delivered to the agency. There, the dogs will be matched up to an officer who has a temperament and experience best suited to working with them.
Newsweek contacted the Taylor County Sheriff's Office for comment.