German Shepherd Throwing Out Puppy Like He's Trash Delights Internet
An adorable video of a German shepherd and springer spaniel puppy playing with a box has gone viral on TikTok, with more than 1.5 million views.
In the video posted by @Harry.germanshep, a German shepherd named Harry can be seen pulling a cardboard box out of the backdoor by his teeth, with a springer spaniel puppy inside it.
One user wrote, "Mom I am taking out the trash," while another posted, "when I was a kid a box was one of my favorite toys too lol."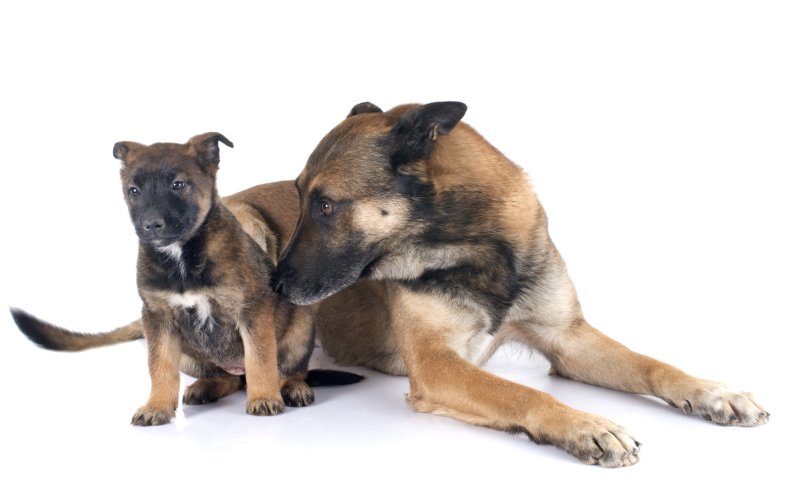 Toilet paper rolls, cardboard boxes, packaging... many dog owners know all too well that if they leave cardboard around, their pet will play with it. Some canine just love playing with the material, but others eat it, which can have dangerous side effects.
According to The Dog People advice website, your pet eating the occasional bit of cardboard is not necessarily something to worry about.
"Cardboard is not toxic, but it's also not particularly digestible," the experts say. "If your dog has eaten a large quantity of cardboard, there's a small chance they could end up with an intestinal obstruction. The key here is to keep an eye on them, and look out for the following symptoms:
Diarrhea
Lethargy
Vomiting
Constipation
Straining to poop
Burping
If you notice any of these symptoms, it's important you go to the vet immediately as blockages can cause further problems with your dog's health.
Ripping up the occasional cardboard box isn't going to cause your dog much of a problem. However, if your dog compulsively eats cardboard, or other substances such as rocks, dirt or clothing, it may be a condition known as pica.
"That name, however," says The Dog People, "is just a description of the behavior. In humans, it can be a symptom of mental illness. In dogs it's a symptom of... being a dog."
There could be multiple reasons why your dog may be particularly drawn to cardboard, including boredom. Is your pet getting enough exercise or stimulation during the day? If not, the dog may begin to chew and tear things around the house, from cardboard to clothing.
Another reason cited by The Dog People is diet. "Is it possible that your dog isn't getting nutrients they need? Sometimes pica is thought to be caused by nutritional deficiency," the experts say. "First, take a look at diet. Is it possible that your dog isn't getting nutrients they need? Sometimes pica is thought to be caused by nutritional deficiency. Did you switch foods just before your dog started whaling on your Amazon boxes?"
Newsweek has reached out to @harry.germanshep via TikTok for comment.
Do you have funny and adorable videos or pictures of your pet you want to share? We want to see the best ones! Send them in to life@newsweek.com and they could appear on our site.