A German theater on Friday premiered a satirical play called Mein Kampf based on Adolf Hitler's youth—whose birthday is April 20—and paired tickets with a controversial admission policy. Theatergoers had the option to wear a Nazi-branded swastika and gain free admission, or pay regular price and receive a Star of David.
"I don't like the concept and I don't like the people who wore the 'wrong' sign you know. Every German kid had learned [about Nazism] in school [and] what's wrong about it. That makes me sad in a way," Florian Schuster, who attended the premiere production of Mein Kampf, told Newsweek.
The play Mein Kampf, which translates to "my struggle," is named after Hitler's 1925 political manifesto which helped set the stage for the Nazi state. The play, performed at Theater Konstanz in Germany's southern city of Constance, satirizes Hitler's early years as a failed artist.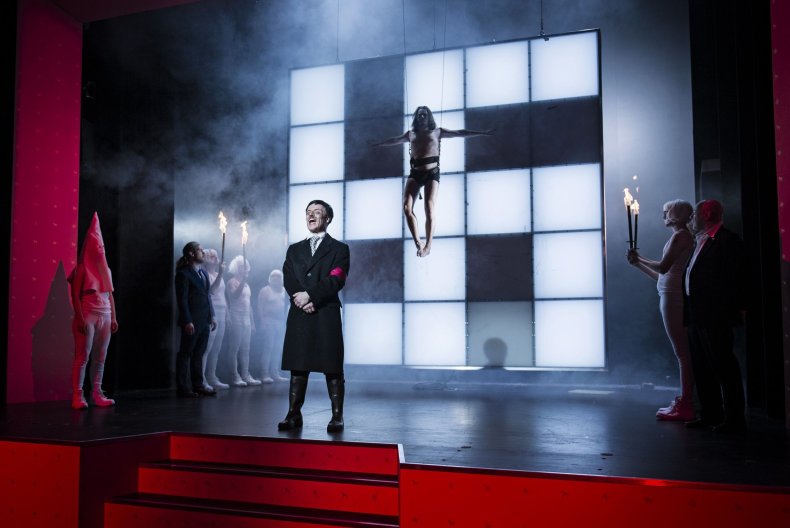 "For a free ticket, you agree to wear a swastika symbol in the auditorium," Theater Konstanz wrote on its website. A "regular purchase" gave patrons a Star of David and represented a "sign of solidarity with the victims of National Socialist tyranny." The symbols were being offered just before the performance as a sort of social experiment.
As part of his 11 euro admission (about $13.50 U.S.), Schuster was handed a Star of David. The 33-year-old said he quickly put the Jewish symbol into his pocket because he didn't want to make any type of statement by wearing it.
While more than half of the theater's patrons did not wear a sign, he estimated that about 30 people chose to wear the swastika.
Schuster said he was interested in the theater's "project" but said it showed "how easy you can manipulate people. So easy."
Ahead of the premiere Friday night, Mein Kampf stirred significant controversy. It is illegal to display Nazi symbols in Germany and the country criminalizes incitement to racial and religious violence; Holocaust denial is also a crime. Schuster said there were some demonstrators outside the theater protesting the use of the Nazi symbol.
A probe was opened by German authorities, who looked into complaints about the use of Nazi imagery. Dr. Daniel Morgenroth, the theater's spokesman, told Newsweek in a statement on Wednesday that the investigation is now over. The spokesman said a specialized law firm found that the play's symbols are "part of an artistic work and therefore unobjectionable."
"In the wake of the refugee crisis, right-wing crime has soared over the past years in Germany and we experience also rising antisemitism," Morgenroth said. "Our performance wants to show people that it is up to them to decide on which side to stand—concretely, always and not just with warm words."