German Theater Offers Free Tickets to Theatergoers Wearing Swastikas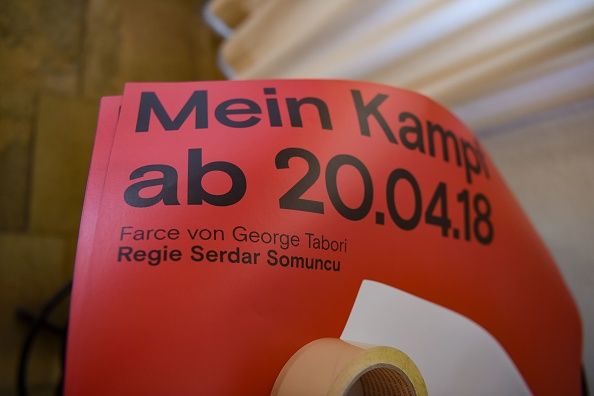 Updated | Audience members will have an option to wear a Star of David or the Nazi-branded swastika to a play with the same name as Adolf Hitler's Mein Kampf.
Theater Konstanz, located in the southern city of Constance, announced the initiative ahead of the play's April 20 debut; the date is also Hitler's birthday. Mein Kampf, which translates to "My Struggle," is Hitler's 1925 political manifesto and helped lay the groundwork for the Nazi state. The play is a farce that satirizes Hitler's early years as a failed artist.
"For a free ticket, you agree to wear a swastika symbol in the auditorium," the theater's website states, noting that the symbols are available before the play starts at the entrance. With a "regular purchase," Theater Konstanz offers a Star of David as a "sign of solidarity with the victims of National Socialist tyranny."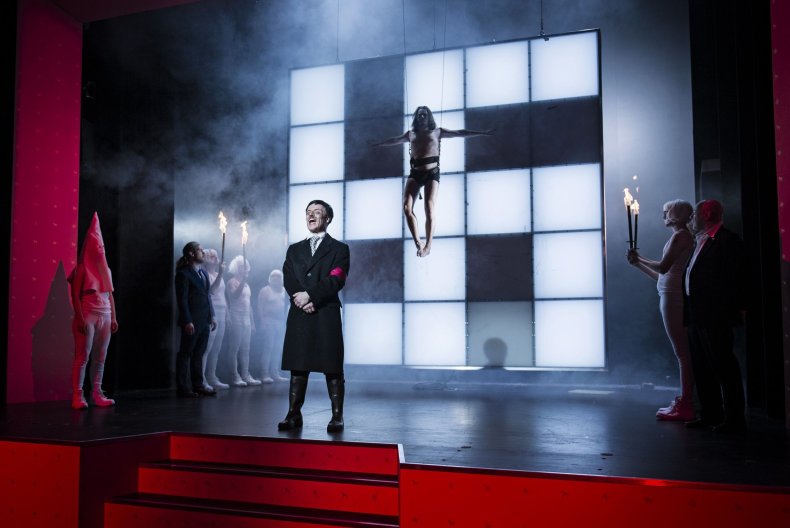 Displays of Nazi symbolism are illegal in Germany, and the country criminalizes incitement to racial and religious violence. German law also makes Holocaust denial a crime.
"Our production is directed by one of Germany's foremost political satirists and controversial public figure, Turkish-born artist Serdar Somuncu. Mr. Somuncu has chosen to have his production start at the point of purchasing the tickets," theater spokesman Dr. Daniel Morgenroth told Newsweek in a statement.
Morgenroth said a state probe into complaints about the Nazi symbols ended Wednesday. The spokesman noted that a specialized law firm previously said that the play's symbols are "part of an artistic work and therefore unobjectionable."
Deutsche Welle reported that the German theater wanted to show how people can be "easily corrupted" and be willing to wear swastikas for free tickets. The theater reportedly told German broadcaster SWR that the number of individuals willing to wear the Nazi symbol (based on online sales) for free tickets was "surprising and frightening."
"The concept ties in with the performance itself which is highly controversial and repeatedly links Tabori's material with our current time of rising nationalism, populism and xenophobia all over Europe," Morgenroth continued. "Our performance wants to show people that it is up to them to decide on which side to stand—concretely, always and not just with warm words."
On January 27's International Holocaust Remembrance Day, German Chancellor Angela Merkel warned the public about "shameful" and increased anti-Semitism, DW reported.
Last year, there were approximately 1,500 anti-Semitic crimes in Germany, reported German newspaper Tagesspiegel, which cited figures from Germany's interior ministry.
This story has been updated to reflect the current status of a state probe.