Two German tourists have been told to leave Venice after they were reported to police for brewing coffee at the base of a historic bridge in the city.
The two backpackers, who have not been named, were also issued a fine of 950 Euros ($1,050) for violating a newly-installed Venetian law aimed at keeping order in public amid mass tourism in the lagoon city.
The law requires people to wear a shirt in public, to avoid picnics in certain areas and prohibits bathing in fountains or diving into the canals. Each violation corresponds to a fine issued by local police.
An estimated 30 million tourists visit Venice each year, while approximately 55,000 people live in the city.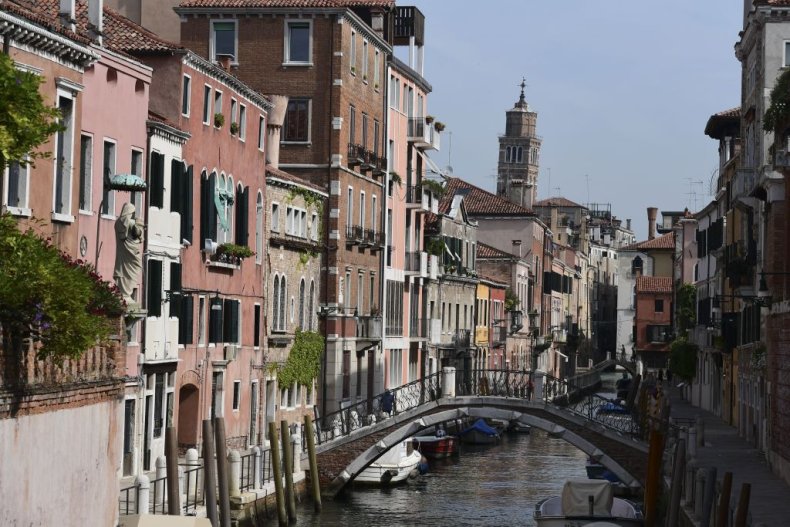 The tourists were fined on Friday after witnesses spotted them making coffee with a travel cooker at the foot of the Rialto Bridge, the Agence France-Presse said. The bridge is the oldest on the Grand Canal and recently underwent a multi-million dollar renovation.
Local police responded to the situation and informed the pair they had to leave the city. The pair were fined for unseemly behavior, the AFP said.
"Venice must be treated with respect and impolite people who come here and think they can do what they want must understand that, thanks to the local police, they can be stopped, fined and sent away," Venice mayor Luigi Brugnaro said in a statement.
Brugnaro added that Venice will now share the identities of those who are asked to leave for breaking the city ordinance with the embassies and consolates of the tourists' home country.
The news of the German tourists comes days after an Austrian tourist was fined 300 Euros ($340) for hanging a hammock between two trees in the city of Trieste. Trieste has an ordinance that prohibits attaching anything to vegetation.
According to Deutsche Welle, the city also said that the 52-year-old man disrupted local residents as they went about their day.
"The man, a 52-year-old Austrian, had set up a hammock blocking part of a pedestrian passageway on the Trieste seafront. We're talking about a promenade where people take leisurely walks. He blocked a pedestrian path and took a nap," a police spokesperson told the news outlet.
The man apparently did not take down the hammock after being warned by locals, prompting a call to the police.
"It's not normal that someone goes to the street and sets up a hammock, even if there are trees," the spokesperson told Deutsche Welle.