Trump's New Ambassador Should Be Expelled After Expressing 'Support' for Right-Wing Groups, German Politicians Say
German politicians have called for Richard Grenell, the new U.S. ambassador to their country, to be expelled after controversial comments he allegedly made expressing support for right-wing groups.
"If people like U.S. Ambassador Richard Grenell believe they can dictate like a lord of the manor who rules in Europe and who doesn't, they can no longer remain in Germany as a diplomat," Sahra Wagenknecht, the co-chair of Germany's left-wing political party Die Linke, said this week, The Guardian reported.
Wagenknecht's comments come in response to Grenell telling right-wing news site Breitbart that he wants to "empower" conservative voices in Germany.
The new ambassador, who has officially assumed his role for less than a month, also said: "There are a lot of conservatives throughout Europe who have contacted me to say they are feeling there is a resurgence going on," adding that the "failed policies of the left" had encouraged the sentiments, German broadcaster Deutsche Welle reported.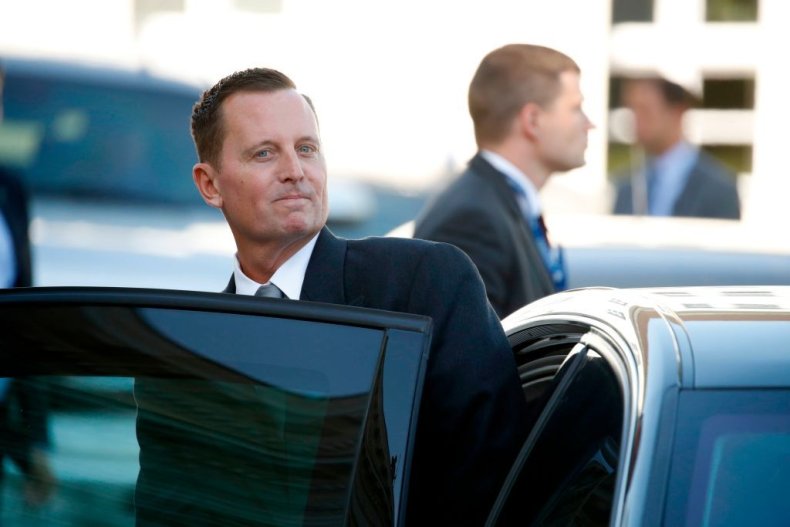 Wagenknecht said that if Germany's government takes its "democratic sovereignty," Grenell should not be invited "for a chat over coffee." Instead, the left-wing politician suggested Germany should "expel [Grenell] immediately."
Germany's leftists are concerned about the increasing popularity of the right-wing, which made significant gains in last year's election. Support for nationalist and fascist movements is also growing in the country. A group of neo-Nazis even hosted a massive birthday celebration for Adolf Hitler in eastern Germany last April.
Germany's foreign ministry said Monday that Foreign Minister Heiko Maas would ask Grenell to "explain how he wants his statements to be understood" during a meeting on Wednesday. Responding to the criticism, Grenell said via Twitter that his words had been misconstrued.
"Don't put words in my mouth. The idea that I'd endorse candidates/parties is ridiculous. I stand by my comments that we are experiencing an awakening from the silent majority - those who reject the elites & their bubble. Led by Trump," Grenell wrote Sunday.
But Grenell drew additional criticism by coordinating an impromptu gathering with Israeli Prime Minister Benjamin Netanyahu at Berlin's airport, following the Middle Eastern leader's meeting with German Chancellor Angela Merkel on Monday.
Germany's parliament had also already raised concerns about Grenell after he began encouraging German companies operating in Iran to follow the U.S. example and withdraw from the country.
"What this man is doing is unheard of in international diplomacy," said Martin Schulz, the former leader of the Social Democratic Party, according to Agence France-Presse.