Germans Protest Government's Treatment of Greece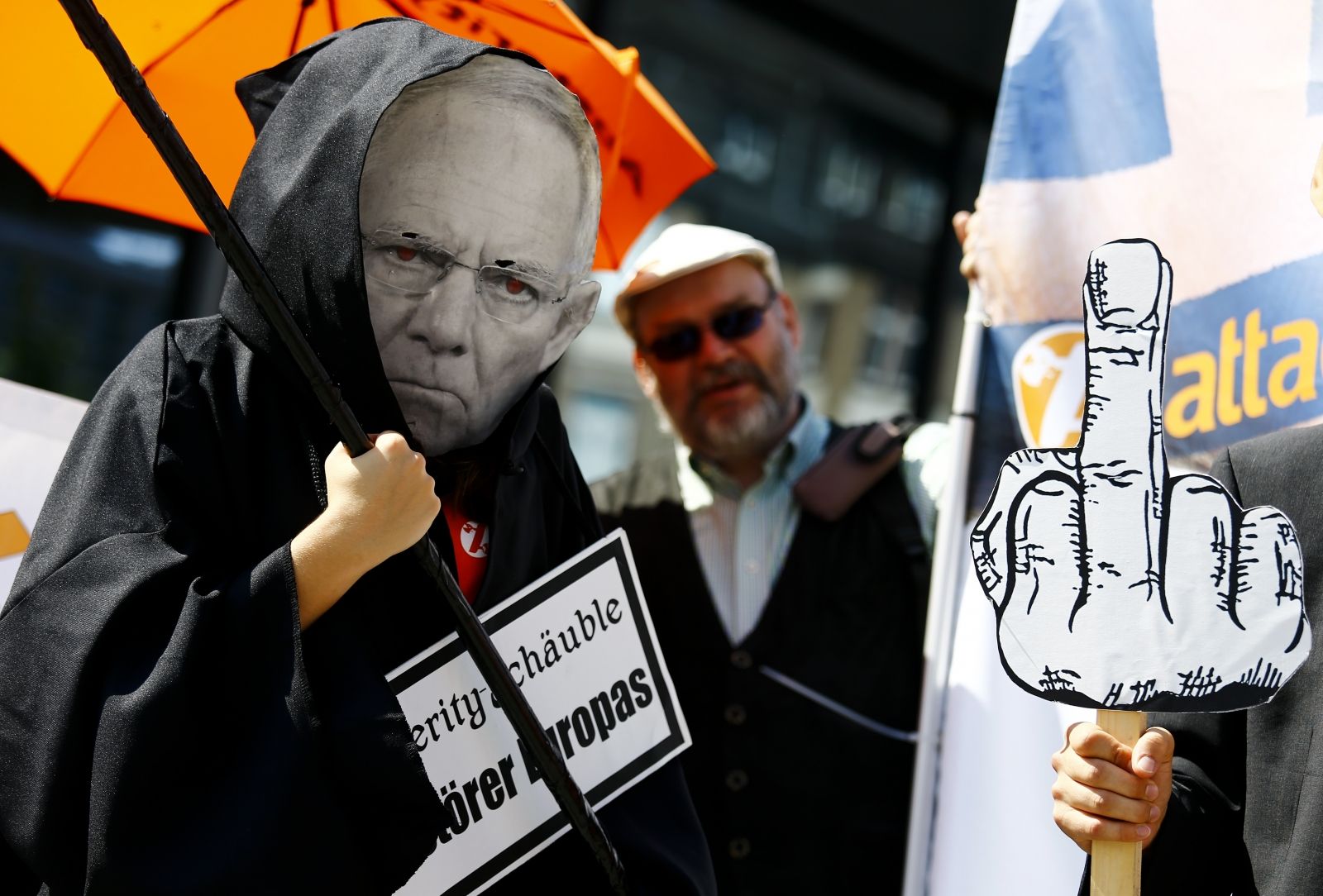 German protesters, angry at their government's handling of the Greek crisis, are continuing to hold demonstrations across 14 cities of Germany in a show of solidarity with the Greek people.
Protesters have vowed to continue demonstrations, with protests set to take place tomorrow morning outside the German Parliament and at the finance ministry in Berlin every Wednesday.
Relatively small anti-austerity demonstrations took place in 14 cities including Berlin, Frankfurt and Hamburg yesterday over what many believe to be the aggressive behaviour shown by German Chancellor Angela's Merkel's government and other eurozone leaders to persuade the Greece to accept austerity measures during a eurozone summit last weekend.
The Greek parliament voted through reforms last night required as part of the bailout deal that were seen as harsher than the ones that had previously been rejected by the Greek people in a referendum last week. The deal involved Greece partially ceding its fiscal sovereignty to its creditors, representatives of whom will be stationed in Athens to oversee reforms.
The Eurogroup is now seeking $7.6 billion of bridge financing that will allow Greece to pay back its arrears and its banks, which have been closed for nearly three weeks, to reopen.
Hundreds of angry protesters gathered on Oranienplatz in Berlin yesterday waving Greek flags and holding banners with the word "Oxi" (no in Greek) painted onto them.
"I'm furious with these criminals," a Greek teacher who has lived in Germany all her life told the Guardian. "I don't want my taxes supporting this criminal coup."
Hannah Eberle, spokeswoman for the Blockupy movement pushing for the protests in Germany, told Newsweek that Merkel's government's behaviour has been undemocratic and aggressive. She says the protest tomorrow aims to show Greece and the rest of Europe that there is another sympathetic side to Germany.
"Many Germans feel ashamed by what the German government is doing at the moment," Eberle says, adding "we want everybody to see the other face of Europe. A face of solidarity."
Eberle says she expects numbers of protesters on Friday to be in the thousands and that peaceful protests are set to continue for the foreseeable future.
One protester who will be attending the protests tomorrow, 21-year-old Simon Weppel, an archaeology student at the Free University in Berlin, told Newsweek: "The way that Merkel's government dealt with the crisis in Greece is a brief glimpse into the future of EU politics."
"Sovereign countries' policies will continue to be dictated by the disciplinarian, quasi-fascist German state - something that has to be opposed at all costs. We have seen the results of unrestricted German hegemony," he says.
People frustrated with the treatment of Greece by eurozone leaders have also taken to social media to protest the measures from across Europe.
On Monday, the hashtag #ThisIsACoup, first used by a furious teacher in Barcelona was the top trending hashtag in Germany, France, Greece, Spain and the UK. It was also the second top trending tweet worldwide for several hours.
The German media also reacted angrily after the extent of the bailout conditions were revealed but, in a survey conducted by German polling company Forsa yesterday, 55% said they believed Merkel's tough attitude during the negotiations was correct.
Almost one third of voters in support of Merkel said they also wished she had taken a much tougher line with Greece.