German Election: Anti-Islam AfD Party That Worked With U.S. Ad Agency Predicted To Take Third Place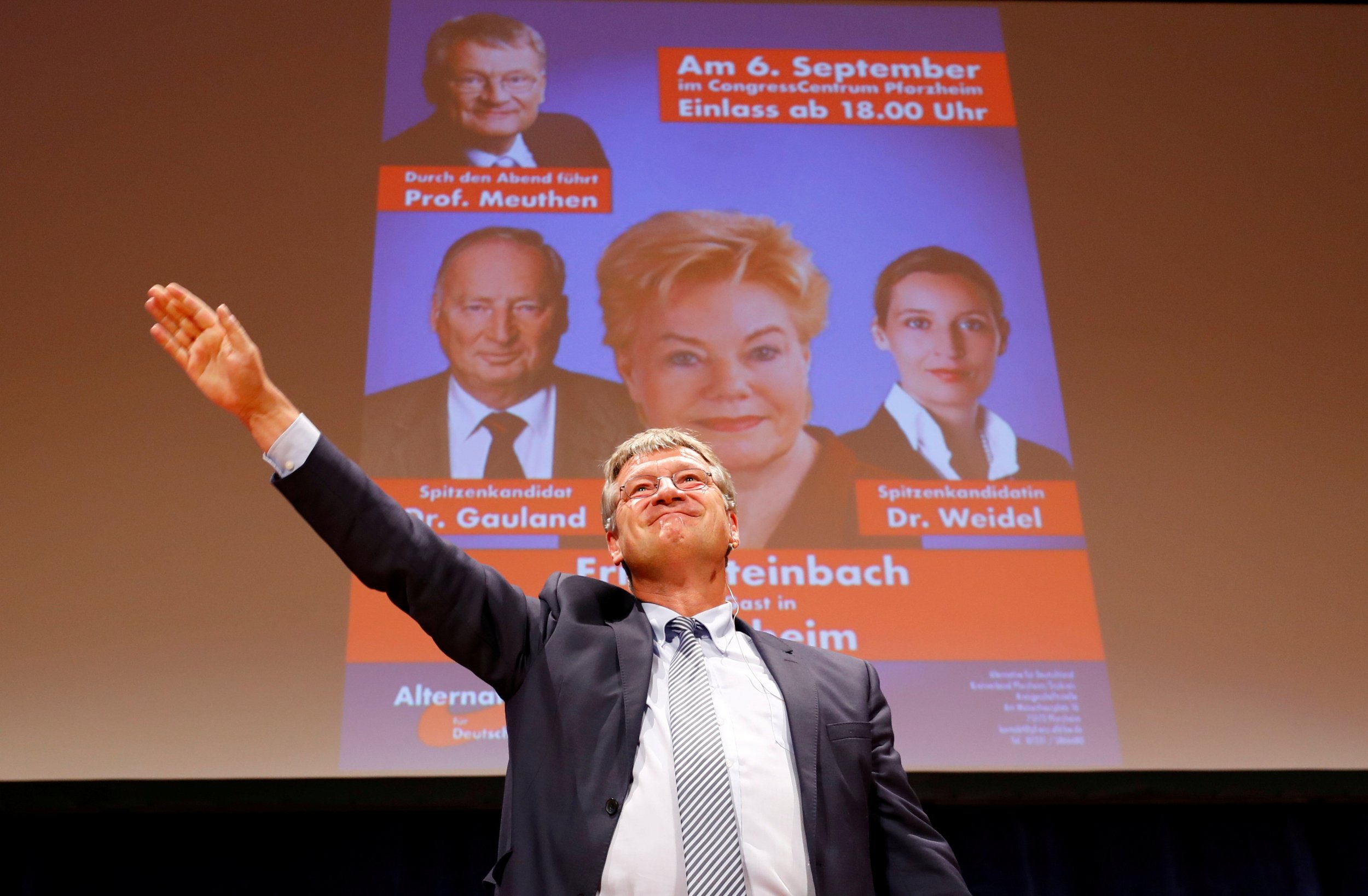 Updated | Sunday's election in Germany is expected to bring big gains for the hard-right, anti-Islam Alternative for Germany (AfD) party, which exit polls predict will become the third largest political group as it enters federal parliament for the first time.
The party, which calls for a crackdown on asylum seekers and has said that Islam is not compatible with German values, will take 13 percent of the vote, according to latest projections at the time of writing. Results will be confirmed during Sunday night or Monday morning.
The AfD began life as a dry, academically-minded group largely opposed to the euro currency and closer integration in the eurozone. But it swiftly morphed into a populist, anti-immigrant force.
During this election campaign, it has worked with Harris Media, a conservative Texas-based digital agency that lists Ted Cruz and Rand Paul among its clients and briefly worked for the Trump campaign before his 2016 victory.
But the party had already made much capital during 2015 and 2016 from Angela Merkel's liberal policy toward refugees and migrants arriving from Syria and other parts of the Middle East, North Africa and sub-Saharan Africa.
In a famous speech in the summer of 2015, Merkel exhorted her fellow countrymen and women to welcome desperate people fleeing violence. "We can do it!" became her catchphrase on the issue; an affirmation of faith in the welcoming nature and liberal outlook of the German public.
Many Germans agreed—millions of them have backed Merkel for a fourth term in office, or supported other pro-immigrant parties—but a sizable minority weren't so sure.
It is these anti-immigration or anti-Islam voters the AfD has swept up support from. It has called for swathes of rejected asylum seekers to be sent back to their home countries, has proposed bans on minarets and full-face veils, and has declared the Islamic religion to be incompatible with Germany's constitution.
All the while, it has mocked Merkel's iconic words. "We don't want to do this, at all!" said Alexander Gauland, now a top candidate for the party, at a speech in 2016.
Like the National Front in France, with whom it is allied in the European Parliament, the AfD strives to avoid any association with the traditional far-right. In Germany, perhaps more even than other western democracies, the shadow of Naziism means that white racial politics and extreme nationalism are taboo for many people.
To that end, the AfD has made sure to present modern-looking, eloquent figureheads, especially in the international media. Both its previous co-leader, Frauke Petry, and its current top figure, Alice Weidel, are women. Weidel is openly gay and has worked as a banker at Goldman Sachs.
The party's supporters, too, would insist that criticism of Islam as a religion is not racist, and that concern about mass uncontrolled immigration or undocumented migrants is simply pragmatic.
But there can be no doubt that the AfD has a strongly nationalist vision that excludes many people because of their background. A poster that it used for this election campaign read "New Germans? We'll make them ourselves," accompanied by an image of a pregnant white woman.
The Central Council of Jews in Germany said the result posed a challenge for German democracy. "We expect our democratic forces to expose the true face of the AfD and lay bare its empty, populist promises," the council said in a statement.
Meanwhile, protests broke out against the party on Sunday evening in several major cities, among them Cologne, Hamburg, Munich, Leipzig, Frankfurt, Düsseldorf and Berlin.
The AfD is very far from power. As coalition negotiations begin, where Merkel will hammer out a deal to form the next multi-party government, all other main parties have ruled out working with the hard-right.
It would also be entirely wrong to paint Germans across the board as having rejected immigration or refugees, given the endorsement Merkel and other pro-immigrant politicians have gained.
But nonetheless, the major parties will need to analyze the causes of the AfD's success.
In particular, the party is cementing a reliable base of less skilled, less educated, older voters, especially in the Northeast, the former East Germany. Longterm, if the main parties don't manage to win them back, it could lead to new fractures in one of Europe's most stable countries.
This story has been updated with new results projections, a quote from the Central Council of Jews in Germany, and information about protests.